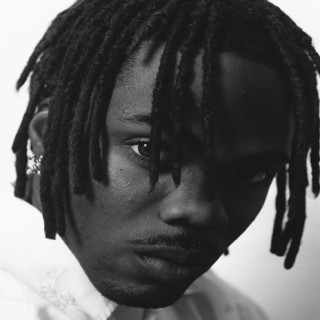 CKay
Current #456

All Time #269

Ekweani Chukwuka professionally known as Ckay is a Nigerian singer, songwriter and record producer from Anambra state of Nigeria but grew up in Kaduna state.
Although an indigene of Anambra, he was
born in Kaduna state to Dr. & Mrs. and was raised up in northern part of the country before moving to Lagos state to pursue his music career.

Ckay was exposed to music at an early age of 7 by his father who was at that time a choir conductor in their local church and by the age of 13 he has already started producing & writing music.
According to him he started taking music seriously after leaving secondary, he formed a music group called Cre8tive Music along with two of his friends.

The 25 year old relocated to Lagos in 2014 and by 2015 he has started working with Chocolate City as a production intern, he got signed fully as an artiste in August 2016.
He worked with MI who was at that time the CEO of Chocolate City Music, his debut studio productions includes "Third Mainland Bridge" by MI x Moti Cakes," The Box" by MI x Pryse, "Give Them" by Koker.
No doubt Ckay has achieved many notable works worthy of mentions, his 2018 single, "Container" received massive acceptance from listeners.

His other notable songs and collaborations includes "Nkechi Turn Up", "Love Nwantiti", "Gaddemit", "Chinekeme", "Last Call" and "Gmail" featuring DMW rapper, Dremo.

He has since worked with top industry leading acts like, MI, Dremo, Moti Cakes, Dice Ailes, Pryse, MI, Ice Prince, Koker, Blaqbonez, Barry Jhay, BOJ and other artistes.
Ckay has been recognised with the following awards and nominations so far for his remarkable works both as an artiste and producer.

– Top Naija Music Awards, 2017

Best Song Cover – Nominated
– City People Music Awards, 2018

Best New Act Of The Year – Nominated.

Download and Listen to C Kay on Boomplay....more

Country/Region : Nigeria
Listen to CKay's new songs including "love nwantiti x dumebi (Midé Naike Remix) ft. Rema & Midé Naike", "by now (Mixed)", "Love Nwantiti (Mixed)" and many more. Enjoy CKay's latest songs and explore the CKay's new music albums. If you want to download CKay songs MP3, use the Boomplay App to download the CKay songs for free. Discover CKay's latest songs, popular songs, trending songs all on Boomplay.
Ekweani Chukwuka professionally known as Ckay is a Nigerian singer, songwriter and record producer from Anambra state of Nigeria but grew up in Kaduna state.
Although an indigene of Anambra, he was
born in Kaduna state to Dr. & Mrs. and was raised up in northern part of the country before moving to Lagos state to pursue his music career.

Ckay was exposed to music at an early age of 7 by his father who was at that time a choir conductor in their local church and by the age of 13 he has already started producing & writing music.
According to him he started taking music seriously after leaving secondary, he formed a music group called Cre8tive Music along with two of his friends.

The 25 year old relocated to Lagos in 2014 and by 2015 he has started working with Chocolate City as a production intern, he got signed fully as an artiste in August 2016.
He worked with MI who was at that time the CEO of Chocolate City Music, his debut studio productions includes "Third Mainland Bridge" by MI x Moti Cakes," The Box" by MI x Pryse, "Give Them" by Koker.
No doubt Ckay has achieved many notable works worthy of mentions, his 2018 single, "Container" received massive acceptance from listeners.

His other notable songs and collaborations includes "Nkechi Turn Up", "Love Nwantiti", "Gaddemit", "Chinekeme", "Last Call" and "Gmail" featuring DMW rapper, Dremo.

He has since worked with top industry leading acts like, MI, Dremo, Moti Cakes, Dice Ailes, Pryse, MI, Ice Prince, Koker, Blaqbonez, Barry Jhay, BOJ and other artistes.
Ckay has been recognised with the following awards and nominations so far for his remarkable works both as an artiste and producer.

– Top Naija Music Awards, 2017

Best Song Cover – Nominated
– City People Music Awards, 2018

Best New Act Of The Year – Nominated.

Download and Listen to C Kay on Boomplay.
New Comments(
240

)
FAQs about CKay
Where is CKay from?
He is from Nigeria.
What are the latest songs of CKay?
The latest songs of CKay are by now (Amapiano Remix) [Mixed], emiliana (Mixed) and by now (Mixed).
What are the best songs of CKay?
The best songs of CKay are emiliana, love nwantiti (feat. Dj Yo! & AX'EL) (Remix) and love nwantiti (ah ah ah) [feat. Joeboy & Kuami Eugene] [Remix].
What are the best albums of CKay?
The best albums of CKay are Emiliana, love nwantiti (feat. Dj Yo! & AX'EL) (Remix) and Boyfriend.
How to download songs of CKay?
You can download songs of CKay from Boomplay App for free.
Firstly, install Boomplay app on your mobile phone.
Secondly, navigate to the song you would like to download.
Thirdly, Tap on More > Download.