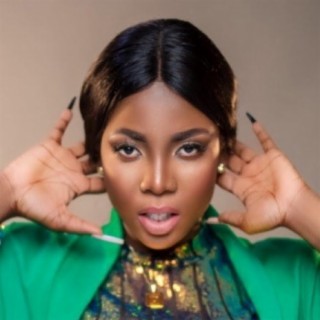 Ms Forson
Current #71.3k

All Time #27.8k

Ms Forson is a multi-talented singer. She plays instruments, produces music and well as write her songs. Many of Ms Forson songs become very popular and trendy online with a great number of streaming and downloads on Boomplay. Her style cuts across the afrobeat spectrum and also has dancehall flavors, amapiano and hi-life.

Career
Coming from a background of musicians, she learned how to play musical instruments at a very tender age and mastered her vocal delivery and skills in songwriting before age 15. She can be best described as a multi-talented musician.

Her choice of lyrics and word play antics has always sparked conversations among listeners, getting them to think deeper to properly digest the meanings of quotes she presents in her music. Those who have come across her will testify that she has an amazing personality. Her brand as a female entertainer is outstanding in many ways.

Judging from the 'Libido' hitmakers' beautiful looks and super curvy natural figure to her delivery behind the microphone on stage, it's no doubt that she is talented, hot and saucy.
She joined Black Avenue Music and released 4 songs under the label. These are Number 1 with Fameye, Libido, Wo di mi ruff, Wobe su.

Follow Boomplay and keep up to date with the latest Ms Forson songs and information.

Ms Forson Songs
• Number 1
• Libido
• Wo di mi ruff
• Wobe su

Ms Forson songs are included in Boomplay music playlists. Search to stream and download Ms Forson songs MP3/ single/ albums on the platform....more

Country/Region : Ghana
Songs

(1)

Albums

(1)

Playlists

(6)
Listen to Ms Forson's new songs including "Blessings ft. Ayesem", and many more. Enjoy Ms Forson's latest songs and explore the Ms Forson's new music albums. If you want to download Ms Forson songs MP3, use the Boomplay App to download the Ms Forson songs for free. Discover Ms Forson's latest songs, popular songs, trending songs all on Boomplay.
Ms Forson is a multi-talented singer. She plays instruments, produces music and well as write her songs. Many of Ms Forson songs become very popular and trendy online with a great number of streaming and downloads on Boomplay. Her style cuts across the afrobeat spectrum and also has dancehall flavors, amapiano and hi-life.

Career
Coming from a background of musicians, she learned how to play musical instruments at a very tender age and mastered her vocal delivery and skills in songwriting before age 15. She can be best described as a multi-talented musician.

Her choice of lyrics and word play antics has always sparked conversations among listeners, getting them to think deeper to properly digest the meanings of quotes she presents in her music. Those who have come across her will testify that she has an amazing personality. Her brand as a female entertainer is outstanding in many ways.

Judging from the 'Libido' hitmakers' beautiful looks and super curvy natural figure to her delivery behind the microphone on stage, it's no doubt that she is talented, hot and saucy.
She joined Black Avenue Music and released 4 songs under the label. These are Number 1 with Fameye, Libido, Wo di mi ruff, Wobe su.

Follow Boomplay and keep up to date with the latest Ms Forson songs and information.

Ms Forson Songs
• Number 1
• Libido
• Wo di mi ruff
• Wobe su

Ms Forson songs are included in Boomplay music playlists. Search to stream and download Ms Forson songs MP3/ single/ albums on the platform.
New Comments(
0

)

What do you think of this artist?
FAQs about Ms Forson
Where is Ms Forson from?
She is from Ghana.
How to download songs of Ms Forson?
You can download songs of Ms Forson from Boomplay App for free.
Firstly, install Boomplay app on your mobile phone.
Secondly, navigate to the song you would like to download.
Thirdly, Tap on More > Download.