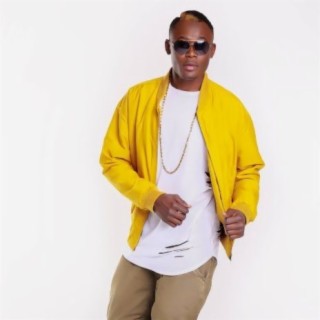 Arrow Bwoy
Current #1,964

All Time #1,616

Arrow Bwoy (born Ali Yusuf) is a Kenyan singer-songwriter vocalist and performing artiste. He was born and raised in Huruma - an area in the Eastlands neighbourhood of Nairobi. His birth date is 25th May 1993. Many of Arrow Bwoy's Songs became very popular and trendy on social media in line with a great number of streaming and downloads on Boomplay.

Career
Arrow Bwoy's music career has been an up and down affair but also a true reflection of what resilience in the music industry is. In 2011, Arrow Bwoy tries out his luck on Tusker Project Fame auditions but was not successful. He later became part of Qbic Crew - a boy band - in 2012 as the lead vocalist. The band's three singles were a flop hence making Arrow Bwoy take on the solo career route.

Arrow Bwoy launched his solo career in 2015, releasing his debut single by the name Mdogo Mdogo in the same year. His bubbling ambition saw him secure a recording deal with King Kaka's Kaka Empire. His debut single under Kaka Empire - Digi Digi - was a major breakout for him and still remains one of the biggest successes of his career.

Achivements
Arrow Bwoy has stamped his name in the music industry by releasing two full-length albums since his debut. His debut album; Hatua was released in 2019 to great critical acclaim. The 15-track effort features a host of stars including Wyre, Jovial, Fena, Mayorkun and Demarco among others. Some of the notable songs off the album include Digi Digi, Dodo, I'll be There and Ngeta.

The album currently has a total of over 600K Boomplay streams. His sophomore album - Focus - dropped in March 2022. It features artists such as Sanaipei Tande, Nadia Mukami and Spice Diana among others. Some of the songs off the album include Enjoy, Njiwa, Mood and Usinimwage. The album currently has over 300K Boomplay streams.

Arrow Bwoy's music has been featured on Boomplay playlists such as Please Me, Afro Royalty and Afro Fresh among others. Follow Boomplay and keep up-to-date with the latest songs of Arrow Bwoy and information

Arrow Bwoy's Songs
• Shikisha
• Raha ft. Nadia Mukami
• Jango Love
• Dodo
• Radio Love
• Usinimwage (feat. Nandy)
• Usinimwage (feat. Nadia Mukami)

Explore Boomplay and download Arrow Bwoy's latest songs.

Arrow Bwoy's Songs are included in Boomplay music playlists. Search, stream, and download Arrow Bwoy's Songs, his latest singles and albums in MP3 only on the Boomplay platform for free....more

Country/Region : Kenya
Listen to Arrow Bwoy's new songs including "Uko Nami", "Unconditional Love", "Chu Chu" and many more. Enjoy Arrow Bwoy's latest songs and explore the Arrow Bwoy's new music albums. If you want to download Arrow Bwoy songs MP3, use the Boomplay App to download the Arrow Bwoy songs for free. Discover Arrow Bwoy's latest songs, popular songs, trending songs all on Boomplay.
Arrow Bwoy (born Ali Yusuf) is a Kenyan singer-songwriter vocalist and performing artiste. He was born and raised in Huruma - an area in the Eastlands neighbourhood of Nairobi. His birth date is 25th May 1993. Many of Arrow Bwoy's Songs became very popular and trendy on social media in line with a great number of streaming and downloads on Boomplay.

Career
Arrow Bwoy's music career has been an up and down affair but also a true reflection of what resilience in the music industry is. In 2011, Arrow Bwoy tries out his luck on Tusker Project Fame auditions but was not successful. He later became part of Qbic Crew - a boy band - in 2012 as the lead vocalist. The band's three singles were a flop hence making Arrow Bwoy take on the solo career route.

Arrow Bwoy launched his solo career in 2015, releasing his debut single by the name Mdogo Mdogo in the same year. His bubbling ambition saw him secure a recording deal with King Kaka's Kaka Empire. His debut single under Kaka Empire - Digi Digi - was a major breakout for him and still remains one of the biggest successes of his career.

Achivements
Arrow Bwoy has stamped his name in the music industry by releasing two full-length albums since his debut. His debut album; Hatua was released in 2019 to great critical acclaim. The 15-track effort features a host of stars including Wyre, Jovial, Fena, Mayorkun and Demarco among others. Some of the notable songs off the album include Digi Digi, Dodo, I'll be There and Ngeta.

The album currently has a total of over 600K Boomplay streams. His sophomore album - Focus - dropped in March 2022. It features artists such as Sanaipei Tande, Nadia Mukami and Spice Diana among others. Some of the songs off the album include Enjoy, Njiwa, Mood and Usinimwage. The album currently has over 300K Boomplay streams.

Arrow Bwoy's music has been featured on Boomplay playlists such as Please Me, Afro Royalty and Afro Fresh among others. Follow Boomplay and keep up-to-date with the latest songs of Arrow Bwoy and information

Arrow Bwoy's Songs
• Shikisha
• Raha ft. Nadia Mukami
• Jango Love
• Dodo
• Radio Love
• Usinimwage (feat. Nandy)
• Usinimwage (feat. Nadia Mukami)

Explore Boomplay and download Arrow Bwoy's latest songs.

Arrow Bwoy's Songs are included in Boomplay music playlists. Search, stream, and download Arrow Bwoy's Songs, his latest singles and albums in MP3 only on the Boomplay platform for free.
FAQs about Arrow Bwoy
Where is Arrow Bwoy from?
He is from Kenya.
How to download songs of Arrow Bwoy?
You can download songs of Arrow Bwoy from Boomplay App for free.
Firstly, install Boomplay app on your mobile phone.
Secondly, navigate to the song you would like to download.
Thirdly, Tap on More > Download.