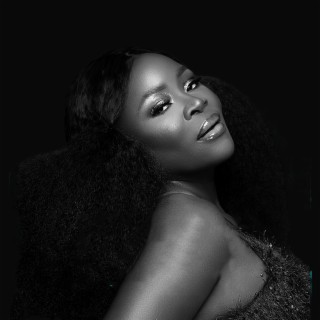 Omawumi
Current #9,146

All Time #2,297

Omawumi was born on the 13th of April 1982 to Chief Dr Frank and Mrs Aya Megbele. She attended Nana Primary School for her primary education. Afterwards, she went to the College of Education Demonstration Secondary School (CEDSS) for her SSCE. After her SSCE, she went to study Law at Ambrose Alli University. After her law degree in 2005, Omawumi went to work at her family's law firm - O.S Megbele and Associates in Port Harcourt, Rivers State. While at the Law Firm, she studied French at Alliance Francaise. Omawumi married Toyin Yusuf on the 13th of January 2018, and they are blessed with children.

Omawumi songs, like My Life, become very popular and trendy online with a great number of streaming and downloads on Boomplay.

Career
Omawumi became popular as a contestant on Idols West Africa, where she emerged the first runner up of the competition in May 2007. After the competition, she started enjoying the privilege of performing with star musicians like P-Square, 2face Idibia, D'Banj, Banky W, M.I, Sasha, 9ice, Chaka Demus and Pliers, Carl Thomas, Angie Stone and Donell Jones, Angelique Kidjo amongst others. Omawumi owns her own record label.

Omawumi is a multi-talented artist because she's not only good at singing, but also a pro actress. She started acting in 2009 when she played a minor role at V-monologues - a play that reflects the negative issues affecting Nigerian women. Afterwards, she starred in the musical play Olorombi, and the movie Inhale, a Hollywood and Nollywood.

In 2011, Funke Akindele gave her a lead role in the Return of Jenifa, and in 2013 she starred in Yvonne Nelson's House of Gold alongside Majid Michael and Ice Prince. Omawumi was one of the lead actors in the movie 'She Is' which premiered in March 2019. 'She Is' was produced by Omawumi's media company: Hermanes Media. The soundtrack of the movie was sung by Omawumi and Waje - her best friend who is also a hot cake in the Nigerian music industry.

Follow Boomplay and keep up-to-date with the latest Omawumi songs and information.

Omawumi's Songs and Albums
Wonder Woman
The album debuted on the 21st of May 2009, under Oma Records. Wonder Woman contains the following songs:
• Starting Point (intro)
• Ma Fi Mi Shere (featuring ELDee tha Don)
• Today na Today
• Serious Love Nwantinti
• Love it (featuring Shank)
• When Breeze Blow
• The Way That I feel (featuring Dr Frabz)
• Chocolata (featuring Naeto C)
• I stand (Skit)
• In The Music
• Brighter Day
• I miss my baby
• As I dey
• Niger delta 1 (featuring Eric Arubayi)
• Same Guy (featuring Waje and Kel)
• Blessings Flow

Lasso of Truth
The album debuted on the 26th of September 2015, under Oma Records. Lasso of Truth contains the following songs:
• If you ask me
• When the Boss is coming
• The African Way
• The best you can be
• I Go Go i
• What a Bang Bang (featuring 2face Idibia)
• Personal Race (featuring Timaya)
• You must love me
• Warn yourself (featuring wizkid)
• Stay Alive (Jeje Laiye)
• Belle (featuring Flavour)
• Life goes on (featuring Afay)

Timeless
This album debuted on the 30th of June 2017, under Roc Nation/Cabal Entertainment. Timeless contains the following songs:
• Play Na Play (feat. Angelique Kidjo)
• Dolapo
• I no sure
• Ololufe
• E don do me
• E Don Loss (If God Does Not Will It)
• Something
• Butterflies
• The Matter
• Africa (featuring Salif Keita and Uhuru)
• Through the fire

In Her Feelings
This album debuted on the 14th of June 2019, under Hermanes Media. Her Feelings contains the following songs:
• Without You
• For My Baby
• Mr Sinnerman
• Away
• True Loving
• Tabansi
• Green Grass

Omawumi songs are included in Boomplay music playlists. Search to stream and download Omawumi songs MP3/ single/ albums on the platform....more

Country/Region : Nigeria
Songs

(15)

Albums

(5)

Playlists

(3)
1

2

3

4

5

6

7

8

9

10

11

12

13

14

15
Listen to Omawumi's new songs including "Me Ke ft. Kizz Daniel", "BS", "Ololufe" and many more. Enjoy Omawumi's latest songs and explore the Omawumi's new music albums. If you want to download Omawumi songs MP3, use the Boomplay App to download the Omawumi songs for free. Discover Omawumi's latest songs, popular songs, trending songs all on Boomplay.
Omawumi was born on the 13th of April 1982 to Chief Dr Frank and Mrs Aya Megbele. She attended Nana Primary School for her primary education. Afterwards, she went to the College of Education Demonstration Secondary School (CEDSS) for her SSCE. After her SSCE, she went to study Law at Ambrose Alli University. After her law degree in 2005, Omawumi went to work at her family's law firm - O.S Megbele and Associates in Port Harcourt, Rivers State. While at the Law Firm, she studied French at Alliance Francaise. Omawumi married Toyin Yusuf on the 13th of January 2018, and they are blessed with children.

Omawumi songs, like My Life, become very popular and trendy online with a great number of streaming and downloads on Boomplay.

Career
Omawumi became popular as a contestant on Idols West Africa, where she emerged the first runner up of the competition in May 2007. After the competition, she started enjoying the privilege of performing with star musicians like P-Square, 2face Idibia, D'Banj, Banky W, M.I, Sasha, 9ice, Chaka Demus and Pliers, Carl Thomas, Angie Stone and Donell Jones, Angelique Kidjo amongst others. Omawumi owns her own record label.

Omawumi is a multi-talented artist because she's not only good at singing, but also a pro actress. She started acting in 2009 when she played a minor role at V-monologues - a play that reflects the negative issues affecting Nigerian women. Afterwards, she starred in the musical play Olorombi, and the movie Inhale, a Hollywood and Nollywood.

In 2011, Funke Akindele gave her a lead role in the Return of Jenifa, and in 2013 she starred in Yvonne Nelson's House of Gold alongside Majid Michael and Ice Prince. Omawumi was one of the lead actors in the movie 'She Is' which premiered in March 2019. 'She Is' was produced by Omawumi's media company: Hermanes Media. The soundtrack of the movie was sung by Omawumi and Waje - her best friend who is also a hot cake in the Nigerian music industry.

Follow Boomplay and keep up-to-date with the latest Omawumi songs and information.

Omawumi's Songs and Albums
Wonder Woman
The album debuted on the 21st of May 2009, under Oma Records. Wonder Woman contains the following songs:
• Starting Point (intro)
• Ma Fi Mi Shere (featuring ELDee tha Don)
• Today na Today
• Serious Love Nwantinti
• Love it (featuring Shank)
• When Breeze Blow
• The Way That I feel (featuring Dr Frabz)
• Chocolata (featuring Naeto C)
• I stand (Skit)
• In The Music
• Brighter Day
• I miss my baby
• As I dey
• Niger delta 1 (featuring Eric Arubayi)
• Same Guy (featuring Waje and Kel)
• Blessings Flow

Lasso of Truth
The album debuted on the 26th of September 2015, under Oma Records. Lasso of Truth contains the following songs:
• If you ask me
• When the Boss is coming
• The African Way
• The best you can be
• I Go Go i
• What a Bang Bang (featuring 2face Idibia)
• Personal Race (featuring Timaya)
• You must love me
• Warn yourself (featuring wizkid)
• Stay Alive (Jeje Laiye)
• Belle (featuring Flavour)
• Life goes on (featuring Afay)

Timeless
This album debuted on the 30th of June 2017, under Roc Nation/Cabal Entertainment. Timeless contains the following songs:
• Play Na Play (feat. Angelique Kidjo)
• Dolapo
• I no sure
• Ololufe
• E don do me
• E Don Loss (If God Does Not Will It)
• Something
• Butterflies
• The Matter
• Africa (featuring Salif Keita and Uhuru)
• Through the fire

In Her Feelings
This album debuted on the 14th of June 2019, under Hermanes Media. Her Feelings contains the following songs:
• Without You
• For My Baby
• Mr Sinnerman
• Away
• True Loving
• Tabansi
• Green Grass

Omawumi songs are included in Boomplay music playlists. Search to stream and download Omawumi songs MP3/ single/ albums on the platform.
New Comments(
42

)