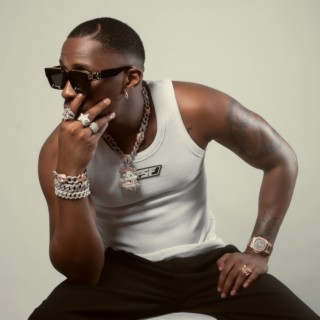 Jux
Current #224

All Time #797

Juma Mussa Mkambala (born 1 September 1989), popularly known by his artist name Jux and sometimes referred to as 'African Boy', is a Tanzanian Artist and Songwriter. Born in Dar es Salaam. Many of Jux songs become very popular and trendy online with a great number of streaming and downloads on Boomplay.

Career
His interest in music began at a young age, when at the age of 16 he began to rap. However it is his singing that he is best known for to date, and is considered one of Tanzania's highest paid artists. In 2008 when Jux signed to Tanzanian record label A.M records, he began to record R&B songs instead. Since then he has released several hit songs, including 'Sugua' featuring Diamond Platnumz, 'Juu' featuring Vanessa Mdee, and most recently 'Regina' featuring Otile Brown.

In 2018 his song 'Uzuri Wako' (translation: Your Goodness) was banned by the Tanzania Communications Regulatory Authority, along with songs from several other artists, including Diamond Platnumz, for going against Tanzanian morals and values. Jux is regarded as one of the best and successful artists in Tanzania of all time.

In 2015, he received an award for 'Best R&B song' at Kili Music Awards, also known as the national Tanzania Music Awards. In 2017 he received an award for the Best East African Music Video at the Zanzibar International Film Festival (2017). And in 2018 and 2019, he was nominated for 'Best Male East Africa' at the AFRIMMA awards. He also performed on Coke Studio Africa in 2019. After numerous single releases, his first album titled 'The Love Album' was released in 2019, featuring tracks from several artists including Nigerian artist Singah and Diamond Platnumz. Jux he is regarded as one of the best and successful artists in Tanzania of all time.

Jux released his debut studio album 'The Love Album' in 2019, consisting of a total of 18 songs. To date the album has received more than 1.3 million streams on Boomplay, making it one of the most streamed East African R&B albums to date. The album's lead single 'Sugua' was a hit, amassing more than 10 million views on YouTube. The album was distributed by Africori the largest digital music distribution company in Sub-Saharan Africa, a partner of Warner Music Group

Jux also has a deep interest in fashion, and established his own brand in 2018, for which he curates and designs. The brand is widely available across East Africa, in part due to the production deal he signed with the Chinese in 2019. He recently announced that he would be expanding his brand into Kenya over the course of the coming year

Achievements
• His song Nitasubiri won the Best R&B Song at the 2015 Tanzania Music Awards
• His song Utaniua won the Best East African Music Video at the 2017 Zanzibar International Film Festival

Follow Boomplay and keep up to date with the latest Jux songs and information.

Jux Songs
• Zaidi
• Unaniweza
• Wambela
• Upofu
• In Case You Don't Know
• Sugarcane
• Slowly
• Sumaku
• Sio Mbaya
• Bado Yupo
• Kibindoni
• Sugua
• Fashion Killer
• Yeye
• Now You Know
• Tell Me
• Umenibamba

Jux songs are included in Boomplay music playlists. Search to stream and download Jux songs MP3/ single/ albums on the platform....more

Country/Region : Tanzania
Listen to Jux's new songs including "Sio Mbaya", "Unaniweza", "Incase You Don't Know ft. Nyashinski" and many more. Enjoy Jux's latest songs and explore the Jux's new music albums. If you want to download Jux songs MP3, use the Boomplay App to download the Jux songs for free. Discover Jux's latest songs, popular songs, trending songs all on Boomplay.
Juma Mussa Mkambala (born 1 September 1989), popularly known by his artist name Jux and sometimes referred to as 'African Boy', is a Tanzanian Artist and Songwriter. Born in Dar es Salaam. Many of Jux songs become very popular and trendy online with a great number of streaming and downloads on Boomplay.

Career
His interest in music began at a young age, when at the age of 16 he began to rap. However it is his singing that he is best known for to date, and is considered one of Tanzania's highest paid artists. In 2008 when Jux signed to Tanzanian record label A.M records, he began to record R&B songs instead. Since then he has released several hit songs, including 'Sugua' featuring Diamond Platnumz, 'Juu' featuring Vanessa Mdee, and most recently 'Regina' featuring Otile Brown.

In 2018 his song 'Uzuri Wako' (translation: Your Goodness) was banned by the Tanzania Communications Regulatory Authority, along with songs from several other artists, including Diamond Platnumz, for going against Tanzanian morals and values. Jux is regarded as one of the best and successful artists in Tanzania of all time.

In 2015, he received an award for 'Best R&B song' at Kili Music Awards, also known as the national Tanzania Music Awards. In 2017 he received an award for the Best East African Music Video at the Zanzibar International Film Festival (2017). And in 2018 and 2019, he was nominated for 'Best Male East Africa' at the AFRIMMA awards. He also performed on Coke Studio Africa in 2019. After numerous single releases, his first album titled 'The Love Album' was released in 2019, featuring tracks from several artists including Nigerian artist Singah and Diamond Platnumz. Jux he is regarded as one of the best and successful artists in Tanzania of all time.

Jux released his debut studio album 'The Love Album' in 2019, consisting of a total of 18 songs. To date the album has received more than 1.3 million streams on Boomplay, making it one of the most streamed East African R&B albums to date. The album's lead single 'Sugua' was a hit, amassing more than 10 million views on YouTube. The album was distributed by Africori the largest digital music distribution company in Sub-Saharan Africa, a partner of Warner Music Group

Jux also has a deep interest in fashion, and established his own brand in 2018, for which he curates and designs. The brand is widely available across East Africa, in part due to the production deal he signed with the Chinese in 2019. He recently announced that he would be expanding his brand into Kenya over the course of the coming year

Achievements
• His song Nitasubiri won the Best R&B Song at the 2015 Tanzania Music Awards
• His song Utaniua won the Best East African Music Video at the 2017 Zanzibar International Film Festival

Follow Boomplay and keep up to date with the latest Jux songs and information.

Jux Songs
• Zaidi
• Unaniweza
• Wambela
• Upofu
• In Case You Don't Know
• Sugarcane
• Slowly
• Sumaku
• Sio Mbaya
• Bado Yupo
• Kibindoni
• Sugua
• Fashion Killer
• Yeye
• Now You Know
• Tell Me
• Umenibamba

Jux songs are included in Boomplay music playlists. Search to stream and download Jux songs MP3/ single/ albums on the platform.
New Comments(
240

)
FAQs about Jux
Where is Jux from?
He is from Tanzania.
How to download songs of Jux?
You can download songs of Jux from Boomplay App for free.
Firstly, install Boomplay app on your mobile phone.
Secondly, navigate to the song you would like to download.
Thirdly, Tap on More > Download.