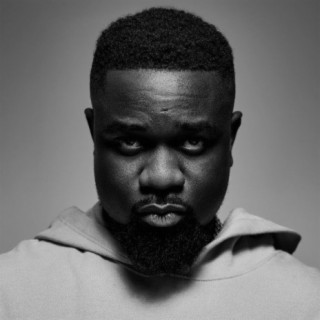 Sarkodie
Current #16

All Time #58

Sarkodie (born July 10, 1988) is the professional name of Michael Owusu Addo, a Ghanaian rapper and entrepreneur from Tema. His contributions to the Ghanaian music industry have earned him numerous accolades, including the Vodafone Ghana Music Award for "Artiste of the Decade." He is one of the greatest African rappers of all time with his contribution so far to the culture. Many of Sarkodie songs become very popular and trendy online with great number of streaming and downloads on Boomplay.

He was raised in Koforidua before his parents moved to Tema, where he started schooling Sarkodie began his music career as an underground rapper, participating in Adom FM's popular rap competition Kasahare Level. Sarkodie attended Tema Methodist Day Senior High School and proceeded to IPMC, where he earned a degree in graphic design.

CAREER AND ACHIEVEMENTS
Sarkodie was announced the first winner of BET's Best International Flow artist at the 2019 BET Hip Hop Awards. He is also considered one of the foremost proponents of the Azonto genre and dance and one of the most successful African rappers of all time.

Aside from his music career, on July 13, 2013, Sarkodie launched The Sarkodie Foundation, a non-profit organization dedicated to supporting underprivileged children. In addition, he made generous donations to the Royal Seed Home Orphanage in Kasoa.

On December 25, 2014, The Foundation embarked on a feed the kids' campaign in Tema, Ghana, where they provided thousands of kids with bags of rice, yogurt, and beverage cans. They also gave away school bags, water bottles, hats, and other items. Roshi Motman, the CEO of Tigo Telecommunications, was also in attendance to support the campaign.

Furthermore, Sarkodie owns the Sark by Yas clothing line, which was launched on April 27, 2013. The clothing line has accessories for men, women, and children. In 2012, he was officially unveiled as the Brand Ambassador for Samsung Electronics at the University of Ghana, Legon.

As part of the event, Samsung unveiled the Samsung Galaxy Pocket and Chief Hero Phones that had customized wallpapers of Sarkodie and his signature; users had the opportunity to download exclusive tracks of Sarkodie. He also launched the Obidi Chief headphones and signed an endorsement deal with FanMilk Ghana in 2013.

Sarkodie is currently in partnership with Tigo Telecommunications Ghana, a brand that sponsored his 2013 Rapperholic tour.

Sarkodie also has endorsement deals with Standard Chartered Bank - a leading banking firm in Africa and Guinness Ghana Limited for their Malt drink product. On 30 October 2019, he was appointed as an ambassador for the Year of Return campaign; the honor was conferred on him at the Creative Arts Industry Forum.

In March 2021, Sarkodie and his little daughter were featured in Ghana's leading toothpaste brand - Pepsodent Ghana's #BrushWithMe campaign ad. The campaign was done to rally parents and guardians to start and encourage a day and night teeth brushing routine with their children. This was done to commemorate World oral health day.

Follow Boomplay and keep up to date with latest Sarkodie songs and information.

Sarkodie Songs
• Happy Day ft. Kuami Eugene
• Makye (2009)
• Rapperholic (2012)
• Sarkology (2014)
• Highest (2017)
• Black Love Album - Black Love (Sarkodie album) (2019)
• No pressure - (2021)
• Mary (2015)
• Alpha (2019)
• T.M.G (with Jayso) (2013)

Net Worth
Sarkodie has been in the entertainment industry since the beginning of 2009. However, with his work, the star musician has gained fans from here and there. Thanks to it, Sarkodie has accumulated a hefty amount as well. He has an estimated net worth of $7 million to $10 million.

Sarkodie songs are included in Boomplay music playlists. Search to stream and download Sarkodie songs MP3/ single/ albums on the Boomplay....more

Country/Region : Ghana
Listen to Sarkodie's new songs including "Country Side (feat. Black Sherif)", "Otan", "Till We Die (feat. Ruger)" and many more. Enjoy Sarkodie's latest songs and explore the Sarkodie's new music albums. If you want to download Sarkodie songs MP3, use the Boomplay App to download the Sarkodie songs for free. Discover Sarkodie's latest songs, popular songs, trending songs all on Boomplay.
Sarkodie (born July 10, 1988) is the professional name of Michael Owusu Addo, a Ghanaian rapper and entrepreneur from Tema. His contributions to the Ghanaian music industry have earned him numerous accolades, including the Vodafone Ghana Music Award for "Artiste of the Decade." He is one of the greatest African rappers of all time with his contribution so far to the culture. Many of Sarkodie songs become very popular and trendy online with great number of streaming and downloads on Boomplay.

He was raised in Koforidua before his parents moved to Tema, where he started schooling Sarkodie began his music career as an underground rapper, participating in Adom FM's popular rap competition Kasahare Level. Sarkodie attended Tema Methodist Day Senior High School and proceeded to IPMC, where he earned a degree in graphic design.

CAREER AND ACHIEVEMENTS
Sarkodie was announced the first winner of BET's Best International Flow artist at the 2019 BET Hip Hop Awards. He is also considered one of the foremost proponents of the Azonto genre and dance and one of the most successful African rappers of all time.

Aside from his music career, on July 13, 2013, Sarkodie launched The Sarkodie Foundation, a non-profit organization dedicated to supporting underprivileged children. In addition, he made generous donations to the Royal Seed Home Orphanage in Kasoa.

On December 25, 2014, The Foundation embarked on a feed the kids' campaign in Tema, Ghana, where they provided thousands of kids with bags of rice, yogurt, and beverage cans. They also gave away school bags, water bottles, hats, and other items. Roshi Motman, the CEO of Tigo Telecommunications, was also in attendance to support the campaign.

Furthermore, Sarkodie owns the Sark by Yas clothing line, which was launched on April 27, 2013. The clothing line has accessories for men, women, and children. In 2012, he was officially unveiled as the Brand Ambassador for Samsung Electronics at the University of Ghana, Legon.

As part of the event, Samsung unveiled the Samsung Galaxy Pocket and Chief Hero Phones that had customized wallpapers of Sarkodie and his signature; users had the opportunity to download exclusive tracks of Sarkodie. He also launched the Obidi Chief headphones and signed an endorsement deal with FanMilk Ghana in 2013.

Sarkodie is currently in partnership with Tigo Telecommunications Ghana, a brand that sponsored his 2013 Rapperholic tour.

Sarkodie also has endorsement deals with Standard Chartered Bank - a leading banking firm in Africa and Guinness Ghana Limited for their Malt drink product. On 30 October 2019, he was appointed as an ambassador for the Year of Return campaign; the honor was conferred on him at the Creative Arts Industry Forum.

In March 2021, Sarkodie and his little daughter were featured in Ghana's leading toothpaste brand - Pepsodent Ghana's #BrushWithMe campaign ad. The campaign was done to rally parents and guardians to start and encourage a day and night teeth brushing routine with their children. This was done to commemorate World oral health day.

Follow Boomplay and keep up to date with latest Sarkodie songs and information.

Sarkodie Songs
• Happy Day ft. Kuami Eugene
• Makye (2009)
• Rapperholic (2012)
• Sarkology (2014)
• Highest (2017)
• Black Love Album - Black Love (Sarkodie album) (2019)
• No pressure - (2021)
• Mary (2015)
• Alpha (2019)
• T.M.G (with Jayso) (2013)

Net Worth
Sarkodie has been in the entertainment industry since the beginning of 2009. However, with his work, the star musician has gained fans from here and there. Thanks to it, Sarkodie has accumulated a hefty amount as well. He has an estimated net worth of $7 million to $10 million.

Sarkodie songs are included in Boomplay music playlists. Search to stream and download Sarkodie songs MP3/ single/ albums on the Boomplay.
FAQs about Sarkodie
Where is Sarkodie from?
He is from Ghana.
How to download songs of Sarkodie?
You can download songs of Sarkodie from Boomplay App for free.
Firstly, install Boomplay app on your mobile phone.
Secondly, navigate to the song you would like to download.
Thirdly, Tap on More > Download.