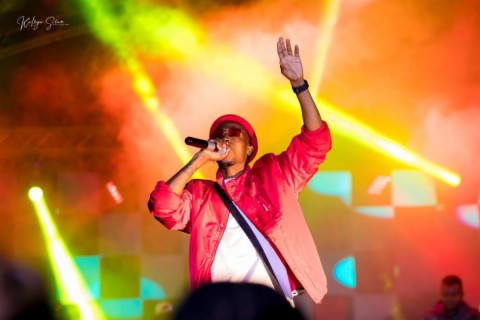 Yo Maps
Current #90

All Time #200

Elton Mulenga (born November 29, 1994) professionally known as Yo Maps was born in Kasama, Zambia but later relocated to Lusaka where he grew up. He later relocated to Kabwe at the age of 18 years.
Many Yo Map songs become very popular and trendy online with a great number of streaming and downloads on Boomplay.

Career
Yo Map's passion for music began at an early age when he was a teenager schooling at Chibombo High School. While in school around 2008, he was in the choir and did more gospel songs than secular. At home, his mother would not buy his idea to venture into music thereby grounding him to doing it while he was in school. This, however, did not dampen his spirit.

He continued doing his thing while in school and luckily, his father Muyunda Mundia is the one who got him on the springboard to musical success. Mundia was a gospel singer and dedicated catholic.

Yo Maps dedicated his soul to music and learnt as much as he would from 2008. As fate would have it, he bumped into Slapdee who he learnt a thing or two from and in 2011, he released his first album. People now knew his name because the music industry in Zambia was going through a trying time with the beefing of Slapdee and Macky2 whose music careers started almost at the same time.

He made a comeback to Lusaka from Chingola where he had been and released "Ndimupondo". The takeaway hits from this album were "I Am The President" and "Number 1 Fan". They got Zambia into a frenzy given his young age at the time and great talent. Digital X Label released Yo Map's first album.

In 2018, he released "Finally" a song that fully set him on stage in the Zambian music industry. Even Macky 2 acknowledged that this was the beginning of a great Yo Maps. He went on to collaborate with big names among them Macky 2, Slapdee, Daev among others.

In 2020, his song "So Chabe" was one of his biggest songs of the year. In February 2021, he released "Pick It Up" featuring Mic Burner and the song claimed a top position in the charts within a month.

Achievements
• Yo Map has won Kwacha Music Awards
• He has also won Ngoma Awards
Follow Boomplay and keep up to date with the latest Yo Map songs and information.

Yo Map Songs
• Ba Mayi
• One Day
• Refresh
• Timamizibani
• Am Sorry
• Single
• Life Yanga
• Season Yanga
• Mutima Ubaba
• Osanisiya
• Kaleza
• Mutendele
• Mubelele
• Ka Dance
• Finally
• Perfect

Yo Map songs are included in Boomplay music playlists. Search to stream and download Yo Map songs MP3/ single/ albums on the platform....more

Country/Region : Zambia
Listen to Yo Maps's new songs including "Tiliko ft. T-sean", "Why", "Komando ft Slapdee" and many more. Enjoy Yo Maps's latest songs and explore the Yo Maps's new music albums. If you want to download Yo Maps songs MP3, use the Boomplay App to download the Yo Maps songs for free. Discover Yo Maps's latest songs, popular songs, trending songs all on Boomplay.
Elton Mulenga (born November 29, 1994) professionally known as Yo Maps was born in Kasama, Zambia but later relocated to Lusaka where he grew up. He later relocated to Kabwe at the age of 18 years.
Many Yo Map songs become very popular and trendy online with a great number of streaming and downloads on Boomplay.

Career
Yo Map's passion for music began at an early age when he was a teenager schooling at Chibombo High School. While in school around 2008, he was in the choir and did more gospel songs than secular. At home, his mother would not buy his idea to venture into music thereby grounding him to doing it while he was in school. This, however, did not dampen his spirit.

He continued doing his thing while in school and luckily, his father Muyunda Mundia is the one who got him on the springboard to musical success. Mundia was a gospel singer and dedicated catholic.

Yo Maps dedicated his soul to music and learnt as much as he would from 2008. As fate would have it, he bumped into Slapdee who he learnt a thing or two from and in 2011, he released his first album. People now knew his name because the music industry in Zambia was going through a trying time with the beefing of Slapdee and Macky2 whose music careers started almost at the same time.

He made a comeback to Lusaka from Chingola where he had been and released "Ndimupondo". The takeaway hits from this album were "I Am The President" and "Number 1 Fan". They got Zambia into a frenzy given his young age at the time and great talent. Digital X Label released Yo Map's first album.

In 2018, he released "Finally" a song that fully set him on stage in the Zambian music industry. Even Macky 2 acknowledged that this was the beginning of a great Yo Maps. He went on to collaborate with big names among them Macky 2, Slapdee, Daev among others.

In 2020, his song "So Chabe" was one of his biggest songs of the year. In February 2021, he released "Pick It Up" featuring Mic Burner and the song claimed a top position in the charts within a month.

Achievements
• Yo Map has won Kwacha Music Awards
• He has also won Ngoma Awards
Follow Boomplay and keep up to date with the latest Yo Map songs and information.

Yo Map Songs
• Ba Mayi
• One Day
• Refresh
• Timamizibani
• Am Sorry
• Single
• Life Yanga
• Season Yanga
• Mutima Ubaba
• Osanisiya
• Kaleza
• Mutendele
• Mubelele
• Ka Dance
• Finally
• Perfect

Yo Map songs are included in Boomplay music playlists. Search to stream and download Yo Map songs MP3/ single/ albums on the platform.
FAQs about Yo Maps
Where is Yo Maps from?
He is from Zambia.
How to download songs of Yo Maps?
You can download songs of Yo Maps from Boomplay App for free.
Firstly, install Boomplay app on your mobile phone.
Secondly, navigate to the song you would like to download.
Thirdly, Tap on More > Download.