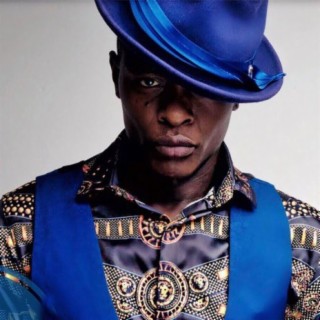 Jose Chameleone
Current #1,234

All Time #1,136

Jose Chameleone, born Joseph Mayanja on 30 April 1979 in Uganda, is an AfroBeat artiste and a versatile musician from Uganda. Many of Jose Chameleone songs become very popular and trendy online with a great number of streaming and downloads on Boomplay. He is one of the most popular Ugandan musicians of the 21st century and enjoys strong popularity in many countries. Chameleone sings in Luganda, English, and Swahili and has won numerous awards.

Career.
He is also known for his flamboyant lifestyle and also as a philanthropic and respected person in his native Uganda

Chameleone's career began in 1996 as a DJ at the Missouri night club in Kampala. He was later signed to the Kenyan record label Ogopa DJs, where he enjoyed his break through with one of his first singles, "Bageya", which featured Kenyan artist Redsan.

Chameleone's musical style is a combination of Ugandan folk music, central African rumba, zouk, and reggae. His first album, Bageya, was released in 2000. By 2013, he had released twelve more albums.He is president of Ugandan music label Leone Island.

Jose Chameleone Albums
• Kuma Obwesigwa (2022)
• Conversessions with Jose Chameleone (Live) (2022)
• Gloriah (2021)

Follow Boomplay and keep up to date with the latest Jose Chameleone songs and information.

Jose Chameleone Songs
• Kuma Obwesigwa
• Kuuma Obwesigwa (Remake)
• Badilisha (Live)
• Wale Wale (Live)
• Nekolela Maali (Live)
• Kuuma Obwesigwa (Live)
• Jamila (Live)
• Valu Valu (Live)
• Gloriah ft. Diamond Oscar

Jose Chameleone songs are included in Boomplay music playlists. Search to stream and download Jose Chameleone songs MP3/ single/ albums on the platform....more

Country/Region : Uganda
Listen to Jose Chameleone's new songs including "FOREVER", "Shida Za Dunia", "Tubonge" and many more. Enjoy Jose Chameleone's latest songs and explore the Jose Chameleone's new music albums. If you want to download Jose Chameleone songs MP3, use the Boomplay App to download the Jose Chameleone songs for free. Discover Jose Chameleone's latest songs, popular songs, trending songs all on Boomplay.
Jose Chameleone, born Joseph Mayanja on 30 April 1979 in Uganda, is an AfroBeat artiste and a versatile musician from Uganda. Many of Jose Chameleone songs become very popular and trendy online with a great number of streaming and downloads on Boomplay. He is one of the most popular Ugandan musicians of the 21st century and enjoys strong popularity in many countries. Chameleone sings in Luganda, English, and Swahili and has won numerous awards.

Career.
He is also known for his flamboyant lifestyle and also as a philanthropic and respected person in his native Uganda

Chameleone's career began in 1996 as a DJ at the Missouri night club in Kampala. He was later signed to the Kenyan record label Ogopa DJs, where he enjoyed his break through with one of his first singles, "Bageya", which featured Kenyan artist Redsan.

Chameleone's musical style is a combination of Ugandan folk music, central African rumba, zouk, and reggae. His first album, Bageya, was released in 2000. By 2013, he had released twelve more albums.He is president of Ugandan music label Leone Island.

Jose Chameleone Albums
• Kuma Obwesigwa (2022)
• Conversessions with Jose Chameleone (Live) (2022)
• Gloriah (2021)

Follow Boomplay and keep up to date with the latest Jose Chameleone songs and information.

Jose Chameleone Songs
• Kuma Obwesigwa
• Kuuma Obwesigwa (Remake)
• Badilisha (Live)
• Wale Wale (Live)
• Nekolela Maali (Live)
• Kuuma Obwesigwa (Live)
• Jamila (Live)
• Valu Valu (Live)
• Gloriah ft. Diamond Oscar

Jose Chameleone songs are included in Boomplay music playlists. Search to stream and download Jose Chameleone songs MP3/ single/ albums on the platform.