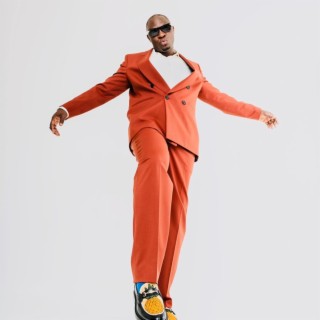 Smallgod
Current #8,488

All Time #3,502

Nana Appiasei popularly known as Smallgod is a Ghanaian-netherland rapper, singer, songwriter and entrepreneur. Many of Smallgod's Songs became very popular and trendy on social media in line with a great number of streaming and downloads on Boomplay. Over a period of 15 years, Smallgod has dabbled in the African music industry as the plug, a connector, artist manager and publisher and now, artist.

Career
Smallgod became exposed to different cultures and music at an early age. Entrenched and involved with fashion and streetwear, Smallgod has been involved with Daily Paper, the Netherland based streetwear brand which has all contributed to an ability to blend various sonic styles of Africa and the diaspora on the afro-fusion album.

Fueled by the fiery desire to connect and help progress African music, Smallgod halted his practice in pharmacy and real estate and fully dedicated himself to creating the Building Bridges album - the first step in using the arts and creativity to connect Africans globally. His charismatic and amiable character has been the superpower that has helped glue Afropop and afrobeats musicians across the African continent and the diaspora to contribute to the album.

The 'Building Bridges' is Smallgod's first offering to the industry and showcases collaboration among the various regions of Africa and the African diaspora in a way that has never been explored. Smallgod's first single 'Marry Me' featuring Tanzanian superstar Harmonize is out now. He has also collaborated with some of the sought-after artists in Ghana, the likes of R2BEES, O'Kenneth, Kwaku DMC, LP2loose, and Headie One.

Follow Boomplay and keep up-to-date with the latest songs of Smallgod and information.

Smallgod's songs
• Sinner
• Marry me
• Simple instructions
• Parasite
• Falling
• Holy F4k
• Let Dem Kno
• Simple Instructions
• 2000
• Press Me
• I Know
• Lingo
• This Is Love
• Nice Life
• Salam Aleikum

Smallgod's Songs are included in Boomplay music playlists. Search, stream, and download Smalgod's Songs, her latest singles and albums in MP3 only on the Boomplay platform for free....more

Country/Region : Ghana
Listen to Smallgod's new songs including "Holy F4k ft. Black Sherif, Vic Mensa, Ivorian Doll & Kwaku DMC", "I Know ft. Kuami Eugene & BNXN fka Buju", "Falling ft. KiDi & Darkoo" and many more. Enjoy Smallgod's latest songs and explore the Smallgod's new music albums. If you want to download Smallgod songs MP3, use the Boomplay App to download the Smallgod songs for free. Discover Smallgod's latest songs, popular songs, trending songs all on Boomplay.
Nana Appiasei popularly known as Smallgod is a Ghanaian-netherland rapper, singer, songwriter and entrepreneur. Many of Smallgod's Songs became very popular and trendy on social media in line with a great number of streaming and downloads on Boomplay. Over a period of 15 years, Smallgod has dabbled in the African music industry as the plug, a connector, artist manager and publisher and now, artist.

Career
Smallgod became exposed to different cultures and music at an early age. Entrenched and involved with fashion and streetwear, Smallgod has been involved with Daily Paper, the Netherland based streetwear brand which has all contributed to an ability to blend various sonic styles of Africa and the diaspora on the afro-fusion album.

Fueled by the fiery desire to connect and help progress African music, Smallgod halted his practice in pharmacy and real estate and fully dedicated himself to creating the Building Bridges album - the first step in using the arts and creativity to connect Africans globally. His charismatic and amiable character has been the superpower that has helped glue Afropop and afrobeats musicians across the African continent and the diaspora to contribute to the album.

The 'Building Bridges' is Smallgod's first offering to the industry and showcases collaboration among the various regions of Africa and the African diaspora in a way that has never been explored. Smallgod's first single 'Marry Me' featuring Tanzanian superstar Harmonize is out now. He has also collaborated with some of the sought-after artists in Ghana, the likes of R2BEES, O'Kenneth, Kwaku DMC, LP2loose, and Headie One.

Follow Boomplay and keep up-to-date with the latest songs of Smallgod and information.

Smallgod's songs
• Sinner
• Marry me
• Simple instructions
• Parasite
• Falling
• Holy F4k
• Let Dem Kno
• Simple Instructions
• 2000
• Press Me
• I Know
• Lingo
• This Is Love
• Nice Life
• Salam Aleikum

Smallgod's Songs are included in Boomplay music playlists. Search, stream, and download Smalgod's Songs, her latest singles and albums in MP3 only on the Boomplay platform for free.
FAQs about Smallgod
Where is Smallgod from?
He is from Ghana.
What are the latest songs of Smallgod?
The latest songs of Smallgod are Automatic (Mixed) ft. Lojay, Stubborn (feat. Kwamz, Eugy & Lp2loose) and Automatic ft. Lojay.
What are the best songs of Smallgod?
The best songs of Smallgod are Sinner ft. Headie One, O'Kenneth, Kwaku DMC & LP2Loose and Falling ft. KiDi & Darkoo.
What are the best albums of Smallgod?
The best albums of Smallgod are Connecting the Dots, Sinner and Building Bridges.
How to download songs of Smallgod?
You can download songs of Smallgod from Boomplay App for free.
Firstly, install Boomplay app on your mobile phone.
Secondly, navigate to the song you would like to download.
Thirdly, Tap on More > Download.