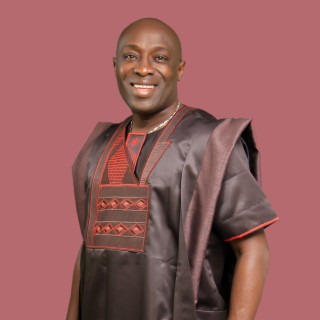 Adewale Ayuba
Current #7,111

All Time #2,715

Adewale Ayuba Saliu Okeola (popularly known as Ayuba, Mr. Johnson and the Bonsue-fuji maestro) was born on May 6th, 1966 in his hometown of Ikenne Remo, Ikenne local government area of Ogun State, Nigeria. He is a traditional style singer, a drummer, an actor and an artist. Ayuba began to sing as early as age 3. By seven, he was a professional musician, putting together other children to form a band. This was way back in the land of his birth-Ikenne in Remo Division of Ogun state. He was in Primary Two.

Actually, he could be described as the band leader, holding the top spot for one Sunday who discovered the musical endowment in the young Adewale and sought to encourage his talent by investing in him. Mr. Sunday bought the equipment with which Ayuba started his trade in music. His secondary education was at Remo, Secondary School, Sagamu, Ogun State, where he continued his trade.

Ayuba songs become very popular and trendy online with a great number of streaming and downloads on Boomplay.

Career
Ayuba moved to Lagos in the late 1980s where he met Mr. Akinlaja, owner of Success Records. They began a relationship that saw the birth of five albums, between 1985 and 89. In 1990, the tide of his life changed for good, when he joined CBS. It was also time for him to take a studious look at the music scene. He refused to be rushed into the studio to record any album. He was worried that Fuji, his genre was not patronized by the university community and the elite.

Between 1995 and 1998, Ayuba lived in New York. It wasn't something he planned for. His extended stay in the US was not unconnected with the reign of terror unleashed on Nigeria by the late Head of State Gen. Sani Abacha. He returned to Nigeria the very next day Abacha expired. "It is not something I would like to discuss. I used to travel abroad to perform for three months and more. We left Nigeria then and something happened and we couldn't come back,' he said.

It was however, a period that he would never regret. Many good things happened to him during that period. "I was able to get my Green Card in America. I also took time out to go to school. I was in Queens borough Community College. I was there for two years, studying Banking and Finance. I have an Associate Degree in that discipline. It is a two-year course. One more thing that Abacha did for me that I will never forget is that I met my wife in school in the US."Ayuba is also putting his Finance and Banking studies to good use. Apart from the business of music, he has put together one of the best business teams, along with his wife. There are 25 band members in the Bonsue Fuji Organisation. However, the arrowhead of his enterprise is BFB Limited, which offers employment to over 35 Nigerians.

Among other things, the company sells automobiles and has a few houses for rent. Ayuba has one of the most thriving monthly show for fans. For now, it holds at Town House in the GRA-Ikeja and the place is usually filled to capacity. The remarkable things that is coming with Ayuba's 21st anniversary in music is a re-engineering of his label-Ayuba Music. From now on, it is not just his own music that would be issued on that label. A new artiste has been signed on. But Ayuba is not saying if the new act is on to fuji or some other genre. Even music buffs who are not into Fuji know Ayuba as a consummate dancer and a sharp dresser. His fashion sense is made all the more dramatic and attractive by the skills of popular designers like Cecil G and Ideal Tailors.

As the leader of a 15-piece all-drum band, the Bonsue Fuji Organization, Ayuba has played an essential role in the evolution of Fuji, a form of juju played on traditional percussion instruments. Under Ayuba's direction, the group has developed a unique approach to Muslim-inspired call and response singing. He is also a member of the Nigerian Red Cross and was branded Prince Of Peace in 2012.

Achievement
• Ayuba has won numerous awards. Some of them include:
• Afro America Music Awards
• Fuji Music Lifetime Awards
• Nigerian Music Awards
• AMEN Awards - Best African Group
• CEPAN Awards
• New Koko Dome Honor
• Floating World Honor
• Golden Sony Awards
• Learning and Culture Awards
• WorldWide Superstar Awards
• Osab Awards For Excellency
• City People Enteretainment Awards
• Yoruba Music Films Awards

Follow Boomplay and keep up-to-date with the latest Ayuba songs and information.

Ayuba songs are included in Boomplay music playlists. Search to stream and download Ayuba songs MP3/ single/ albums on the platform....more

Country/Region : Nigeria
Songs

(43)

Albums

(18)

Playlists

(2)
1

2

3

4

5

6

7

8

9

10

11

12

13

14

15

16

17

18

19

20

21

22

23

24

25

26

27

28

29

30

31

32

33

34

35

36

37

38

39

40

41

42

43
Listen to Adewale Ayuba's new songs including "Ijo Fuji 1", "Ijo Fuji 2", "We Are Happy" and many more. Enjoy Adewale Ayuba's latest songs and explore the Adewale Ayuba's new music albums. If you want to download Adewale Ayuba songs MP3, use the Boomplay App to download the Adewale Ayuba songs for free. Discover Adewale Ayuba's latest songs, popular songs, trending songs all on Boomplay.
Adewale Ayuba Saliu Okeola (popularly known as Ayuba, Mr. Johnson and the Bonsue-fuji maestro) was born on May 6th, 1966 in his hometown of Ikenne Remo, Ikenne local government area of Ogun State, Nigeria. He is a traditional style singer, a drummer, an actor and an artist. Ayuba began to sing as early as age 3. By seven, he was a professional musician, putting together other children to form a band. This was way back in the land of his birth-Ikenne in Remo Division of Ogun state. He was in Primary Two.

Actually, he could be described as the band leader, holding the top spot for one Sunday who discovered the musical endowment in the young Adewale and sought to encourage his talent by investing in him. Mr. Sunday bought the equipment with which Ayuba started his trade in music. His secondary education was at Remo, Secondary School, Sagamu, Ogun State, where he continued his trade.

Ayuba songs become very popular and trendy online with a great number of streaming and downloads on Boomplay.

Career
Ayuba moved to Lagos in the late 1980s where he met Mr. Akinlaja, owner of Success Records. They began a relationship that saw the birth of five albums, between 1985 and 89. In 1990, the tide of his life changed for good, when he joined CBS. It was also time for him to take a studious look at the music scene. He refused to be rushed into the studio to record any album. He was worried that Fuji, his genre was not patronized by the university community and the elite.

Between 1995 and 1998, Ayuba lived in New York. It wasn't something he planned for. His extended stay in the US was not unconnected with the reign of terror unleashed on Nigeria by the late Head of State Gen. Sani Abacha. He returned to Nigeria the very next day Abacha expired. "It is not something I would like to discuss. I used to travel abroad to perform for three months and more. We left Nigeria then and something happened and we couldn't come back,' he said.

It was however, a period that he would never regret. Many good things happened to him during that period. "I was able to get my Green Card in America. I also took time out to go to school. I was in Queens borough Community College. I was there for two years, studying Banking and Finance. I have an Associate Degree in that discipline. It is a two-year course. One more thing that Abacha did for me that I will never forget is that I met my wife in school in the US."Ayuba is also putting his Finance and Banking studies to good use. Apart from the business of music, he has put together one of the best business teams, along with his wife. There are 25 band members in the Bonsue Fuji Organisation. However, the arrowhead of his enterprise is BFB Limited, which offers employment to over 35 Nigerians.

Among other things, the company sells automobiles and has a few houses for rent. Ayuba has one of the most thriving monthly show for fans. For now, it holds at Town House in the GRA-Ikeja and the place is usually filled to capacity. The remarkable things that is coming with Ayuba's 21st anniversary in music is a re-engineering of his label-Ayuba Music. From now on, it is not just his own music that would be issued on that label. A new artiste has been signed on. But Ayuba is not saying if the new act is on to fuji or some other genre. Even music buffs who are not into Fuji know Ayuba as a consummate dancer and a sharp dresser. His fashion sense is made all the more dramatic and attractive by the skills of popular designers like Cecil G and Ideal Tailors.

As the leader of a 15-piece all-drum band, the Bonsue Fuji Organization, Ayuba has played an essential role in the evolution of Fuji, a form of juju played on traditional percussion instruments. Under Ayuba's direction, the group has developed a unique approach to Muslim-inspired call and response singing. He is also a member of the Nigerian Red Cross and was branded Prince Of Peace in 2012.

Achievement
• Ayuba has won numerous awards. Some of them include:
• Afro America Music Awards
• Fuji Music Lifetime Awards
• Nigerian Music Awards
• AMEN Awards - Best African Group
• CEPAN Awards
• New Koko Dome Honor
• Floating World Honor
• Golden Sony Awards
• Learning and Culture Awards
• WorldWide Superstar Awards
• Osab Awards For Excellency
• City People Enteretainment Awards
• Yoruba Music Films Awards

Follow Boomplay and keep up-to-date with the latest Ayuba songs and information.

Ayuba songs are included in Boomplay music playlists. Search to stream and download Ayuba songs MP3/ single/ albums on the platform.
New Comments(
25

)