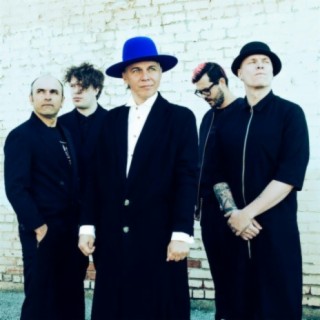 Mumiy Troll
Current #99k+

All Time #41.8k

Taking their name from a character in the famous children's books of Tovi Jansson, Mumiy Troll have become one of Russia's most popular and critically acclaimed contemporary pop/rock acts of the '90s and 2000s. Centered around the offbeat romantic lyrics and intelligent, charismatic presence of songwriter and frontman Ilya Lagutenko, the band has developed separately from the rest of the Russian music scene, opting to work with foreign producers and recording the majority of its work in England. Although experimenting with different musical genres over the years, Mumiy Troll have developed an idiosyncratic sound placed halfway between traditional Russian rock and Brit-pop.

Lagutenko originally started writing and recording as a teenager in Vladivostok in 1981. The following year, he formed the band Shock with Vladimir Lutsenko (bass) and Alik Krasnov (all the remaining instruments), and they adopted the name Mumiy Troll in 1983 before recording their debut studio album, Novaya Luna Aprelya (New April Moon), throughout 1984 and 1985. The album was well received locally, and by 1986 was regularly played in Vladivostok discos. However, with the band officially unsanctioned in the Soviet Union, the new attention was not without its drawbacks, and at a meeting of students at the Far East State University, Mumiy Troll were bewilderingly pronounced to be among the period's most "socially dangerous" bands. For the next few years, the band went on hiatus while Lagutenko did national service in the Soviet Army, and it wasn't until 1990 that Mumiy Troll recorded another album, Delai U-U (Do U-U). The reunion was short-lived, however, as Lagutenko, a fluent English and Mandarin speaker, went to work with a business consultancy firm in London and China and the record disappeared without a trace...more

Country/Region : Russia
Songs

(252)

Albums

(5)

Playlists

(0)
1

2

3

4

5

6

7

8

9

10

11

12

13

14

15

16

17

18

19

20

21

22

23

24

25

26

27

28

29

30

31

32

33

34

35

36

37

38

39

40

41

42

43

44

45

46

47

48

49

50

51

52

53

54

55

56

57

58

59

60

61

62

63

64

65

66

67

68

69

70

71

72

73

74

75

76

77

78

79

80

81

82

83

84

85

86

87

88

89

90

91

92

93

94

95

96

97

98

99

100
Listen to Mumiy Troll's new songs including "Инопланетный гость", "Медведица", "Невеста? (сингл-версия)" and many more. Enjoy Mumiy Troll's latest songs and explore the Mumiy Troll's new music albums. If you want to download Mumiy Troll songs MP3, use the Boomplay App to download the Mumiy Troll songs for free. Discover Mumiy Troll's latest songs, popular songs, trending songs all on Boomplay.
Taking their name from a character in the famous children's books of Tovi Jansson, Mumiy Troll have become one of Russia's most popular and critically acclaimed contemporary pop/rock acts of the '90s and 2000s. Centered around the offbeat romantic lyrics and intelligent, charismatic presence of songwriter and frontman Ilya Lagutenko, the band has developed separately from the rest of the Russian music scene, opting to work with foreign producers and recording the majority of its work in England. Although experimenting with different musical genres over the years, Mumiy Troll have developed an idiosyncratic sound placed halfway between traditional Russian rock and Brit-pop.

Lagutenko originally started writing and recording as a teenager in Vladivostok in 1981. The following year, he formed the band Shock with Vladimir Lutsenko (bass) and Alik Krasnov (all the remaining instruments), and they adopted the name Mumiy Troll in 1983 before recording their debut studio album, Novaya Luna Aprelya (New April Moon), throughout 1984 and 1985. The album was well received locally, and by 1986 was regularly played in Vladivostok discos. However, with the band officially unsanctioned in the Soviet Union, the new attention was not without its drawbacks, and at a meeting of students at the Far East State University, Mumiy Troll were bewilderingly pronounced to be among the period's most "socially dangerous" bands. For the next few years, the band went on hiatus while Lagutenko did national service in the Soviet Army, and it wasn't until 1990 that Mumiy Troll recorded another album, Delai U-U (Do U-U). The reunion was short-lived, however, as Lagutenko, a fluent English and Mandarin speaker, went to work with a business consultancy firm in London and China and the record disappeared without a trace
New Comments(
0

)

What do you think of this artist?