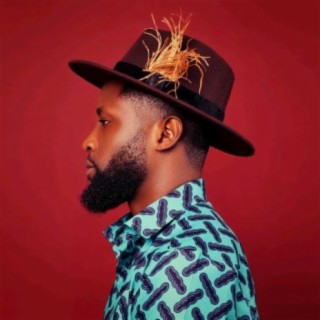 Password
Current #18.9k

All Time #8,131

Patrick Mathias, popularly known as Password, is a Nigerian record producer, singer and songwriter. Many of Password's Songs became very popular and trendy on social media in line with a great number of streaming and downloads on Boomplay. He is best known for co-writing the song "Gobe" with Davido, which peaked at number 1 on MTV Base's Official Naija Top Ten Chart.

Career
Password has continued to make his mark in the Nigerian music and movie industry and as a producer and songwriter, he has worked with multi-nationals and several A-list artistes whose songs are rated hit songs within and outside the country. He was also the Creative Director for Ultima Productions/960 Music which was a partnership formed for the funding, marketing, distribution and promotions of the MTN Project Fame Winners. His versatility and dynamism in Music was influenced by a wide range of eclectic music sources, from hip hop to RnB, country music, African folk, reggae and dancehall.

To him, music is spiritual and every sound communicates something that words alone cannot convey if you pay attention long enough. It helped him get away from some unpleasant experiences during his early years, it was his loyal companion. His Sensitivity to the Spirit of God influences what he puts out and this made him realize he's been entrusted with so much more especially for the next generation, therefore, he's deliberate about whatever he appends his signature to. He is the Founder of a content hub known as Kingdom Pop Culture (KPC) for Creatives for the sole purpose of conscious content creation.

As we know, we have a universally diverse youth who are now unconventional in their choices of expression, so KPC seeks to equip them with all that is required for the marketplace. As a multi-talented creative himself, Password seeks to use all that he is being gifted with to influence the world, one individual at a time. He has been credited for his work on numerous songs, including "Mercy" by Praiz and "Born Champion" by General Pype.

His popular gospel hit song "Amaghimo" became a global anthem shortly after its release, and it has also peaked in various music charts across Africa. His debut album The Call was released in 2021, and its features song collaborations with Agent Snypa, Testimony Jaga, Ada Ehi and Protek Illasheva.

Achievements
Password won MTN's SongStar contest with Don Jazzy. He also bagged the Best Movie Soundtrack at the 2013 Nollywood Movies Awards for Hoodrush Soundtrack and an award for New Act of The Year at the 2019 Loveworld International Music Awards(LIMA) for "Amaghimo."

Follow Boomplay and keep up to date with the latest songs of Password and information.

Password's Songs
• The Call
• Shayo Master
• Amaghimo
• Gobe
• Mercy
• No Pain
• Odo Yewu
• Close
• Maybe
• Oji
• Cure The World

Password's Songs are included in Boomplay music playlists. Search, stream, and download Password's Songs, the latest singles and albums in MP3 only on the Boomplay platform for free....more

Country/Region : Nigeria
Songs

(23)

Albums

(14)

Playlists

(0)
1

2

3

4

5

6

7

8

9

10

11

12

13

14

15

16

17

18

19

20

21

22

23
Listen to Password's new songs including "The Call", "Amaghimo", "Fiasco ft. Ada Ehi" and many more. Enjoy Password's latest songs and explore the Password's new music albums. If you want to download Password songs MP3, use the Boomplay App to download the Password songs for free. Discover Password's latest songs, popular songs, trending songs all on Boomplay.
Patrick Mathias, popularly known as Password, is a Nigerian record producer, singer and songwriter. Many of Password's Songs became very popular and trendy on social media in line with a great number of streaming and downloads on Boomplay. He is best known for co-writing the song "Gobe" with Davido, which peaked at number 1 on MTV Base's Official Naija Top Ten Chart.

Career
Password has continued to make his mark in the Nigerian music and movie industry and as a producer and songwriter, he has worked with multi-nationals and several A-list artistes whose songs are rated hit songs within and outside the country. He was also the Creative Director for Ultima Productions/960 Music which was a partnership formed for the funding, marketing, distribution and promotions of the MTN Project Fame Winners. His versatility and dynamism in Music was influenced by a wide range of eclectic music sources, from hip hop to RnB, country music, African folk, reggae and dancehall.

To him, music is spiritual and every sound communicates something that words alone cannot convey if you pay attention long enough. It helped him get away from some unpleasant experiences during his early years, it was his loyal companion. His Sensitivity to the Spirit of God influences what he puts out and this made him realize he's been entrusted with so much more especially for the next generation, therefore, he's deliberate about whatever he appends his signature to. He is the Founder of a content hub known as Kingdom Pop Culture (KPC) for Creatives for the sole purpose of conscious content creation.

As we know, we have a universally diverse youth who are now unconventional in their choices of expression, so KPC seeks to equip them with all that is required for the marketplace. As a multi-talented creative himself, Password seeks to use all that he is being gifted with to influence the world, one individual at a time. He has been credited for his work on numerous songs, including "Mercy" by Praiz and "Born Champion" by General Pype.

His popular gospel hit song "Amaghimo" became a global anthem shortly after its release, and it has also peaked in various music charts across Africa. His debut album The Call was released in 2021, and its features song collaborations with Agent Snypa, Testimony Jaga, Ada Ehi and Protek Illasheva.

Achievements
Password won MTN's SongStar contest with Don Jazzy. He also bagged the Best Movie Soundtrack at the 2013 Nollywood Movies Awards for Hoodrush Soundtrack and an award for New Act of The Year at the 2019 Loveworld International Music Awards(LIMA) for "Amaghimo."

Follow Boomplay and keep up to date with the latest songs of Password and information.

Password's Songs
• The Call
• Shayo Master
• Amaghimo
• Gobe
• Mercy
• No Pain
• Odo Yewu
• Close
• Maybe
• Oji
• Cure The World

Password's Songs are included in Boomplay music playlists. Search, stream, and download Password's Songs, the latest singles and albums in MP3 only on the Boomplay platform for free.
New Comments(
6

)
FAQs about Password
Where is Password from?
He is from Nigeria.
How to download songs of Password?
You can download songs of Password from Boomplay App for free.
Firstly, install Boomplay app on your mobile phone.
Secondly, navigate to the song you would like to download.
Thirdly, Tap on More > Download.