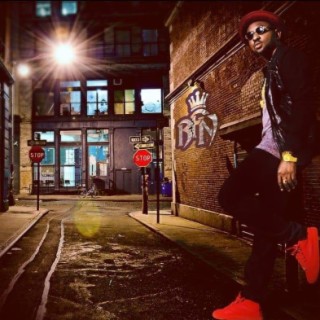 BlackFaceNaija
Current #8,407

All Time #9,260

Ahmedu Augustine Obiabo (born in Creek Hospital Obalende Lagos Nigeria), known by his stage name BlackFaceNaija or just Blackface, is a Nigerian dancehall, ragga, reggae singer, and songwriter.

Many BlackFaceNaija songs become very popular and trendy online with a great number of streaming and downloads on Boomplay.

Career
Blackface was a founding member of the Nigerian band Plantashun Boyz that he formed in 1996 with 2face idibia and Chibuzor Oji (Faze) was later added to the group .Blackface and 2face met during his secondary education in Benue. Faze joined a brief while later in Enugu.
After the Plantashun Boiz split up in 2004 now the band is back with 2 singeles and an album on the way .Blackface led a solo musical career. He released the hip hop album Ghetto Child in May 2004 collaborating with several artists. The album contains "Hard Life" featuring Alabai as the first single. He also recorded a full album for his crew D Tribunal called What We Are.

He is best known as the real Owner and Writer of "African Queen" performed by 2face idibia, a song made famous by the latter after it appeared on his debut solo album Face 2 Face in 2004 to become an international hit and was used as a soundtrack for the motion picture PhatGirlz
After Ghetto Child, he released Evergreen, Jungle Fever, Me, Musiq and I, Dancehall Business, and the prospective Defender.

Follow Boomplay and keep up-to-date with the latest Blackface Naija songs and information.

Blackface was married to Dayo for eight years and has two children, Caroline and Alex. The couple agreed to separate, pending divorce procedures.

BlackfaceNaija Songs and Albums
• Evergreen (Album)
• Ghetto Child (Album)
• You and I
• Ocean of Passion
• Hard Life ft. Alabai
• Ahead of the Game
• My Avenue
• Do Well Well

Blackface Naija songs are included in Boomplay music playlists. Search to stream and download Blackface Naija songs MP3/ single/ albums on the platform....more

Country/Region : Nigeria
Songs

(133)

Albums

(16)

Playlists

(0)
1

2

3

4

5

6

7

8

9

10

11

12

13

14

15

16

17

18

19

20

21

22

23

24

25

26

27

28

29

30

31

32

33

34

35

36

37

38

39

40

41

42

43

44

45

46

47

48

49

50

51

52

53

54

55

56

57

58

59

60

61

62

63

64

65

66

67

68

69

70

71

72

73

74

75

76

77

78

79

80

81

82

83

84

85

86

87

88

89

90

91

92

93

94

95

96

97

98

99

100
Listen to BlackFaceNaija's new songs including "E Dey Pain Me ft. Mallam Spicey", "Show Me", "Erema" and many more. Enjoy BlackFaceNaija's latest songs and explore the BlackFaceNaija's new music albums. If you want to download BlackFaceNaija songs MP3, use the Boomplay App to download the BlackFaceNaija songs for free. Discover BlackFaceNaija's latest songs, popular songs, trending songs all on Boomplay.
Ahmedu Augustine Obiabo (born in Creek Hospital Obalende Lagos Nigeria), known by his stage name BlackFaceNaija or just Blackface, is a Nigerian dancehall, ragga, reggae singer, and songwriter.

Many BlackFaceNaija songs become very popular and trendy online with a great number of streaming and downloads on Boomplay.

Career
Blackface was a founding member of the Nigerian band Plantashun Boyz that he formed in 1996 with 2face idibia and Chibuzor Oji (Faze) was later added to the group .Blackface and 2face met during his secondary education in Benue. Faze joined a brief while later in Enugu.
After the Plantashun Boiz split up in 2004 now the band is back with 2 singeles and an album on the way .Blackface led a solo musical career. He released the hip hop album Ghetto Child in May 2004 collaborating with several artists. The album contains "Hard Life" featuring Alabai as the first single. He also recorded a full album for his crew D Tribunal called What We Are.

He is best known as the real Owner and Writer of "African Queen" performed by 2face idibia, a song made famous by the latter after it appeared on his debut solo album Face 2 Face in 2004 to become an international hit and was used as a soundtrack for the motion picture PhatGirlz
After Ghetto Child, he released Evergreen, Jungle Fever, Me, Musiq and I, Dancehall Business, and the prospective Defender.

Follow Boomplay and keep up-to-date with the latest Blackface Naija songs and information.

Blackface was married to Dayo for eight years and has two children, Caroline and Alex. The couple agreed to separate, pending divorce procedures.

BlackfaceNaija Songs and Albums
• Evergreen (Album)
• Ghetto Child (Album)
• You and I
• Ocean of Passion
• Hard Life ft. Alabai
• Ahead of the Game
• My Avenue
• Do Well Well

Blackface Naija songs are included in Boomplay music playlists. Search to stream and download Blackface Naija songs MP3/ single/ albums on the platform.
New Comments(
0

)

What do you think of this artist?
FAQs about BlackFaceNaija
Where is BlackFaceNaija from?
He is from Nigeria.
What are the latest songs of BlackFaceNaija?
The latest songs of BlackFaceNaija are Do Well Well, Ife ft. PLANTASHUN BOIZ and Love to Love You.
What are the best songs of BlackFaceNaija?
The best songs of BlackFaceNaija are Hard Life ft. Alabai, E Dey Pain Me ft. Mallam Spicey and Be Ur Man.
What are the best albums of BlackFaceNaija?
The best albums of BlackFaceNaija are Ghetto Child, Me Musiq And I and Evergreen.
How to download songs of BlackFaceNaija?
You can download songs of BlackFaceNaija from Boomplay App for free.
Firstly, install Boomplay app on your mobile phone.
Secondly, navigate to the song you would like to download.
Thirdly, Tap on More > Download.