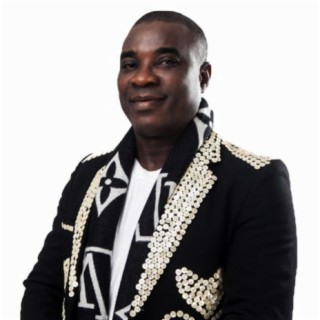 K1 De Ultimate
Current #359

All Time #447

K1 De Ultimate (born Wasiu Omogbolahan Olasunkanmi Adewale Ayinde Marshal, March 3, 1957), is a Nigerian Fuji musician. Many of K1 De Ultimate songs become very popular and trendy online with a great number of streaming and downloads on Boomplay. He popularized a brand of the fuji genre based on the work of the fuji creator Ayinde Barrister known as Talazo fuji that appeals to all age groups, irrespective of tribe and background.

Career
The King of Fuji Music: Olasunkanmi Ayinde Marshal, K1 De Ultimate discovered his interest in music when he was 8. His parents initially opposed but he continued to pursue his passion and by the time he was 15 he had won various local musical competitions. He later became a member of Ayinde Barrister's band, the Supreme Fuji Commanders from 1975 to 1978 after previously serving under him as instrument packer. He also adopted the name of Ayinde into his name after seeking the permission and blessing of his master Ayinde Barrister. He released his first album titled Iba with the special track 'Abode Mecca' in 1980, and thereafter, his most successful album Talazo '84 in 1984. He has won many titles and several music awards.

K1 De Ultimate began his global tour between North America and Europe in 1986 and performed at Hammersmith Town Hall in 1987. That was followed by New York city, United States with full Talazo Band on Sep. 28 1990, London Yuppie 1 & 2 Nights 1991/92, European Tour 1995, Berlin 1997, North America (USA & Canada '98), Canada 2000, and USA Tour 2003. He has continued non stop touring annually since. In 1995 he delivered the first Fuji performance ever at WOMAD Festival. He is also the only Fuji musician to perform at Troxy, WOMEX and SOB

Achievements
• Badabarawu of Ogijo in 1985
• Ekerin Amuludun of Ibadanland in 1986
• Golden Mercury of Africa Title in 1986,
• Honoris Causa of Music at Saint John University Bakersfield California USA in 1989.
• He was Crowned as King of Fuji, (Oluaye Fuji Music) at NTA ibadan in 1993.
• He was Titled The Oluomo of Lagos by King Adeyinka Oyekan of Lagos in 1999 On Monday,
• January 13, 2020, he was installed by the Alaafin of Oyo, Oba Lamidi Adeyemi as the first Mayegun of Oyo Kingdom.
Follow Boomplay and keep up-to-date with the latest K1 De Ultimate songs and information.

Songs and Albums
• Fuji the sound (Album)
• Ade ori okin
• Awade
• Omo naija
• Solo makinde
• Thinking about you
• Iwalewa
• Talazo
• Fuji fusion

K1 De Ultimate songs are included in Boomplay music playlists. Search to stream and download K1 De Ultimate songs MP3/ single/ albums on the platform....more

Country/Region : Nigeria
Listen to K1 De Ultimate's new songs including "Adé Orí Òkin", "Omo Naija ft. Teni", "Awade" and many more. Enjoy K1 De Ultimate's latest songs and explore the K1 De Ultimate's new music albums. If you want to download K1 De Ultimate songs MP3, use the Boomplay App to download the K1 De Ultimate songs for free. Discover K1 De Ultimate's latest songs, popular songs, trending songs all on Boomplay.
K1 De Ultimate (born Wasiu Omogbolahan Olasunkanmi Adewale Ayinde Marshal, March 3, 1957), is a Nigerian Fuji musician. Many of K1 De Ultimate songs become very popular and trendy online with a great number of streaming and downloads on Boomplay. He popularized a brand of the fuji genre based on the work of the fuji creator Ayinde Barrister known as Talazo fuji that appeals to all age groups, irrespective of tribe and background.

Career
The King of Fuji Music: Olasunkanmi Ayinde Marshal, K1 De Ultimate discovered his interest in music when he was 8. His parents initially opposed but he continued to pursue his passion and by the time he was 15 he had won various local musical competitions. He later became a member of Ayinde Barrister's band, the Supreme Fuji Commanders from 1975 to 1978 after previously serving under him as instrument packer. He also adopted the name of Ayinde into his name after seeking the permission and blessing of his master Ayinde Barrister. He released his first album titled Iba with the special track 'Abode Mecca' in 1980, and thereafter, his most successful album Talazo '84 in 1984. He has won many titles and several music awards.

K1 De Ultimate began his global tour between North America and Europe in 1986 and performed at Hammersmith Town Hall in 1987. That was followed by New York city, United States with full Talazo Band on Sep. 28 1990, London Yuppie 1 & 2 Nights 1991/92, European Tour 1995, Berlin 1997, North America (USA & Canada '98), Canada 2000, and USA Tour 2003. He has continued non stop touring annually since. In 1995 he delivered the first Fuji performance ever at WOMAD Festival. He is also the only Fuji musician to perform at Troxy, WOMEX and SOB

Achievements
• Badabarawu of Ogijo in 1985
• Ekerin Amuludun of Ibadanland in 1986
• Golden Mercury of Africa Title in 1986,
• Honoris Causa of Music at Saint John University Bakersfield California USA in 1989.
• He was Crowned as King of Fuji, (Oluaye Fuji Music) at NTA ibadan in 1993.
• He was Titled The Oluomo of Lagos by King Adeyinka Oyekan of Lagos in 1999 On Monday,
• January 13, 2020, he was installed by the Alaafin of Oyo, Oba Lamidi Adeyemi as the first Mayegun of Oyo Kingdom.
Follow Boomplay and keep up-to-date with the latest K1 De Ultimate songs and information.

Songs and Albums
• Fuji the sound (Album)
• Ade ori okin
• Awade
• Omo naija
• Solo makinde
• Thinking about you
• Iwalewa
• Talazo
• Fuji fusion

K1 De Ultimate songs are included in Boomplay music playlists. Search to stream and download K1 De Ultimate songs MP3/ single/ albums on the platform.
FAQs about K1 De Ultimate
Where is K1 De Ultimate from?
He is from Nigeria.
How to download songs of K1 De Ultimate?
You can download songs of K1 De Ultimate from Boomplay App for free.
Firstly, install Boomplay app on your mobile phone.
Secondly, navigate to the song you would like to download.
Thirdly, Tap on More > Download.