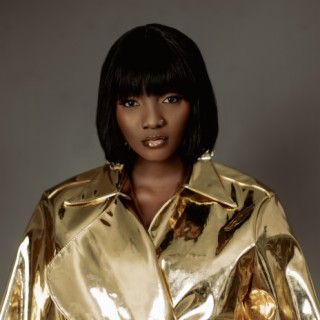 Simi
Current #127

All Time #18

Earning critical and commercial success alike, Nigerian singer/songwriter Simi paid homage to her varied influences with a ballad-driven style of Afropop.

Born and raised in Ojuelegba, a suburb of Surele, Simi (born Simisola Bolatito Ogunleye) found her natural voice in her early years as part of Outstandin', a musical group at her local church.

In early 2014, Simi had a winning streak in 2015 -- she was awarded the Most Promising Act to Watch category at the Nigeria Entertainment Awards and picked up a nomination for Best Alternative Song at The Headies.

In 2016, the musician consolidated her career with the Chemistry EP and songs "Love Don't Care" and "Outta My Head" secured two nominations and a win at The Headies alongside a nomination for Best Breakthrough Act at that year's MTV Africa Awards. Her long-awaited sophomore album, Simisola, arrived the following year. Landing at number five on the Billboard World Albums Chart, Simisola showcased the musician's expansive sound, which incorporated soul, Afrobeat, singer/songwriter, and highlife influences into her blend of Afropop.

Simi and X3M parted ways, with the musician shortly announcing the formation of her own independent label, Studio Brat. The long-anticipated sequel to her Restless EP, Restless II, arrived in October 2020; taking notes from modern styles including Afrobashment and trap, the project featured guest spots from Ms. Banks, WurID, and Adekunle Gold. Her latest Songs of 2021 are "I love you" and "Happy Birthday".
Download Simi songs on your favorite Platform Boomplay....more

Country/Region : Nigeria
Listen to Simi's new songs including "Duduke", "Logba Logba", "Happy Birthday ft. Adekunle Gold & Deja" and many more. Enjoy Simi's latest songs and explore the Simi's new music albums. If you want to download Simi songs MP3, use the Boomplay App to download the Simi songs for free. Discover Simi's latest songs, popular songs, trending songs all on Boomplay.
Earning critical and commercial success alike, Nigerian singer/songwriter Simi paid homage to her varied influences with a ballad-driven style of Afropop.

Born and raised in Ojuelegba, a suburb of Surele, Simi (born Simisola Bolatito Ogunleye) found her natural voice in her early years as part of Outstandin', a musical group at her local church.

In early 2014, Simi had a winning streak in 2015 -- she was awarded the Most Promising Act to Watch category at the Nigeria Entertainment Awards and picked up a nomination for Best Alternative Song at The Headies.

In 2016, the musician consolidated her career with the Chemistry EP and songs "Love Don't Care" and "Outta My Head" secured two nominations and a win at The Headies alongside a nomination for Best Breakthrough Act at that year's MTV Africa Awards. Her long-awaited sophomore album, Simisola, arrived the following year. Landing at number five on the Billboard World Albums Chart, Simisola showcased the musician's expansive sound, which incorporated soul, Afrobeat, singer/songwriter, and highlife influences into her blend of Afropop.

Simi and X3M parted ways, with the musician shortly announcing the formation of her own independent label, Studio Brat. The long-anticipated sequel to her Restless EP, Restless II, arrived in October 2020; taking notes from modern styles including Afrobashment and trap, the project featured guest spots from Ms. Banks, WurID, and Adekunle Gold. Her latest Songs of 2021 are "I love you" and "Happy Birthday".
Download Simi songs on your favorite Platform Boomplay.
FAQs about Simi
Where is Simi from?
She is from Nigeria.
How to download songs of Simi?
You can download songs of Simi from Boomplay App for free.
Firstly, install Boomplay app on your mobile phone.
Secondly, navigate to the song you would like to download.
Thirdly, Tap on More > Download.