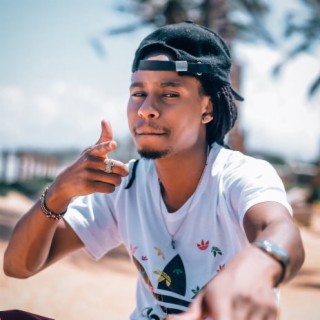 Chris Kaiga
Current #17.1k

All Time #7,842

Chris Kaiga is a Kenyan rapper, song writer and also a producer born and raised in Nairobi, Kenya. He is majorly known for his unique flow in music and taste in fashion. The "Zimenice" hit maker has made waves in the Kenyan music industry with the release of yet a series of singles and collabos featuring big label artistes like "Niko On" "Hapo Tu" "Bundaz" among many others.

Many of Chris Kaiga's Songs became very popular and trendy on social media in line with a great number of streaming and downloads on Boomplay.

Career
Chris has been in the game for close to ten years perfecting his craft and doing what he does best that is studying the industry. His passion in music started way back in 2009 with the ambition of being a producer but soon changed after recording his first single debut in 2011 but he never released it.

He is a talented producer and was the brains behind "Pombe Bhangi" song which was a mixture of gengetone but was banned because of its content at that time since the gengetone wave had not hit the industry.

Achievements
Chris as a producer managed to open a music studio with the help of his business partner and named it Up & Up Creatives and its doing well as I can say. Follow Boomplay and keep up-to-date with the latest songs of Chris Kaiga and information.

Chris Kaiga's Latest Songs
• Niko On
• Bundas
• Konkodo
• Chain Chain
• Next
• Zimenice
• I Want
• Kwa Ceiling
• Kengele
• Adventures Of Chris Kaiga

He has over 1.1M streams on all his hits on Boomplay while his favorite streamed or rather top streamed song being Chain Chain with over 269.3k streams.

Download and stream his songs MP3 for free only on Boomplay. Chris Kaiga's Songs are included in Boomplay music playlists. Search, stream, and download Chris Kaiga's Songs, his latest singles and albums in MP3 only on the Boomplay platform for free....more

Country/Region : Kenya
Songs

(14)

Albums

(10)

Playlists

(9)
1

2

3

4

5

6

7

8

9

10

11

12

13

14
Listen to Chris Kaiga's new songs including "Chain Chain", "I Want ft. Mutoriah", "Kanyagia ft. Nyashinski" and many more. Enjoy Chris Kaiga's latest songs and explore the Chris Kaiga's new music albums. If you want to download Chris Kaiga songs MP3, use the Boomplay App to download the Chris Kaiga songs for free. Discover Chris Kaiga's latest songs, popular songs, trending songs all on Boomplay.
Chris Kaiga is a Kenyan rapper, song writer and also a producer born and raised in Nairobi, Kenya. He is majorly known for his unique flow in music and taste in fashion. The "Zimenice" hit maker has made waves in the Kenyan music industry with the release of yet a series of singles and collabos featuring big label artistes like "Niko On" "Hapo Tu" "Bundaz" among many others.

Many of Chris Kaiga's Songs became very popular and trendy on social media in line with a great number of streaming and downloads on Boomplay.

Career
Chris has been in the game for close to ten years perfecting his craft and doing what he does best that is studying the industry. His passion in music started way back in 2009 with the ambition of being a producer but soon changed after recording his first single debut in 2011 but he never released it.

He is a talented producer and was the brains behind "Pombe Bhangi" song which was a mixture of gengetone but was banned because of its content at that time since the gengetone wave had not hit the industry.

Achievements
Chris as a producer managed to open a music studio with the help of his business partner and named it Up & Up Creatives and its doing well as I can say. Follow Boomplay and keep up-to-date with the latest songs of Chris Kaiga and information.

Chris Kaiga's Latest Songs
• Niko On
• Bundas
• Konkodo
• Chain Chain
• Next
• Zimenice
• I Want
• Kwa Ceiling
• Kengele
• Adventures Of Chris Kaiga

He has over 1.1M streams on all his hits on Boomplay while his favorite streamed or rather top streamed song being Chain Chain with over 269.3k streams.

Download and stream his songs MP3 for free only on Boomplay. Chris Kaiga's Songs are included in Boomplay music playlists. Search, stream, and download Chris Kaiga's Songs, his latest singles and albums in MP3 only on the Boomplay platform for free.
New Comments(
5

)
FAQs about Chris Kaiga
Where is Chris Kaiga from?
He is from Kenya.
How to download songs of Chris Kaiga?
You can download songs of Chris Kaiga from Boomplay App for free.
Firstly, install Boomplay app on your mobile phone.
Secondly, navigate to the song you would like to download.
Thirdly, Tap on More > Download.