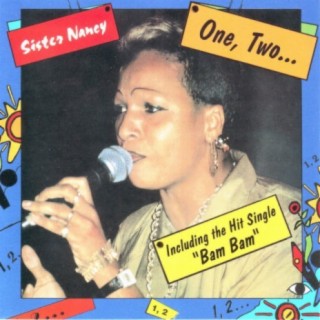 Sister Nancy
Current #25.3k

All Time #43k

b. Nancy Russell, Kingston, Jamaica, West Indies. Sister Nancy was one of 15 siblings; her brother Robert, known to her family as Dickie, found fame as Brigadier Jerry. The latter began chanting on Prince Norman's sound system before settling with Jahlove Music. While the Brigadier's reputation as the number one cultural DJ flourished, by her mid-teens, Nancy was occasionally performing on the sound system. Winston Riley was the first producer to take Nancy into the recording studio in 1980 for her debut, 'Papa Dean'. The tune was a success and Nancy's career began in earnest. She performed at Reggae Sunsplash, which was transmitted globally. A notable appearance on A Dee Jay Explosion saw Nancy performing 'Chalice A Fe Burn' and 'Boom Shacka Lacka'. With Winston Riley in 1982 her debut One Two was released, featuring the title track, 'Aint No Stopping Nancy', 'Bam Bam' and 'Only Woman DJ With Degree'. She also recorded a classic rendition of 'King And Queen' with Yellowman. With producer Henry 'Junjo' Lawes, she recorded 'A No Any Man Can Test Sister Nancy', 'Bang Belly' and another Yellowman combination, 'Jah Mek Us Fe A Purpose'. She continued appearing live in the dancehall where she often performed alongside her brother on the Jahlove Music Sound System. The sound toured internationally to rave reviews, including a celebrated session at Brixton Town Hall, London, where both Jerry and Nancy made their debut performances in the UK.

...more

Country/Region : Jamaica
Songs

(1)

Albums

(1)

Playlists

(1)
Listen to Sister Nancy's new songs including "Mumu Is Coming", and many more. Enjoy Sister Nancy's latest songs and explore the Sister Nancy's new music albums. If you want to download Sister Nancy songs MP3, use the Boomplay App to download the Sister Nancy songs for free. Discover Sister Nancy's latest songs, popular songs, trending songs all on Boomplay.
b. Nancy Russell, Kingston, Jamaica, West Indies. Sister Nancy was one of 15 siblings; her brother Robert, known to her family as Dickie, found fame as Brigadier Jerry. The latter began chanting on Prince Norman's sound system before settling with Jahlove Music. While the Brigadier's reputation as the number one cultural DJ flourished, by her mid-teens, Nancy was occasionally performing on the sound system. Winston Riley was the first producer to take Nancy into the recording studio in 1980 for her debut, 'Papa Dean'. The tune was a success and Nancy's career began in earnest. She performed at Reggae Sunsplash, which was transmitted globally. A notable appearance on A Dee Jay Explosion saw Nancy performing 'Chalice A Fe Burn' and 'Boom Shacka Lacka'. With Winston Riley in 1982 her debut One Two was released, featuring the title track, 'Aint No Stopping Nancy', 'Bam Bam' and 'Only Woman DJ With Degree'. She also recorded a classic rendition of 'King And Queen' with Yellowman. With producer Henry 'Junjo' Lawes, she recorded 'A No Any Man Can Test Sister Nancy', 'Bang Belly' and another Yellowman combination, 'Jah Mek Us Fe A Purpose'. She continued appearing live in the dancehall where she often performed alongside her brother on the Jahlove Music Sound System. The sound toured internationally to rave reviews, including a celebrated session at Brixton Town Hall, London, where both Jerry and Nancy made their debut performances in the UK.
FAQs about Sister Nancy
Where is Sister Nancy from?
She is from Jamaica.
What are the latest songs of Sister Nancy?
The latest song of Sister Nancy is Mumu Is Coming.
What are the best songs of Sister Nancy?
The best songs of Sister Nancy are Bam Bam and No No No.
What are the best albums of Sister Nancy?
The best albums of Sister Nancy are Mumu Is Coming, Sister Nancy Meets Fireproof and Armageddon.
How to download songs of Sister Nancy?
You can download songs of Sister Nancy from Boomplay App for free.
Firstly, install Boomplay app on your mobile phone.
Secondly, navigate to the song you would like to download.
Thirdly, Tap on More > Download.