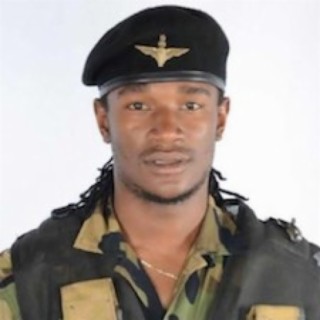 Jah Prayzah
Current #493

All Time #90

Mukudzeyi Mukombe (born 4 July 1987), who performs under the stage name Jah Prayzah, is a Zimbabwean contemporary musician and lead member of the band Third Generation. Many of Jah Prayzah songs become very popular and trendy online with a great number of streaming and downloads on Boomplay. He is popularly referred to by fans and media as "Musoja", the Shona word for "soldier", a name he earned mostly because of his signature band uniform of military regalia. The name "Jah Prayzah" comes from his name, "Mukudzeyi", which means "Praise Him".

Career
Mukombe's first experience with composing music was during his early years of high school. He started to record dancehall and reggae tracks with his friends with some tracks creating a vibe in the suburb, but failing to hit the national music scene. He later recorded contemporary music and afro jazztracks with DJ Thando and other local producers, releasing singles such as "Sorry Mama" and "Seiko".

He started his career in 2005. In 2007, he released his first commercially launched album, Sungano. He went on to release two more albums, Rudo neRunyararo and Ngwarira Kuparara. The latter was commercially successful and contained the singles "Maria" and "Dande", the latter of which featured Chiwoniso Maraire. Ngwarira Kuparara was commercially successful, and he was offered a contract for the Wednesday slots at a local Harare pub called Jazz 105.

In 2013, he released his fourth album Tsviriyo and won a NAMA award for song of the Year for the song "Gotchi Gotchi". In 2014, he released Kumbumura Mhute. In the same year he won five NAMA awards and two ZIMA awards.

In 2015, he opened a new studio and released his sixth studio album, Jerusarema.

His most notable work was a collaboration with award-winning Tanzanian artist Diamond Platnumz on his hit song "Watora Mari", which reached over a million views on YouTube in less than a month after its release. "Watora Mari" has enjoyed massive airplay on MTV Base and Trace Africa.

On 2 November 2018, Mukombe launched his eighth studio album titled Chitubu. The album features collaborations from well known African artists such as Patoranking and Sauti Sol. In 2019, Mukombe was nominated for the Best Male Artist in Southern Africa in the All Africa Music Awards (AFRIMAs).

Follow Boomplay and keep up to date with the latest Jah Prayzah songs and information.

Jah Prayzah Albums
• Gwara ( 2021)
• Hokoyo (2020)
• Chitubu ( 2018)
• Kutonga Kwaro ( 2017)
• Mdhara Vachauya (2016)
• Jerusarema (2015)
• Kumbumura Mhute (2014)
• Tsviriyo (2013)
• Ngwarira Kuparara (2012)
• Sungano Yerudo (2010)
• Rudo Nerunyararo (2007)

Jah Prayzah songs are included in Boomplay music playlists. Search to stream and download Jah Prayzah songs MP3/ single/ albums on the platform....more

Country/Region : Zimbabwe
Songs

(48)

Albums

(9)

Playlists

(3)
1

2

3

4

5

6

7

8

9

10

11

12

13

14

15

16

17

18

19

20

21

22

23

24

25

26

27

28

29

30

31

32

33

34

35

36

37

38

39

40

41

42

43

44

45

46

47

48
Listen to Jah Prayzah's new songs including "Furuwa", "Chiremerera", "Dzima ft. Makhadzi" and many more. Enjoy Jah Prayzah's latest songs and explore the Jah Prayzah's new music albums. If you want to download Jah Prayzah songs MP3, use the Boomplay App to download the Jah Prayzah songs for free. Discover Jah Prayzah's latest songs, popular songs, trending songs all on Boomplay.
Mukudzeyi Mukombe (born 4 July 1987), who performs under the stage name Jah Prayzah, is a Zimbabwean contemporary musician and lead member of the band Third Generation. Many of Jah Prayzah songs become very popular and trendy online with a great number of streaming and downloads on Boomplay. He is popularly referred to by fans and media as "Musoja", the Shona word for "soldier", a name he earned mostly because of his signature band uniform of military regalia. The name "Jah Prayzah" comes from his name, "Mukudzeyi", which means "Praise Him".

Career
Mukombe's first experience with composing music was during his early years of high school. He started to record dancehall and reggae tracks with his friends with some tracks creating a vibe in the suburb, but failing to hit the national music scene. He later recorded contemporary music and afro jazztracks with DJ Thando and other local producers, releasing singles such as "Sorry Mama" and "Seiko".

He started his career in 2005. In 2007, he released his first commercially launched album, Sungano. He went on to release two more albums, Rudo neRunyararo and Ngwarira Kuparara. The latter was commercially successful and contained the singles "Maria" and "Dande", the latter of which featured Chiwoniso Maraire. Ngwarira Kuparara was commercially successful, and he was offered a contract for the Wednesday slots at a local Harare pub called Jazz 105.

In 2013, he released his fourth album Tsviriyo and won a NAMA award for song of the Year for the song "Gotchi Gotchi". In 2014, he released Kumbumura Mhute. In the same year he won five NAMA awards and two ZIMA awards.

In 2015, he opened a new studio and released his sixth studio album, Jerusarema.

His most notable work was a collaboration with award-winning Tanzanian artist Diamond Platnumz on his hit song "Watora Mari", which reached over a million views on YouTube in less than a month after its release. "Watora Mari" has enjoyed massive airplay on MTV Base and Trace Africa.

On 2 November 2018, Mukombe launched his eighth studio album titled Chitubu. The album features collaborations from well known African artists such as Patoranking and Sauti Sol. In 2019, Mukombe was nominated for the Best Male Artist in Southern Africa in the All Africa Music Awards (AFRIMAs).

Follow Boomplay and keep up to date with the latest Jah Prayzah songs and information.

Jah Prayzah Albums
• Gwara ( 2021)
• Hokoyo (2020)
• Chitubu ( 2018)
• Kutonga Kwaro ( 2017)
• Mdhara Vachauya (2016)
• Jerusarema (2015)
• Kumbumura Mhute (2014)
• Tsviriyo (2013)
• Ngwarira Kuparara (2012)
• Sungano Yerudo (2010)
• Rudo Nerunyararo (2007)

Jah Prayzah songs are included in Boomplay music playlists. Search to stream and download Jah Prayzah songs MP3/ single/ albums on the platform.
New Comments(
70

)
FAQs about Jah Prayzah
Where is Jah Prayzah from?
He is from Zimbabwe.
How to download songs of Jah Prayzah?
You can download songs of Jah Prayzah from Boomplay App for free.
Firstly, install Boomplay app on your mobile phone.
Secondly, navigate to the song you would like to download.
Thirdly, Tap on More > Download.