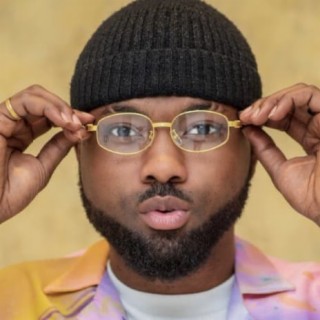 Nanky
Current #16.5k

All Time #17.4k

Born Haruna Buhari but professionally known as Nanky is an efficacious singer and songwriter deeply rooted in Afro pop, Afro RnB and highlife. Many of Nanky songs become very popular and trendy online with a great number of streaming and downloads on Boomplay. He's currently signed under Sultan Incorporation Record Label.

Career.
His first single 'Favor' after been signed to the label featured BET's certified African best rapper Sarkodie who blessed the song to reach it's potential audience. This has cemented him a spot to be one of the most talked about upcoming act with a promising hope for the future.

Nanky was born and buttered in Tema. He had his basic education at Padmore Primary School, located in Tema, Community One. He continued to Akodzo Junior High School in the same City and later had an admission to Chemu Senior School where he studied general arts.

Initially, music wasn't his chosen field of expertise though he loved and had passion for it. But he didn't see himself becoming an artist because football took much of amount of his practical interest.

Follow Boomplay and keep up to date with the latest Nanky songs and information.

Achievement.
Suddenly he noticed nature had special plans for him after realizing his love for music kept growing day in day out. There, it occurred to him music was his divine calling. Without making excuses, he pursued it.

Nanky Albums
Nanky albums includes;
• Baby Mama (2022)
• Cloud 9 (2022)
• Give Dem (2021)
• No Devil (2021)
• Cassette (feat. King Promise) (2021)
• Confusion (2021)
• Remedy (2020)
• FAVOUR (2020)

Nanky Songs
Nanky songs includes;
• Baby Mama
• Give Dem
• Cloud 9
• Munafiki
• Innocent Girl
• FAVOUR ft. SARKODIE
• Happiness
• Rain over Me
• Quansimah
• Remedy
• No Devil

Nanky songs are included in Boomplay music playlists. Search to stream and download Nanky songs MP3/ single/ albums on the platform....more

Country/Region : Ghana
Songs

(9)

Albums

(3)

Playlists

(15)
Listen to Nanky's new songs including "Cloud 9", "FAVOUR ft. SARKODIE", "Happiness" and many more. Enjoy Nanky's latest songs and explore the Nanky's new music albums. If you want to download Nanky songs MP3, use the Boomplay App to download the Nanky songs for free. Discover Nanky's latest songs, popular songs, trending songs all on Boomplay.
Born Haruna Buhari but professionally known as Nanky is an efficacious singer and songwriter deeply rooted in Afro pop, Afro RnB and highlife. Many of Nanky songs become very popular and trendy online with a great number of streaming and downloads on Boomplay. He's currently signed under Sultan Incorporation Record Label.

Career.
His first single 'Favor' after been signed to the label featured BET's certified African best rapper Sarkodie who blessed the song to reach it's potential audience. This has cemented him a spot to be one of the most talked about upcoming act with a promising hope for the future.

Nanky was born and buttered in Tema. He had his basic education at Padmore Primary School, located in Tema, Community One. He continued to Akodzo Junior High School in the same City and later had an admission to Chemu Senior School where he studied general arts.

Initially, music wasn't his chosen field of expertise though he loved and had passion for it. But he didn't see himself becoming an artist because football took much of amount of his practical interest.

Follow Boomplay and keep up to date with the latest Nanky songs and information.

Achievement.
Suddenly he noticed nature had special plans for him after realizing his love for music kept growing day in day out. There, it occurred to him music was his divine calling. Without making excuses, he pursued it.

Nanky Albums
Nanky albums includes;
• Baby Mama (2022)
• Cloud 9 (2022)
• Give Dem (2021)
• No Devil (2021)
• Cassette (feat. King Promise) (2021)
• Confusion (2021)
• Remedy (2020)
• FAVOUR (2020)

Nanky Songs
Nanky songs includes;
• Baby Mama
• Give Dem
• Cloud 9
• Munafiki
• Innocent Girl
• FAVOUR ft. SARKODIE
• Happiness
• Rain over Me
• Quansimah
• Remedy
• No Devil

Nanky songs are included in Boomplay music playlists. Search to stream and download Nanky songs MP3/ single/ albums on the platform.