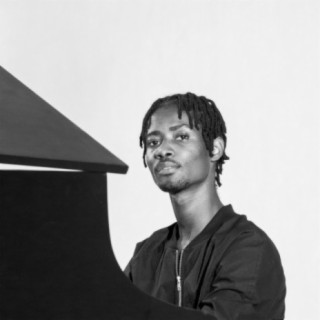 Dayonthetrack
Current #34.6k

All Time #15.5k

Benjamin Danso Arthur popularly known as Dayonthetrack is the younger brother of the award-winning artiste, Kwesi Arthur. Many of Dayonthetrack songs become very popular and trendy online with a great number of streaming and downloads on Boomplay. His music seamlessly moves between genres.

Dayonthetrack is a signed artist in the ground up chale record label. Perry Welbeck is the manager of Dayonthetrack.

Career
Born and raised in Tema, a suburb of Accra where he developed a love for music at a young age. Blessed to be in a community of gifted talents such as Sarkodie, R2Bees, Quamina MP, Twitch and a famous brother who introduced him to the swirling, sensuous world of Afrobeats, HipHop and RnB allowed Dayonthetrack to study different genres and continuously create his sound.

He has worked with the likes of fellow artists and producers Quamina MP, Kwesi Arthur, Twitch, KaySo and Yung Demz. DAYs penmanship is also impeccable and is currently working on a couple singles and a debut EP set to be released soon. Dayonthetrack wants to use his music to break borders, touch lives, take Ghana and Africa to the rest of the world. Im Ghanaian and my joy is to satisfy my Ghanaian audience without diluting my sound to please a western audience.

Follow Boomplay and keep up to date with the latest Dayonthetrack songs and information.

Dayonthetrack Songs
• Blow My Mind
• Sika
• Leave
• Falling
• Prisoner
• So Wrong
• Say Yes
• Mind Over Body
• Calling
• Simple Song
• Chocolate
• Karma

Dayonthetracksongs are included in Boomplay music playlists. Search to stream and download Dayonthetrack songs MP3/ single/ albums on the platform....more

Country : Ghana
Listen to Dayonthetrack's new songs including "Prisoner", and many more. Enjoy Dayonthetrack's latest songs and explore the Dayonthetrack's new music albums. If you want to download Dayonthetrack songs MP3, use the Boomplay App to download the Dayonthetrack songs for free. Discover Dayonthetrack's latest songs, popular songs, trending songs all on Boomplay.
Benjamin Danso Arthur popularly known as Dayonthetrack is the younger brother of the award-winning artiste, Kwesi Arthur. Many of Dayonthetrack songs become very popular and trendy online with a great number of streaming and downloads on Boomplay. His music seamlessly moves between genres.

Dayonthetrack is a signed artist in the ground up chale record label. Perry Welbeck is the manager of Dayonthetrack.

Career
Born and raised in Tema, a suburb of Accra where he developed a love for music at a young age. Blessed to be in a community of gifted talents such as Sarkodie, R2Bees, Quamina MP, Twitch and a famous brother who introduced him to the swirling, sensuous world of Afrobeats, HipHop and RnB allowed Dayonthetrack to study different genres and continuously create his sound.

He has worked with the likes of fellow artists and producers Quamina MP, Kwesi Arthur, Twitch, KaySo and Yung Demz. DAYs penmanship is also impeccable and is currently working on a couple singles and a debut EP set to be released soon. Dayonthetrack wants to use his music to break borders, touch lives, take Ghana and Africa to the rest of the world. Im Ghanaian and my joy is to satisfy my Ghanaian audience without diluting my sound to please a western audience.

Follow Boomplay and keep up to date with the latest Dayonthetrack songs and information.

Dayonthetrack Songs
• Blow My Mind
• Sika
• Leave
• Falling
• Prisoner
• So Wrong
• Say Yes
• Mind Over Body
• Calling
• Simple Song
• Chocolate
• Karma

Dayonthetracksongs are included in Boomplay music playlists. Search to stream and download Dayonthetrack songs MP3/ single/ albums on the platform.
New Comments(
6

)