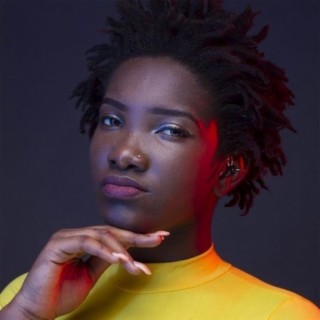 Ebony
Current #1,304

All Time #729

Priscilla Opoku-Kwarteng (16 February 1997 – 8 February 2018), known by her stage name Ebony Reigns, was a Ghanaian dancehall/Afrobeats artist known for her hit songs "Poison" and "Kupe". She was discovered by Bullet from Ruff n Smooth. Ebony was discovered by musician and entrepreneur Bullet from Ruff n Smooth and was signed to his Ruff Town record label.

Ebony came out with her first single, "Dancefloor", in December 2015, with a video and audio release. The song became a radio hit, landing her a nomination for the "unsung" category at the 2016 Ghana Music Awards.

In March 2016 Ebony released her major hit single "Kupe". She was signed to Ruff Town Records and Midas Touch Inc. Ebony Reigns was killed instantly in a traffic collision on 8 February 2018 whilst returning from Sunyani to Accra after a visit to her mother. Her assistant and longtime friend Franklina Yaa Nkansah Kuri and soldier Atsu Vondee were also killed in the fatal accident. The only survivor of the fatal crash was the driver named Phinehas, who resides at Teshie. She died eight days before her 21st birthday. Her final funeral rites were held at the forecourt of the state house, Accra, and she was buried at Osu cemetery on Saturday, March 24, 2018. In preparation for the funeral, the late Ebony's family received a lot of donations from prominent personalities, government and private institutions.

Download and listen to Ebony's songs on Boomplay....more

Country : Ghana
Songs

(64)

Albums

(15)

Playlists

(30)
1

2

3

4

5

6

7

8

9

10

11

12

13

14

15

16

17

18

19

20

21

22

23

24

25

26

27

28

29

30

31

32

33

34

35

36

37

38

39

40

41

42

43

44

45

46

47

48

49

50

51

52

53

54

55

56

57

58

59

60

61

62

63

64
Listen to Ebony's new songs including "pas bon débarras", "je sais", "charlie brown" and many more. Enjoy Ebony's latest songs and explore the Ebony's new music albums. If you want to download Ebony songs MP3, use the Boomplay App to download the Ebony songs for free. Discover Ebony's latest songs, popular songs, trending songs all on Boomplay.
Priscilla Opoku-Kwarteng (16 February 1997 – 8 February 2018), known by her stage name Ebony Reigns, was a Ghanaian dancehall/Afrobeats artist known for her hit songs "Poison" and "Kupe". She was discovered by Bullet from Ruff n Smooth. Ebony was discovered by musician and entrepreneur Bullet from Ruff n Smooth and was signed to his Ruff Town record label.

Ebony came out with her first single, "Dancefloor", in December 2015, with a video and audio release. The song became a radio hit, landing her a nomination for the "unsung" category at the 2016 Ghana Music Awards.

In March 2016 Ebony released her major hit single "Kupe". She was signed to Ruff Town Records and Midas Touch Inc. Ebony Reigns was killed instantly in a traffic collision on 8 February 2018 whilst returning from Sunyani to Accra after a visit to her mother. Her assistant and longtime friend Franklina Yaa Nkansah Kuri and soldier Atsu Vondee were also killed in the fatal accident. The only survivor of the fatal crash was the driver named Phinehas, who resides at Teshie. She died eight days before her 21st birthday. Her final funeral rites were held at the forecourt of the state house, Accra, and she was buried at Osu cemetery on Saturday, March 24, 2018. In preparation for the funeral, the late Ebony's family received a lot of donations from prominent personalities, government and private institutions.

Download and listen to Ebony's songs on Boomplay.