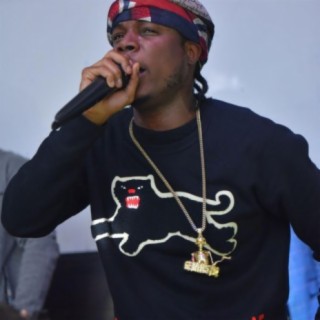 Masicka
Current #864

All Time #1,168

Masicka is the multi-talented Dj, singer and songwriter from Jamaica on the verge of breaking into the tightly knit circuit of the Jamaican dancehall scene. Many of Masicka's Songs became very popular and trendy on social media in line with a great number of streaming and downloads on Boomplay.

Career
Masicka began his career as a promising local Dj with a lyrically insane flow of melodies and harmonies. His musical journey started by performing at local talent shows and competitions in his hometown of Independence City in Portmore, more popularly dubbed by Masicka as "Sin City".

There were many talented Dj's in Sin City for him to learn from and compete against. He continued to develop his special talent while attending Calabar High School. His flow in music is rapidly becoming known by dancehall enthusiasts to be similarly incomparable to that of Vybz Kartel.

His Schoolmate in Calabar linked him to music and that proved to help mold his raw talent. The Masicka buzz spread quickly throughout the generated across the local scene and soon became island wide. A cult following developed and by the time Masicka made his first official television appearance on Hype TV in 2009.

He went on to win Hype TV's Dj competition, securing himself a first prize award that entailed a recording session with Equinoxx Music. This resulted in the creation of one of his most popular songs to date, "Anno Sometime". He has also gained the acknowledgement of some established Dj's, like Aidonia and Vybz Kartel. He has been recently featured on some popular reggae/dancehall radio shows in the United States and UK.

All of this airplay is greatly appreciated by the young Dj, who sees all the attention as reaching another milestone in his career. He is signed at One Motion Music and has since benefited from the label. He has also linked up with producer Makonen, who is popular for his tracks with Andrew and Wada Blood of the One Blood Family.

Others include G3 Musik, TJ Records and CrashDummy Productions, the producer of his latest single Guh Haad And Done. Although he has worked with all those producers, he still returns home to One Motion Music. Under the label he has released most popular hits, like Whistling Clean and Lose Control.

Follow Boomplay and keep up-to-date with the latest songs of Masicka and information.

Masicka's Songs
• Suicide Note
• Better Days
• Update
• King
• Moment
• Pain
• I Wish
• Promise
• They Don't Know
• Love Story
• Leader
• Heart Cry

Masicka's Songs are included in Boomplay music playlists. Search, stream, and download Masicka's Songs, her latest singles and albums in MP3 only on the Boomplay platform for free....more

Country/Region : Jamaica
Songs

(33)

Albums

(22)

Playlists

(3)
1

2

3

4

5

6

7

8

9

10

11

12

13

14

15

16

17

18

19

20

21

22

23

24

25

26

27

28

29

30

31

32

33
Listen to Masicka's new songs including "Better Days", "Difficult", "Blessing" and many more. Enjoy Masicka's latest songs and explore the Masicka's new music albums. If you want to download Masicka songs MP3, use the Boomplay App to download the Masicka songs for free. Discover Masicka's latest songs, popular songs, trending songs all on Boomplay.
Masicka is the multi-talented Dj, singer and songwriter from Jamaica on the verge of breaking into the tightly knit circuit of the Jamaican dancehall scene. Many of Masicka's Songs became very popular and trendy on social media in line with a great number of streaming and downloads on Boomplay.

Career
Masicka began his career as a promising local Dj with a lyrically insane flow of melodies and harmonies. His musical journey started by performing at local talent shows and competitions in his hometown of Independence City in Portmore, more popularly dubbed by Masicka as "Sin City".

There were many talented Dj's in Sin City for him to learn from and compete against. He continued to develop his special talent while attending Calabar High School. His flow in music is rapidly becoming known by dancehall enthusiasts to be similarly incomparable to that of Vybz Kartel.

His Schoolmate in Calabar linked him to music and that proved to help mold his raw talent. The Masicka buzz spread quickly throughout the generated across the local scene and soon became island wide. A cult following developed and by the time Masicka made his first official television appearance on Hype TV in 2009.

He went on to win Hype TV's Dj competition, securing himself a first prize award that entailed a recording session with Equinoxx Music. This resulted in the creation of one of his most popular songs to date, "Anno Sometime". He has also gained the acknowledgement of some established Dj's, like Aidonia and Vybz Kartel. He has been recently featured on some popular reggae/dancehall radio shows in the United States and UK.

All of this airplay is greatly appreciated by the young Dj, who sees all the attention as reaching another milestone in his career. He is signed at One Motion Music and has since benefited from the label. He has also linked up with producer Makonen, who is popular for his tracks with Andrew and Wada Blood of the One Blood Family.

Others include G3 Musik, TJ Records and CrashDummy Productions, the producer of his latest single Guh Haad And Done. Although he has worked with all those producers, he still returns home to One Motion Music. Under the label he has released most popular hits, like Whistling Clean and Lose Control.

Follow Boomplay and keep up-to-date with the latest songs of Masicka and information.

Masicka's Songs
• Suicide Note
• Better Days
• Update
• King
• Moment
• Pain
• I Wish
• Promise
• They Don't Know
• Love Story
• Leader
• Heart Cry

Masicka's Songs are included in Boomplay music playlists. Search, stream, and download Masicka's Songs, her latest singles and albums in MP3 only on the Boomplay platform for free.
New Comments(
23

)
FAQs about Masicka
Where is Masicka from?
He is from Jamaica.
How to download songs of Masicka?
You can download songs of Masicka from Boomplay App for free.
Firstly, install Boomplay app on your mobile phone.
Secondly, navigate to the song you would like to download.
Thirdly, Tap on More > Download.