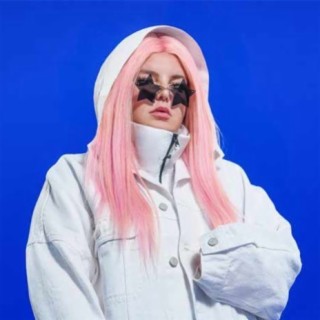 Tones And I
Current #2,967

All Time #4,032

Toni Watson, known professionally as Tones and I, is an Australian singer, songwriter, and record producer. Her breakout single, "Dance Monkey" released in May 2019 reached number one in over 30 countries, including Australia. Many of Tones and I Songs became very popular and trendy on social media in line with a great number of streaming and downloads on Boomplay.

Career

Toni Watson realized her singing abilities when she was 7 years. The singer-songwriter learned to play keyboards and drum pads while at secondary school. She started busking in Melbourne, while working in fashion retail at the Universal Store.

In 2009, she created a YouTube channel and posted a cappella cover versions of songs. She performed at local gigs and festivals, she was the vocalist for a duo in 2014.

In September 2017, the singer-songwriter travelled to Byron Bay, New South Wales to try busking. At an early performance, she met Jackson Walkden-Brown who became her manager about a month later. Her busking success led to a greater commitment to a music career. The artist spent 2018 living between Walkden-Brown's home in the Gold Coast hinterland and in her van in Byron Bay, writing music and busking full-time.

In February 2019, Tones and I signed to Bad Batch Records/Sony Music Australia alongside a co-management deal with Artists Only and Lemon Tree Music. In that month she uploaded her debut single, "Johnny Run Away", to Australian national youth radio station Triple J's website, Unearthed, which publishes the music of unsigned artists. "Johnny Run Away" was added to full rotation on Triple J the following week and received high ratings from staff.

On 10 May 2019, Tones and I released her second single, "Dance Monkey". It reached number one on the official music charts of over 30 countries, including Australia. she broke the record for the most weeks at top of the ARIA Singles Chart by any artist, with 16 weeks. The record was previously held by Ed Sheeran's "Shape of You" in 2017....more

Country/Region : Australia
Songs

(0)

Albums

(0)

Playlists

(20)
Listen to Tones And I's new songs including and many more. Enjoy Tones And I's latest songs and explore the Tones And I's new music albums. If you want to download Tones And I songs MP3, use the Boomplay App to download the Tones And I songs for free. Discover Tones And I's latest songs, popular songs, trending songs all on Boomplay.
Toni Watson, known professionally as Tones and I, is an Australian singer, songwriter, and record producer. Her breakout single, "Dance Monkey" released in May 2019 reached number one in over 30 countries, including Australia. Many of Tones and I Songs became very popular and trendy on social media in line with a great number of streaming and downloads on Boomplay.

Career

Toni Watson realized her singing abilities when she was 7 years. The singer-songwriter learned to play keyboards and drum pads while at secondary school. She started busking in Melbourne, while working in fashion retail at the Universal Store.

In 2009, she created a YouTube channel and posted a cappella cover versions of songs. She performed at local gigs and festivals, she was the vocalist for a duo in 2014.

In September 2017, the singer-songwriter travelled to Byron Bay, New South Wales to try busking. At an early performance, she met Jackson Walkden-Brown who became her manager about a month later. Her busking success led to a greater commitment to a music career. The artist spent 2018 living between Walkden-Brown's home in the Gold Coast hinterland and in her van in Byron Bay, writing music and busking full-time.

In February 2019, Tones and I signed to Bad Batch Records/Sony Music Australia alongside a co-management deal with Artists Only and Lemon Tree Music. In that month she uploaded her debut single, "Johnny Run Away", to Australian national youth radio station Triple J's website, Unearthed, which publishes the music of unsigned artists. "Johnny Run Away" was added to full rotation on Triple J the following week and received high ratings from staff.

On 10 May 2019, Tones and I released her second single, "Dance Monkey". It reached number one on the official music charts of over 30 countries, including Australia. she broke the record for the most weeks at top of the ARIA Singles Chart by any artist, with 16 weeks. The record was previously held by Ed Sheeran's "Shape of You" in 2017.
New Comments(
28

)