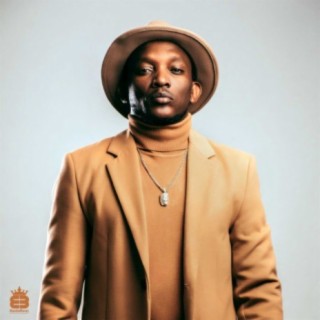 Big Fizzo
Current #1,962

All Time #985

Mugani Desire, best known as Big Fizzo, is a musician from Bujumbura, Burundi. Many of Big Fizzo's Songs became very popular and trendy on social media in line with a great number of streaming and downloads on Boomplay.

Fizzo was born and raised in Bujumbura, the Burundian capital. At school, Fizzo discovered a passion for drawing and football, but he was quickly caught up in his singing talent and immersed in music.

From the 90s, Fizzo began to make his debut in the group Nigga Soul, it was not easy at that time in a musical environment without studios. Despite the difficulties, he managed to make some recordings when he has was discovered by the singer Kidum who decided to promote him, so impressed by the talent of the young Fizzo.

It recalls here the famous title Mbarira with the voice of Kidum declaring the granting of a license to Fizzo and Sitopenda tena performed with Kidum himself.

After this promotion, Big Fizzo continued to score goals, which makes him of title of king of the Burundian urban music.

Career
Fizzo officially launched his music career in the late 1990s with a group called Nigga Sound. The group was not doing well and he decided to leave to begin a solo career. Kidum, a Kenyan based Burundian musician, discovered him and offered to sponsor his career.

Since then, Fizzo has released songs such as 'Mbarira', 'Bajou' and 'Sitapenda Tena'.

In April 2017, he released a song called 'Urambabaza'. The song was well-received. Fizzo sings in Kinyarwanda, Kiswahili, French and English.

Follow Boomplay and keep up to date with the latest songs of Big Fizzo and information.

Big Fizzo's Songs
• Ndakumisinze
• Ubusa
• Urambabaza
• Million Faces
• Umudodo
• Konzi
• Sugua
• Bajou
• Munyana
• Sibeza

Big Fizzo's Songs are included in Boomplay music playlists. Search, stream, and download Big Fizzo's Songs, the latest singles and albums in MP3 only on the Boomplay platform for free...more

Country/Region : Burundi
Songs

(0)

Albums

(0)

Playlists

(0)
Listen to Big Fizzo's new songs including and many more. Enjoy Big Fizzo's latest songs and explore the Big Fizzo's new music albums. If you want to download Big Fizzo songs MP3, use the Boomplay App to download the Big Fizzo songs for free. Discover Big Fizzo's latest songs, popular songs, trending songs all on Boomplay.
Mugani Desire, best known as Big Fizzo, is a musician from Bujumbura, Burundi. Many of Big Fizzo's Songs became very popular and trendy on social media in line with a great number of streaming and downloads on Boomplay.

Fizzo was born and raised in Bujumbura, the Burundian capital. At school, Fizzo discovered a passion for drawing and football, but he was quickly caught up in his singing talent and immersed in music.

From the 90s, Fizzo began to make his debut in the group Nigga Soul, it was not easy at that time in a musical environment without studios. Despite the difficulties, he managed to make some recordings when he has was discovered by the singer Kidum who decided to promote him, so impressed by the talent of the young Fizzo.

It recalls here the famous title Mbarira with the voice of Kidum declaring the granting of a license to Fizzo and Sitopenda tena performed with Kidum himself.

After this promotion, Big Fizzo continued to score goals, which makes him of title of king of the Burundian urban music.

Career
Fizzo officially launched his music career in the late 1990s with a group called Nigga Sound. The group was not doing well and he decided to leave to begin a solo career. Kidum, a Kenyan based Burundian musician, discovered him and offered to sponsor his career.

Since then, Fizzo has released songs such as 'Mbarira', 'Bajou' and 'Sitapenda Tena'.

In April 2017, he released a song called 'Urambabaza'. The song was well-received. Fizzo sings in Kinyarwanda, Kiswahili, French and English.

Follow Boomplay and keep up to date with the latest songs of Big Fizzo and information.

Big Fizzo's Songs
• Ndakumisinze
• Ubusa
• Urambabaza
• Million Faces
• Umudodo
• Konzi
• Sugua
• Bajou
• Munyana
• Sibeza

Big Fizzo's Songs are included in Boomplay music playlists. Search, stream, and download Big Fizzo's Songs, the latest singles and albums in MP3 only on the Boomplay platform for free
New Comments(
157

)
FAQs about Big Fizzo
Where is Big Fizzo from?
He is from Burundi.
What are the latest songs of Big Fizzo?
The latest songs of Big Fizzo are Ndabizi, INTWARI and HANGAMA.
What are the best songs of Big Fizzo?
The best songs of Big Fizzo are Gondama, Umudodo and Ndabizi.
What are the best albums of Big Fizzo?
The best albums of Big Fizzo are Desideratus / Legendary, Fizzology and Umudodo.