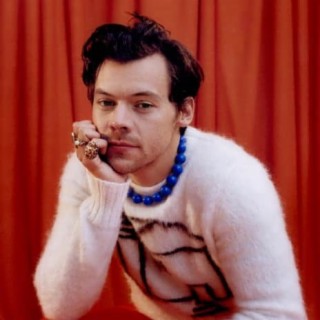 Harry Styles
Current #0

All Time #3,321

Born on 1 February 1994, Harry Styles's age is 28 years as of 2022. Many of Harry Styles songs become very popular and trendy online with a great number of streaming and downloads on Boomplay.

He was born and brought up in a well-settled family from Redditch, Worcestershire, England, United Kingdom. After a few years of his birth, his family moved to Holmes Chapel, Cheshire.

Since his childhood, Harry was inclined towards music and used to record covers on a karaoke machine which was gifted to him by his grandfather. He was also the lead singer in a popular local band named White Eskimo during his school days. His band even won a band's competition in a local battle.

Career
Harry Styles started his career as a singer in the English entertainment industry. He made his debut appearance on the television screen with his participation in the popular TV reality show The X Factor in the year 2010, but he failed to make an impression as he didn't progress to the Boys category at judges' houses.

Later, he was grouped with four other boys of his age and thus they qualified for the group category under the guidance of Simon Cowell. In his group he worked with Niall Horan, Liam Payne, Louis Tomlinson, and Zayn Malik, they also named their group One Direction and even reached the final stage in the show and stood in third place.

After that, the group raised to popularity, and in the year 2011, they signed a $2 million deal with Syco Records. They released their first single titled What Makes You Beautiful which become a huge hit in the United Kingdom. Two months later they released their first album titled Up All Night which also become a huge hit.

In the year 2012, they released their second album titled Take Me Home and in the very next year, a documentary and concert film was released by Morgan Spurlock titled One Direction This Is Us. Since then One Direction band has released many popular albums like Midnight Memories, Four, Made in the A.M., and others. They also embarked on the Were We Are Tour which becomes one of the highest-grossing tours in the year 2014.

In the year 2016, Styles left the One Direction's management company named Modest Management and signed a new contract with Jeffrey Azoff's management company and talent agency named CAA. After that, he also launched his record label named Erskine Records. Later, in the same year, he also signed a deal with Columbia Records.

In the year 2017, Harry Styles released his debut single titled Sign of the Times and also released its music video in which he was featured himself. In the same year, he made a guest appearance in the popular TV show Saturday Night Live. Later, in the year he released a self-titled album which was released in several countries like Australia, United Kingdom, and the United States. After that, he released two popular singles titled Two Ghosts and Kiwi.

In July 2017, he made his acting debut in Christopher Nolan's war film titled Dunkirk. He has also been featured in a one-hour special television show presented by Nick Grimshaw. He also co-wrote songs like Someday and Alfie's song, In the year 2018, he also worked as an executive producer at CBS sitcom and did modeling for the Italian house Gucci.

Follow Boomplay and keep up to date with the latest Harry Styles songs and information.

Harry Styles Songs
• As It Was
• Night Changes
• Watermelon Sugar
• Story of My Life
• Sign of the Times
• What Makes You Beautiful
• Kiss You
• Golden
• Live While We're Young
• Steal My Girl
• Stockholm Syndrome
• Magic
• Falling
• Treat People With Kindness
• Drag Me Down
• You & I
• Best Song Ever
• They Don't Know About Us
• One Thing
• Perfect
• Lights Up
• Little Things
• 18
• Olivia
• No Control
• Sweet Creature

Achievement
Harry Styles has won many popular awards throughout his singing career and being a part of the popular band One Direction. One Direction group has won many awards like Brit Awards seven times, American Music Awards seven times, Billboard Music Awards six times, and MTV Video Music Awards four times.

Style himself has won several popular awards like 48th American Music Awards for Favorite Pop/Rock Album, 34th ARIA Music Awards for Best International Artist, 27th Billboard Music Awards for Chart Achievement, and various other nominations in Brit Awards and 63rd Annual Grammy Awards.

Harry Styles songs are included in Boomplay music playlists. Search to stream and download Harry Styles songs MP3/ single/ albums on the platform....more

Country/Region : United Kingdom
Songs

(0)

Albums

(0)

Playlists

(6)
Listen to Harry Styles's new songs including and many more. Enjoy Harry Styles's latest songs and explore the Harry Styles's new music albums. If you want to download Harry Styles songs MP3, use the Boomplay App to download the Harry Styles songs for free. Discover Harry Styles's latest songs, popular songs, trending songs all on Boomplay.
Born on 1 February 1994, Harry Styles's age is 28 years as of 2022. Many of Harry Styles songs become very popular and trendy online with a great number of streaming and downloads on Boomplay.

He was born and brought up in a well-settled family from Redditch, Worcestershire, England, United Kingdom. After a few years of his birth, his family moved to Holmes Chapel, Cheshire.

Since his childhood, Harry was inclined towards music and used to record covers on a karaoke machine which was gifted to him by his grandfather. He was also the lead singer in a popular local band named White Eskimo during his school days. His band even won a band's competition in a local battle.

Career
Harry Styles started his career as a singer in the English entertainment industry. He made his debut appearance on the television screen with his participation in the popular TV reality show The X Factor in the year 2010, but he failed to make an impression as he didn't progress to the Boys category at judges' houses.

Later, he was grouped with four other boys of his age and thus they qualified for the group category under the guidance of Simon Cowell. In his group he worked with Niall Horan, Liam Payne, Louis Tomlinson, and Zayn Malik, they also named their group One Direction and even reached the final stage in the show and stood in third place.

After that, the group raised to popularity, and in the year 2011, they signed a $2 million deal with Syco Records. They released their first single titled What Makes You Beautiful which become a huge hit in the United Kingdom. Two months later they released their first album titled Up All Night which also become a huge hit.

In the year 2012, they released their second album titled Take Me Home and in the very next year, a documentary and concert film was released by Morgan Spurlock titled One Direction This Is Us. Since then One Direction band has released many popular albums like Midnight Memories, Four, Made in the A.M., and others. They also embarked on the Were We Are Tour which becomes one of the highest-grossing tours in the year 2014.

In the year 2016, Styles left the One Direction's management company named Modest Management and signed a new contract with Jeffrey Azoff's management company and talent agency named CAA. After that, he also launched his record label named Erskine Records. Later, in the same year, he also signed a deal with Columbia Records.

In the year 2017, Harry Styles released his debut single titled Sign of the Times and also released its music video in which he was featured himself. In the same year, he made a guest appearance in the popular TV show Saturday Night Live. Later, in the year he released a self-titled album which was released in several countries like Australia, United Kingdom, and the United States. After that, he released two popular singles titled Two Ghosts and Kiwi.

In July 2017, he made his acting debut in Christopher Nolan's war film titled Dunkirk. He has also been featured in a one-hour special television show presented by Nick Grimshaw. He also co-wrote songs like Someday and Alfie's song, In the year 2018, he also worked as an executive producer at CBS sitcom and did modeling for the Italian house Gucci.

Follow Boomplay and keep up to date with the latest Harry Styles songs and information.

Harry Styles Songs
• As It Was
• Night Changes
• Watermelon Sugar
• Story of My Life
• Sign of the Times
• What Makes You Beautiful
• Kiss You
• Golden
• Live While We're Young
• Steal My Girl
• Stockholm Syndrome
• Magic
• Falling
• Treat People With Kindness
• Drag Me Down
• You & I
• Best Song Ever
• They Don't Know About Us
• One Thing
• Perfect
• Lights Up
• Little Things
• 18
• Olivia
• No Control
• Sweet Creature

Achievement
Harry Styles has won many popular awards throughout his singing career and being a part of the popular band One Direction. One Direction group has won many awards like Brit Awards seven times, American Music Awards seven times, Billboard Music Awards six times, and MTV Video Music Awards four times.

Style himself has won several popular awards like 48th American Music Awards for Favorite Pop/Rock Album, 34th ARIA Music Awards for Best International Artist, 27th Billboard Music Awards for Chart Achievement, and various other nominations in Brit Awards and 63rd Annual Grammy Awards.

Harry Styles songs are included in Boomplay music playlists. Search to stream and download Harry Styles songs MP3/ single/ albums on the platform.
FAQs about Harry Styles
Where is Harry Styles from?
He is from United Kingdom.
What are the latest songs of Harry Styles?
The latest songs of Harry Styles are Late Night Talking, Late Night Talking (Instrumental) and Little Freak.
What are the best songs of Harry Styles?
The best songs of Harry Styles are As It Was and Watermelon Sugar.
What are the best albums of Harry Styles?
The best albums of Harry Styles are Fine Line, Harry's House and As It Was.