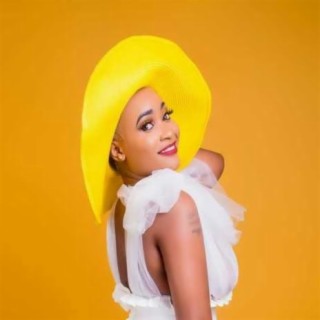 JOVIAL (KE)
Current #8,118

All Time #4,207

Juliet Mariam Ayub, popularly known by the stage name Jovial Jovial is a Kenyan singer-songwriter, vocalist, recording artist and performing artist based in Nairobi. Jovial was born and raised in Mombasa, a city in the coastal region of Kenya. Many of Jovial's Songs became very popular and trendy on social media in line with a great number of streaming and downloads on Boomplay.

Career
Jovial cites the church and school as her early music influences. Her participation in her local church choir and school music festivals nurtured her interest in pursuing music as a career. Although Jovial has made a name for herself as one of the most sought-after singers in Kenya, she worked tirelessly on creating her brand before being in the limelight.

She had worked with artistes such as Ben Pol and released singles such as Chanda Chema and Deejay before getting known by many. Jovial started experiencing a steady rise in fame in 2019 due to her feature on Otile Brown's song Zichune. The collaboration led to an even more fruitful future collaborations with Otile on songs such as Amor and Such Kinda Love. Such Kinda Love has proved to be their best collaborative effort, garnering over 17 million YouTube views.

Achievements and Accolades
Jovial has received a number of recognitions in the music industry due to the wide appeal of her craft. In 2021, she received a Pulse Music Video Award nomination for Female Video of the Year for her Kioo music video. She also received an Xtreem Awards nomination for Female Artist of The Year in 2019. Jovial does not have any EP or studio album at the moment but one is being highly anticipated by her fans. Her music has been featured on various Boomplay playlists such as Bongo Noma, African Sauce and Bongo Lockdown among others.

Follow Boomplay and keep up-to-date with the latest songs of Jovial and information.

Jovial's Latest Songs
•Pita Nawe
•Niache Niende
•Kioo (feat. Arrow Bwoy)
•Gubu
•Dekeza (feat. Arrow Bwoy)
•Pakua (feat. Mejja)
•Unanikosha

Jovial currently boasts of nearly 3 million total Boomplay streams and nearly 7 million total YouTube views. Explore Boomplay and download Jovial's latest songs.

Jovial's Songs are included in Boomplay music playlists. Search, stream, and download Jovial's Songs, his latest singles and albums in MP3 only on the Boomplay platform for free....more

Country/Region : Kenya
Listen to JOVIAL (KE)'s new songs including "Kioo ft. Arrow Bwoy", "Pakua ft. Mejja", "Usiku Mmoja ft. Darassa" and many more. Enjoy JOVIAL (KE)'s latest songs and explore the JOVIAL (KE)'s new music albums. If you want to download JOVIAL (KE) songs MP3, use the Boomplay App to download the JOVIAL (KE) songs for free. Discover JOVIAL (KE)'s latest songs, popular songs, trending songs all on Boomplay.
Juliet Mariam Ayub, popularly known by the stage name Jovial Jovial is a Kenyan singer-songwriter, vocalist, recording artist and performing artist based in Nairobi. Jovial was born and raised in Mombasa, a city in the coastal region of Kenya. Many of Jovial's Songs became very popular and trendy on social media in line with a great number of streaming and downloads on Boomplay.

Career
Jovial cites the church and school as her early music influences. Her participation in her local church choir and school music festivals nurtured her interest in pursuing music as a career. Although Jovial has made a name for herself as one of the most sought-after singers in Kenya, she worked tirelessly on creating her brand before being in the limelight.

She had worked with artistes such as Ben Pol and released singles such as Chanda Chema and Deejay before getting known by many. Jovial started experiencing a steady rise in fame in 2019 due to her feature on Otile Brown's song Zichune. The collaboration led to an even more fruitful future collaborations with Otile on songs such as Amor and Such Kinda Love. Such Kinda Love has proved to be their best collaborative effort, garnering over 17 million YouTube views.

Achievements and Accolades
Jovial has received a number of recognitions in the music industry due to the wide appeal of her craft. In 2021, she received a Pulse Music Video Award nomination for Female Video of the Year for her Kioo music video. She also received an Xtreem Awards nomination for Female Artist of The Year in 2019. Jovial does not have any EP or studio album at the moment but one is being highly anticipated by her fans. Her music has been featured on various Boomplay playlists such as Bongo Noma, African Sauce and Bongo Lockdown among others.

Follow Boomplay and keep up-to-date with the latest songs of Jovial and information.

Jovial's Latest Songs
•Pita Nawe
•Niache Niende
•Kioo (feat. Arrow Bwoy)
•Gubu
•Dekeza (feat. Arrow Bwoy)
•Pakua (feat. Mejja)
•Unanikosha

Jovial currently boasts of nearly 3 million total Boomplay streams and nearly 7 million total YouTube views. Explore Boomplay and download Jovial's latest songs.

Jovial's Songs are included in Boomplay music playlists. Search, stream, and download Jovial's Songs, his latest singles and albums in MP3 only on the Boomplay platform for free.
FAQs about JOVIAL (KE)
Where is JOVIAL (KE) from?
She is from Kenya.
How to download songs of JOVIAL (KE)?
You can download songs of JOVIAL (KE) from Boomplay App for free.
Firstly, install Boomplay app on your mobile phone.
Secondly, navigate to the song you would like to download.
Thirdly, Tap on More > Download.