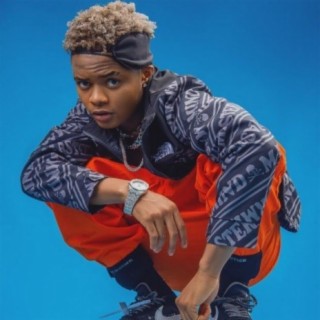 Crayon
Current #330

All Time #496

Sensational Nigerian musical artist Charles Chibueze Chukwu famously known as Crayon is a fast-rising Nigerian Afropop artist and songwriter. Many Crayon songs become very popular and trendy online with a great number of streaming and downloads on Boomplay.

The Ebonyi State indigene singer was born on November 21, 2000, in Lagos Lagos State, Nigeria.

Career
Crayon started his musical adventure in 2008, while working on mastering his art, he met with record producer Ozedikus who produced Rema's "Corny" and other songs by the star artist.

On May 25, 2019, Crayon was picked up by Baby Fresh, a producer under Mavin Records who saw the future of the singer, and immediately signed him under his record label "BlowTime Entertainment," an imprint of Don Jazzy's Mavin Records.

He was featured on Mavins all-stars "All Is In Order" single which also featured DNA, Rema, Don Jazzy, and Korede Bello.
He was also featured by Ladipoe on "Based On Kpa" which made waves and received a lot of airplay.

On July 12, 2019, Crayon dropped his official project under Blowtime Entertainment/Mavin Records "Cray Cray," a six-track EP project.

A single "So Fine '' off the project video was shot and directed by Clarence Peter.

He's currently signed under Blowtime Entertainment an imprint of Mavins Record.

The Blowtime Entertainment and Mavin Records Act Crayon has gathered up an estimated net worth of $50,000-$150,000.

Follow Boomplay and keep up-to-date with the latest Crayon songs and information.

Crayon Songs
• Too Correct
• So Fine
• Gock Am
• Bamileke
• Kpano
• Jackpot
• Mo Bad
• Aye O
• Sometime
• Unusual
• In Sync

Crayon songs are included in Boomplay music playlists. Search to stream and download Crayon songs MP3/ single/ albums on the platform....more

Country/Region : Nigeria
Listen to Crayon's new songs including "Too Correct ft. Rema", "Jackpot ft. Bella Shumurda", "Man Dem ft. One Acen" and many more. Enjoy Crayon's latest songs and explore the Crayon's new music albums. If you want to download Crayon songs MP3, use the Boomplay App to download the Crayon songs for free. Discover Crayon's latest songs, popular songs, trending songs all on Boomplay.
Sensational Nigerian musical artist Charles Chibueze Chukwu famously known as Crayon is a fast-rising Nigerian Afropop artist and songwriter. Many Crayon songs become very popular and trendy online with a great number of streaming and downloads on Boomplay.

The Ebonyi State indigene singer was born on November 21, 2000, in Lagos Lagos State, Nigeria.

Career
Crayon started his musical adventure in 2008, while working on mastering his art, he met with record producer Ozedikus who produced Rema's "Corny" and other songs by the star artist.

On May 25, 2019, Crayon was picked up by Baby Fresh, a producer under Mavin Records who saw the future of the singer, and immediately signed him under his record label "BlowTime Entertainment," an imprint of Don Jazzy's Mavin Records.

He was featured on Mavins all-stars "All Is In Order" single which also featured DNA, Rema, Don Jazzy, and Korede Bello.
He was also featured by Ladipoe on "Based On Kpa" which made waves and received a lot of airplay.

On July 12, 2019, Crayon dropped his official project under Blowtime Entertainment/Mavin Records "Cray Cray," a six-track EP project.

A single "So Fine '' off the project video was shot and directed by Clarence Peter.

He's currently signed under Blowtime Entertainment an imprint of Mavins Record.

The Blowtime Entertainment and Mavin Records Act Crayon has gathered up an estimated net worth of $50,000-$150,000.

Follow Boomplay and keep up-to-date with the latest Crayon songs and information.

Crayon Songs
• Too Correct
• So Fine
• Gock Am
• Bamileke
• Kpano
• Jackpot
• Mo Bad
• Aye O
• Sometime
• Unusual
• In Sync

Crayon songs are included in Boomplay music playlists. Search to stream and download Crayon songs MP3/ single/ albums on the platform.
New Comments(
107

)