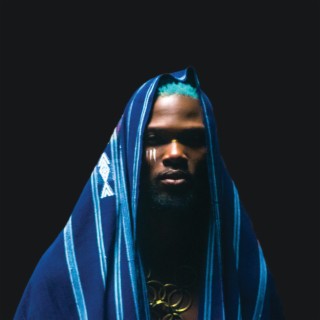 WurlD
Current #8,823

All Time #3,073

Wurld whose real name is Sadiq Onifade, is an American-Nigerian singer, songwriter and record producer born on January 2, 1987.

Wurld was born in Nigeria before relocating to the US to pursue his music career.
He is from a family of ten and grew up in the Mushin area of Lagos state.He is also from a polygamous family as his father has two wives. He is the first child of his mother.

Wurld studied Computer science at Georgia state University. He is simply a versatile singer with musical genres of Electronic, soul and Pop.Known with his amazing vocals, he has been able to create an image with his signature blue-colored hair.

Wurld who grew up listening to the fuji legend, Sir Shina Peters has been able to deliver himself musically right from his tender age.Relocating to the US was the right decision for him as he was able to mingle with musically inclined people where has been able to develop himself both as a singer and songwriter.

Wurld came through with his first single "Beyond Our Dreams" off his debut EP "Evolution" in 2012. In early 2013, Wurld teamed up with the R&B superstar, Mario while writing songs for his upcoming album and also with Timbaland's artist, BK Frasco as a featured artist on the song "Beautiful Girls".

Wurld eventually rose to fame in 2015 with the song "Show You Off" featuring Walshy Fire of Major Lazer and the Nigerian ace producer, Shizzi....more

Country/Region : Nigeria
Listen to WurlD's new songs including "Show You Off ft. Shizzi & Walshy Fire", and many more. Enjoy WurlD's latest songs and explore the WurlD's new music albums. If you want to download WurlD songs MP3, use the Boomplay App to download the WurlD songs for free. Discover WurlD's latest songs, popular songs, trending songs all on Boomplay.
Wurld whose real name is Sadiq Onifade, is an American-Nigerian singer, songwriter and record producer born on January 2, 1987.

Wurld was born in Nigeria before relocating to the US to pursue his music career.
He is from a family of ten and grew up in the Mushin area of Lagos state.He is also from a polygamous family as his father has two wives. He is the first child of his mother.

Wurld studied Computer science at Georgia state University. He is simply a versatile singer with musical genres of Electronic, soul and Pop.Known with his amazing vocals, he has been able to create an image with his signature blue-colored hair.

Wurld who grew up listening to the fuji legend, Sir Shina Peters has been able to deliver himself musically right from his tender age.Relocating to the US was the right decision for him as he was able to mingle with musically inclined people where has been able to develop himself both as a singer and songwriter.

Wurld came through with his first single "Beyond Our Dreams" off his debut EP "Evolution" in 2012. In early 2013, Wurld teamed up with the R&B superstar, Mario while writing songs for his upcoming album and also with Timbaland's artist, BK Frasco as a featured artist on the song "Beautiful Girls".

Wurld eventually rose to fame in 2015 with the song "Show You Off" featuring Walshy Fire of Major Lazer and the Nigerian ace producer, Shizzi.
New Comments(
42

)
FAQs about WurlD
Where is WurlD from?
He is from Nigeria.
What are the latest songs of WurlD?
The latest songs of WurlD are Free (Sounds for Healing) ft. Majorleague djz & yumbs and Never Alone.
What are the best songs of WurlD?
The best songs of WurlD are PRESS, MAD ft. Sarz and SAD TONIGHT.
What are the best albums of WurlD?
The best albums of WurlD are My WorlD With U, I LOVE GIRLS WITH TROBUL and Love Is Contagious.
How to download songs of WurlD?
You can download songs of WurlD from Boomplay App for free.
Firstly, install Boomplay app on your mobile phone.
Secondly, navigate to the song you would like to download.
Thirdly, Tap on More > Download.