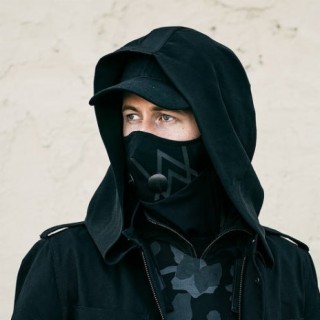 Alan Walker
Current #312

All Time #691

Alan Olav Walker (born 24 August 1997) is a British-Norwegian DJ and record producer, better known as Alan Walker.

He started his music career in 2012 when he listened to the songs of an Italian DJ named Dj David Whistle and sought him out to ask him how he was composing his music.

He was inspired by EDM producers K-391 and Ahrix, and by film composers like Hans Zimmer and Steve Jablonsky. He started producing his music on his laptop using FL Studio.

In July 2012, with the help and feedback from his fans online, Alan Walker began pursuing his music production career and slowly began posting his music to YouTube and SoundCloud.

Starting as a bedroom producer, Alan Walker was better known as DJ Walkzz before signing a record deal and releasing his debut single in 2014.

Walker released the track "Fade" on 17 August 2014. The track gained attention after its re-release via the record label NoCopyrightSounds on 19 November 2014.

Alan Walker signed with MER Musikk under Sony Music Sweden and released his next single, "Faded", a remastered vocal version of "Fade". It was released on 8 December 2015 and featured uncredited Naustdal pop singer Iselin Solheim.

Alan Walker quit high school in January 2016 to pursue his music career. On 27 February, Walker made his performance debut at the Winter X Games in Oslo, where he performed 15 tracks including the song "Faded" together with Iselin Solheim.

Alan Walker's notable songs include "Faded" "Sing Me to Sleep", "Alone", "Darkside", "Spectre", "Diamond Heart" and Routine....more

Country/Region : Norway
Listen to Alan Walker's new songs including "Hero ft. Sasha Alex Sloan", "Lily (Zuliando Abi Remix)", "Endless Summer ft. Zak Abel" and many more. Enjoy Alan Walker's latest songs and explore the Alan Walker's new music albums. If you want to download Alan Walker songs MP3, use the Boomplay App to download the Alan Walker songs for free. Discover Alan Walker's latest songs, popular songs, trending songs all on Boomplay.
Alan Olav Walker (born 24 August 1997) is a British-Norwegian DJ and record producer, better known as Alan Walker.

He started his music career in 2012 when he listened to the songs of an Italian DJ named Dj David Whistle and sought him out to ask him how he was composing his music.

He was inspired by EDM producers K-391 and Ahrix, and by film composers like Hans Zimmer and Steve Jablonsky. He started producing his music on his laptop using FL Studio.

In July 2012, with the help and feedback from his fans online, Alan Walker began pursuing his music production career and slowly began posting his music to YouTube and SoundCloud.

Starting as a bedroom producer, Alan Walker was better known as DJ Walkzz before signing a record deal and releasing his debut single in 2014.

Walker released the track "Fade" on 17 August 2014. The track gained attention after its re-release via the record label NoCopyrightSounds on 19 November 2014.

Alan Walker signed with MER Musikk under Sony Music Sweden and released his next single, "Faded", a remastered vocal version of "Fade". It was released on 8 December 2015 and featured uncredited Naustdal pop singer Iselin Solheim.

Alan Walker quit high school in January 2016 to pursue his music career. On 27 February, Walker made his performance debut at the Winter X Games in Oslo, where he performed 15 tracks including the song "Faded" together with Iselin Solheim.

Alan Walker's notable songs include "Faded" "Sing Me to Sleep", "Alone", "Darkside", "Spectre", "Diamond Heart" and Routine.
New Comments(
467

)
FAQs about Alan Walker
Where is Alan Walker from?
He is from Norway.
How to download songs of Alan Walker?
You can download songs of Alan Walker from Boomplay App for free.
Firstly, install Boomplay app on your mobile phone.
Secondly, navigate to the song you would like to download.
Thirdly, Tap on More > Download.