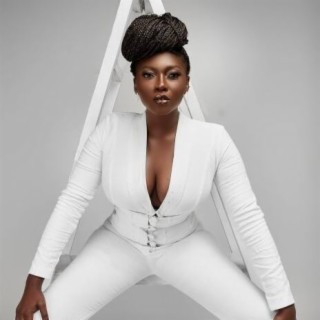 Sefa
Current #4,493

All Time #3,822

Sefadzi Abena Amesu is a vocally skilled female Ghanaian afrobeat artist who was born in the Northern area of Ghana on May 17th, 1995. Sefa, as she is professionally known on stage, is a composer and performer who is signed to DBlack's 'Black Avenue Muzik' label. Many Sefa songs become very popular and trendy online with a great number of streaming and downloads on Boomplay.

The prolific female songstress hails from Afife, a community in Ghana's Volta Region, and is the born two of four siblings. Sefa is likewise of mixed ethnicity, having a father who is a Ewe and a mother who is a Northerner. She graduated from Ola Girls Senior High School in Ho in 2014, and then went on to Accra Technical University, where she earned a Diploma in purchasing and supply in 2017. She made herself recognized on Instagram while performing with live bands and events, chasing her dream of having a musical career.

CAREER AND ACHIEVEMENTS
However, in 2017, she secured a recording deal with Black Avenue Muzik and made her debut in the Ghanaian music scene with her first professional smash track, "Marry Me," featuring Jupiter.

In May 2018, the young vocalist released her smash track "Shuga," which featured DopeNation, a phenomenal Ghanaian music duo. ''Shuga," a B2 produced single, quickly became a street smash.

Sefa's debut album, titled "Growth," was released in November 2020 under the Black Avenue Muzik label. Bisa Kdei, Praiz, Fameye, Medikal, DopeNation, Sista Afia, Wendy Shay, Camidoh, and E.L. are among the artists that contributed to the incredible body of work.

Sefa has a long list of hit singles under her belt, including "Memories," "Playa," "Odo yewu," "Makoma," "DELi," "Wanti Wanti," "GECE," and "E Choke," which features legendary afrobeat musician Mr Drew.

She has now established herself as one of the finest female acts in the business, debuting as one of the top female acts that are finding tremendous success as she continues to display her skills not just in Ghana but throughout the whole industry.

Follow Boomplay and keep up-to-date with the latest Sefa songs and information.

Sefa Songs:
• Wanti Wanti
• Playa
• Shuga
• Away, Pepper
• Empress One
• Do Re Mi
• Sika Y3 Mogya
• Makoma
• Ankonam
• Memories
• Fever
• Flowing River Ta'u Mai

Sefa songs are included in Boomplay music playlists. Search to stream and download Sefa songs MP3/ single/ albums on the platform....more

Country/Region : Ghana
Listen to Sefa's new songs including "E Choke (Mixed) ft. Mr Drew", "Fever (Mixed) ft. Sarkodie & DJ Tira", "Soft Life (Mixed)" and many more. Enjoy Sefa's latest songs and explore the Sefa's new music albums. If you want to download Sefa songs MP3, use the Boomplay App to download the Sefa songs for free. Discover Sefa's latest songs, popular songs, trending songs all on Boomplay.
Sefadzi Abena Amesu is a vocally skilled female Ghanaian afrobeat artist who was born in the Northern area of Ghana on May 17th, 1995. Sefa, as she is professionally known on stage, is a composer and performer who is signed to DBlack's 'Black Avenue Muzik' label. Many Sefa songs become very popular and trendy online with a great number of streaming and downloads on Boomplay.

The prolific female songstress hails from Afife, a community in Ghana's Volta Region, and is the born two of four siblings. Sefa is likewise of mixed ethnicity, having a father who is a Ewe and a mother who is a Northerner. She graduated from Ola Girls Senior High School in Ho in 2014, and then went on to Accra Technical University, where she earned a Diploma in purchasing and supply in 2017. She made herself recognized on Instagram while performing with live bands and events, chasing her dream of having a musical career.

CAREER AND ACHIEVEMENTS
However, in 2017, she secured a recording deal with Black Avenue Muzik and made her debut in the Ghanaian music scene with her first professional smash track, "Marry Me," featuring Jupiter.

In May 2018, the young vocalist released her smash track "Shuga," which featured DopeNation, a phenomenal Ghanaian music duo. ''Shuga," a B2 produced single, quickly became a street smash.

Sefa's debut album, titled "Growth," was released in November 2020 under the Black Avenue Muzik label. Bisa Kdei, Praiz, Fameye, Medikal, DopeNation, Sista Afia, Wendy Shay, Camidoh, and E.L. are among the artists that contributed to the incredible body of work.

Sefa has a long list of hit singles under her belt, including "Memories," "Playa," "Odo yewu," "Makoma," "DELi," "Wanti Wanti," "GECE," and "E Choke," which features legendary afrobeat musician Mr Drew.

She has now established herself as one of the finest female acts in the business, debuting as one of the top female acts that are finding tremendous success as she continues to display her skills not just in Ghana but throughout the whole industry.

Follow Boomplay and keep up-to-date with the latest Sefa songs and information.

Sefa Songs:
• Wanti Wanti
• Playa
• Shuga
• Away, Pepper
• Empress One
• Do Re Mi
• Sika Y3 Mogya
• Makoma
• Ankonam
• Memories
• Fever
• Flowing River Ta'u Mai

Sefa songs are included in Boomplay music playlists. Search to stream and download Sefa songs MP3/ single/ albums on the platform.
New Comments(
37

)
FAQs about Sefa
Where is Sefa from?
She is from Ghana.
How to download songs of Sefa?
You can download songs of Sefa from Boomplay App for free.
Firstly, install Boomplay app on your mobile phone.
Secondly, navigate to the song you would like to download.
Thirdly, Tap on More > Download.