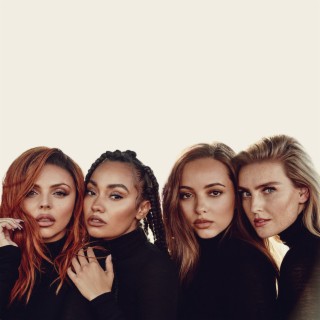 Little Mix
Current #8,688

All Time #1,909

Little Mix are a British girl group, consisting of group members Jade Thirlwall, Perrie Edwards, and Leigh-Anne Pinnock. Many Little Mix songs become very popular and trendy online with a great number of streaming and downloads on Boomplay.

Former member Jesy Nelson departed from the group in December 2020. Often named as the "biggest girl group of the 2010s" the group rose to prominence in 2011 after winning the eighth series of The X Factor.

The group's music style is pop, R&B and dance-pop, with influences from other genres such as tropical house, latin pop, and electronic music. Their lyrics are often centered around feminism, gender equality, body positivity, LGBTQ+ rights and sexism.

Career.
Glory Days became the group's first number-one album on the UK Albums Chart. It spent five weeks at number one, the most by a girl group album since Spice Girls' debut album. It became the fastest-selling number-one album by a girl group in fifteen years and had the highest first-week UK album sales for a girl group since Spiceworld.

It holds the record for the longest-charting girl group album inside the top 40 on the UK Albums Chart, and is the longest charting girl group album on the UK Albums Chart, spending a total of 173 weeks on the charts there. In 2018, they became the first girl group to have five consecutive top-five studio albums in the United Kingdom.

Follow Boomplay and keep up-to-date with the latest Little Mix songs and information.

Achievement.
Little Mix are one of britain's biggest selling acts and one of the best-selling girl groups of all time selling over 65 million records worldwide.

The group have been named as one of the greatest girl groups of all time and the biggest girl group of the 2010s. In 2018, Forbes, named them one of the most influential acts in Europe, and are listed by Debrett's as one of the most influential people in the UK with a net worth of £66.7 million.

In 2021, they made history at the 41st Brit Awards, when they became the first female group to win the Brit Award for British Group. Their other accolades include two other Brit Awards, seven MTV Europe Music Awards (the most wins for Best UK & Ireland Act), two Japanese Gold Disc Awards, one iHeartRadio Music Award, six Global Awards and four Glamour Awards. In 2022, the group are taking an indefinite hiatus to rest and pursue solo projects.

Little Mix list of some songs
• DNA (2012)
• Salute (2013)
• Get Weird (2015)
• Glory Days (2016)
• LM5 (2018)
• Confetti (2020)

Little Mix songs are included in Boomplay music playlists. Search to stream and download Little Mix songs MP3/ single/ albums on the platform....more

Country/Region : United Kingdom
Listen to Little Mix's new songs including and many more. Enjoy Little Mix's latest songs and explore the Little Mix's new music albums. If you want to download Little Mix songs MP3, use the Boomplay App to download the Little Mix songs for free. Discover Little Mix's latest songs, popular songs, trending songs all on Boomplay.
Little Mix are a British girl group, consisting of group members Jade Thirlwall, Perrie Edwards, and Leigh-Anne Pinnock. Many Little Mix songs become very popular and trendy online with a great number of streaming and downloads on Boomplay.

Former member Jesy Nelson departed from the group in December 2020. Often named as the "biggest girl group of the 2010s" the group rose to prominence in 2011 after winning the eighth series of The X Factor.

The group's music style is pop, R&B and dance-pop, with influences from other genres such as tropical house, latin pop, and electronic music. Their lyrics are often centered around feminism, gender equality, body positivity, LGBTQ+ rights and sexism.

Career.
Glory Days became the group's first number-one album on the UK Albums Chart. It spent five weeks at number one, the most by a girl group album since Spice Girls' debut album. It became the fastest-selling number-one album by a girl group in fifteen years and had the highest first-week UK album sales for a girl group since Spiceworld.

It holds the record for the longest-charting girl group album inside the top 40 on the UK Albums Chart, and is the longest charting girl group album on the UK Albums Chart, spending a total of 173 weeks on the charts there. In 2018, they became the first girl group to have five consecutive top-five studio albums in the United Kingdom.

Follow Boomplay and keep up-to-date with the latest Little Mix songs and information.

Achievement.
Little Mix are one of britain's biggest selling acts and one of the best-selling girl groups of all time selling over 65 million records worldwide.

The group have been named as one of the greatest girl groups of all time and the biggest girl group of the 2010s. In 2018, Forbes, named them one of the most influential acts in Europe, and are listed by Debrett's as one of the most influential people in the UK with a net worth of £66.7 million.

In 2021, they made history at the 41st Brit Awards, when they became the first female group to win the Brit Award for British Group. Their other accolades include two other Brit Awards, seven MTV Europe Music Awards (the most wins for Best UK & Ireland Act), two Japanese Gold Disc Awards, one iHeartRadio Music Award, six Global Awards and four Glamour Awards. In 2022, the group are taking an indefinite hiatus to rest and pursue solo projects.

Little Mix list of some songs
• DNA (2012)
• Salute (2013)
• Get Weird (2015)
• Glory Days (2016)
• LM5 (2018)
• Confetti (2020)

Little Mix songs are included in Boomplay music playlists. Search to stream and download Little Mix songs MP3/ single/ albums on the platform.
FAQs about Little Mix
Where is Little Mix from?
They are from United Kingdom.