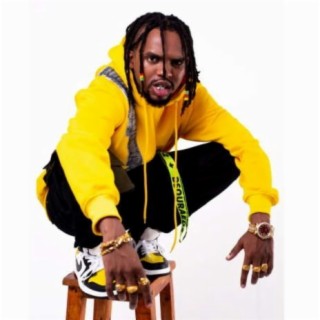 Dogo Janja
Current #5,627

All Time #4,778

Abdulaziz Abubakar Chande (Known professional as Dogo Janja) is a Tanzanian singer. Many of Dogo Janja's songs become very popular and trendy online with a great number of streaming and downloads on Boomplay.

Dogo Janja was born on the 5th of September 1994 in Dar es salaam, Tanzania. He was raised by both his parents Mr and Mrs Chande, in Arusha — Tanzanai. Through Dogo's rise to fame and making his mark in the music industry, it looked like there was nothing holding the rapper from living his best life. However, life took a terrible turn of events, when Dogo lost one of his support systems - his father.

Career
Dogo started his music career at the age of 15, in 2009. As of date, he is recognised by many for his hit songs, but one that stands out is definitely Banana. It was the hit song that was on every DJ's shuffle playlist and in every fans favourite list of Bongo Flava music.

Achievement
They say numbers don't lie, well the 2.3 million views on the Banana music video on YouTube, spoke volumes for the rapper's career. Making him, the ideal artist to collaborate with.

He has featured a number of prominent Tanzanian artists in his songs, the likes of Big Brother Africa reality star Prezzo, Rayvanny, Rocha Zone and many others.

Follow Boomplay and keep up-to-date with the latest Dogo Janja's songs and information.

Dogo Janja's Songs
• Imani
• Yente
• Wayu Wayu
• Kishada
• My Life
• Nganeraro

His net worth is estimated to be $4.1.

Dogo Janja's songs are included in Boomplay music playlists. Search to stream and download Dogo Janja's songs MP3/single/albums on the platform....more

Country/Region : Tanzania
Listen to Dogo Janja's new songs including "Mziki ft. Maua Sama", "Banana", "Ngarenaro" and many more. Enjoy Dogo Janja's latest songs and explore the Dogo Janja's new music albums. If you want to download Dogo Janja songs MP3, use the Boomplay App to download the Dogo Janja songs for free. Discover Dogo Janja's latest songs, popular songs, trending songs all on Boomplay.
Abdulaziz Abubakar Chande (Known professional as Dogo Janja) is a Tanzanian singer. Many of Dogo Janja's songs become very popular and trendy online with a great number of streaming and downloads on Boomplay.

Dogo Janja was born on the 5th of September 1994 in Dar es salaam, Tanzania. He was raised by both his parents Mr and Mrs Chande, in Arusha — Tanzanai. Through Dogo's rise to fame and making his mark in the music industry, it looked like there was nothing holding the rapper from living his best life. However, life took a terrible turn of events, when Dogo lost one of his support systems - his father.

Career
Dogo started his music career at the age of 15, in 2009. As of date, he is recognised by many for his hit songs, but one that stands out is definitely Banana. It was the hit song that was on every DJ's shuffle playlist and in every fans favourite list of Bongo Flava music.

Achievement
They say numbers don't lie, well the 2.3 million views on the Banana music video on YouTube, spoke volumes for the rapper's career. Making him, the ideal artist to collaborate with.

He has featured a number of prominent Tanzanian artists in his songs, the likes of Big Brother Africa reality star Prezzo, Rayvanny, Rocha Zone and many others.

Follow Boomplay and keep up-to-date with the latest Dogo Janja's songs and information.

Dogo Janja's Songs
• Imani
• Yente
• Wayu Wayu
• Kishada
• My Life
• Nganeraro

His net worth is estimated to be $4.1.

Dogo Janja's songs are included in Boomplay music playlists. Search to stream and download Dogo Janja's songs MP3/single/albums on the platform.
New Comments(
72

)
FAQs about Dogo Janja
Where is Dogo Janja from?
He is from Tanzania.
How to download songs of Dogo Janja?
You can download songs of Dogo Janja from Boomplay App for free.
Firstly, install Boomplay app on your mobile phone.
Secondly, navigate to the song you would like to download.
Thirdly, Tap on More > Download.