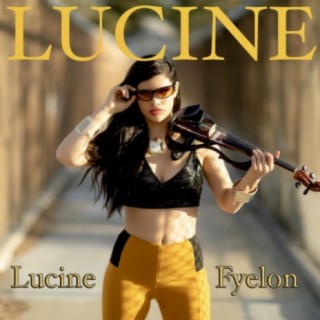 Lucine Fyelon
Current #99k+

All Time #1m

Hip-hop classical violinist, singer/songwriter, and producer Lucine Fyelon gained worldwide attention after her song PoundCake was viewed more than 21 million times on social media outlets. Because of PoundCake's immense success, Lucine became inspired to write and produce more original music. After a year of writing and producing Lucine's self titled album "LUCINE" will be coming out on May 25, 2018.

Born in Armenia living in Los Angeles, Lucine started playing violin at the age of 5 with the guidance of her parents who are both classically trained solo musicians. Her musical education started in Tchaikovsky school of music in Armenia and ended in UCLA's Herb Alpert school of music. By combining her classical upbringing and making it soulful through hip hop/R&B and EDM music, Lucine created her own style of playing and singing which express all of the different emotions that comes from her heart and soul.

Lucine has recorded for artists like will.i.am, Madonna, Brittney Spears, Miley Cyrus, played alongside John Williams, Babyface, Lauren Hill, Foo Fighters, Jared Leto, toured with Cirque Du Soleil and many more. In her Debut self titled Album "LUCINE" the fans will hear combination of violin and singing mixed with R&B/hip hop and EDM genres of music....more

Country/Region : United States
Songs

(2)

Albums

(2)

Playlists

(0)
Listen to Lucine Fyelon's new songs including "By My Side", "PoundCake", and many more. Enjoy Lucine Fyelon's latest songs and explore the Lucine Fyelon's new music albums. If you want to download Lucine Fyelon songs MP3, use the Boomplay App to download the Lucine Fyelon songs for free. Discover Lucine Fyelon's latest songs, popular songs, trending songs all on Boomplay.
Hip-hop classical violinist, singer/songwriter, and producer Lucine Fyelon gained worldwide attention after her song PoundCake was viewed more than 21 million times on social media outlets. Because of PoundCake's immense success, Lucine became inspired to write and produce more original music. After a year of writing and producing Lucine's self titled album "LUCINE" will be coming out on May 25, 2018.

Born in Armenia living in Los Angeles, Lucine started playing violin at the age of 5 with the guidance of her parents who are both classically trained solo musicians. Her musical education started in Tchaikovsky school of music in Armenia and ended in UCLA's Herb Alpert school of music. By combining her classical upbringing and making it soulful through hip hop/R&B and EDM music, Lucine created her own style of playing and singing which express all of the different emotions that comes from her heart and soul.

Lucine has recorded for artists like will.i.am, Madonna, Brittney Spears, Miley Cyrus, played alongside John Williams, Babyface, Lauren Hill, Foo Fighters, Jared Leto, toured with Cirque Du Soleil and many more. In her Debut self titled Album "LUCINE" the fans will hear combination of violin and singing mixed with R&B/hip hop and EDM genres of music.
New Comments(
1

)
FAQs about Lucine Fyelon
Where is Lucine Fyelon from?
She is from United States.
How to download songs of Lucine Fyelon?
You can download songs of Lucine Fyelon from Boomplay App for free.
Firstly, install Boomplay app on your mobile phone.
Secondly, navigate to the song you would like to download.
Thirdly, Tap on More > Download.