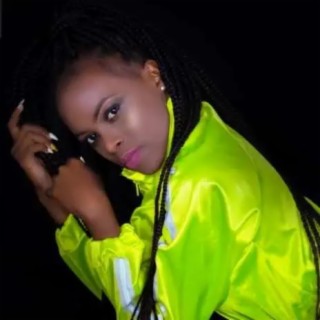 Adasa
Current #11.7k

All Time #26k

Esther Mwangala alias Adasa is highly favoured just like what her name suggests. she was born and raised in Mombasa. Her journey towards music is something she never took by surprise. Adasa has been singing way back in church and at school since 7 years. Many of Adasa's Songs became very popular and trendy on social media in line with a great number of streaming and downloads on Boomplay. Career The 22 years old's music career started when she was in high school at Lutsangani Secondary school but professionally broke through when she became a live performer at Pride Inn Hotel, Mombasa. Adasa is an amazing dancer who commands her crowd whenever she is on stage. She is one of the best untapped performers from coast region. One week after highschool she got into job where she was pocketing $40 monthly as a shop attendant. From a failed safaricom audition,Adasa landed a life changing deal. She later hit waves with her latest release Mahaba Niue after her major breakthrough with her song Nipekeche. What inspired her to continue singing was the cry from a guest at pride inn paradise wanting her songs to be uploaded on YouTube channel so she had to start recording her own singles. She had to split her time, during off days she would go to the studio and that's how she recorded my debut single Niloweshe. And people really loved it so she recorded the second one NOMA and then now Nipekeche this is the song that gave her media tours and a big exposure to the public. During a Media tour in Nairobi, Adasa recorded another single Tunaendana and once it was out it easily won the ears of many, both in Kenya and out. Her inspiration and biggest role model in the Music scene is the talented Nigerian singer Simi. Adasa likes Nadia Mukami because of how she has put much in her work. Despite having confidence,Adasa got some good voice though many compare her with Nandy. I think that with her young age,the sky is the limit. Achievements Adasa is singed in one of the big music labelles i

...more

Country/Region : Kenya
Songs

(17)

Albums

(17)

Playlists

(25)
1

2

3

4

5

6

7

8

9

10

11

12

13

14

15

16

17
Listen to Adasa's new songs including "Najidai ft. Mejja", "Hatuachani", "Nipekeche" and many more. Enjoy Adasa's latest songs and explore the Adasa's new music albums. If you want to download Adasa songs MP3, use the Boomplay App to download the Adasa songs for free. Discover Adasa's latest songs, popular songs, trending songs all on Boomplay.
Esther Mwangala alias Adasa is highly favoured just like what her name suggests. she was born and raised in Mombasa. Her journey towards music is something she never took by surprise. Adasa has been singing way back in church and at school since 7 years. Many of Adasa's Songs became very popular and trendy on social media in line with a great number of streaming and downloads on Boomplay. Career The 22 years old's music career started when she was in high school at Lutsangani Secondary school but professionally broke through when she became a live performer at Pride Inn Hotel, Mombasa. Adasa is an amazing dancer who commands her crowd whenever she is on stage. She is one of the best untapped performers from coast region. One week after highschool she got into job where she was pocketing $40 monthly as a shop attendant. From a failed safaricom audition,Adasa landed a life changing deal. She later hit waves with her latest release Mahaba Niue after her major breakthrough with her song Nipekeche. What inspired her to continue singing was the cry from a guest at pride inn paradise wanting her songs to be uploaded on YouTube channel so she had to start recording her own singles. She had to split her time, during off days she would go to the studio and that's how she recorded my debut single Niloweshe. And people really loved it so she recorded the second one NOMA and then now Nipekeche this is the song that gave her media tours and a big exposure to the public. During a Media tour in Nairobi, Adasa recorded another single Tunaendana and once it was out it easily won the ears of many, both in Kenya and out. Her inspiration and biggest role model in the Music scene is the talented Nigerian singer Simi. Adasa likes Nadia Mukami because of how she has put much in her work. Despite having confidence,Adasa got some good voice though many compare her with Nandy. I think that with her young age,the sky is the limit. Achievements Adasa is singed in one of the big music labelles i
New Comments(
0

)

What do you think of this artist?