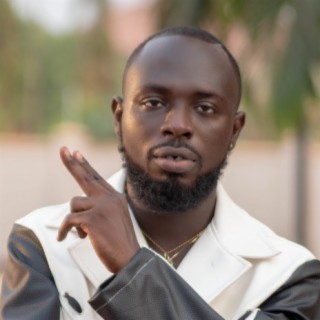 Kwame Yogot
Current #4,018

All Time #3,222

Kwame Yogot, born Kenneth Kyeremateng, is a Ghanaian emerging Hiplife artiste that has made an outstanding entry in the Ghanaian music scene, sustaining his pace and progressively rising up. Many kwame yogut songs become very popular and trendy online with a great number of streaming and downloads on Boomplay.

He is well-known for his humorous and accessible rap style. 'The Rap Comedian,' as he is frequently referred to, is signed to Sky Entertainment Records. He is from Ghana's Assin Bereku in the Central Region.

CAREER AND ACHIEVEMENTS
He made his debut in the Ghanaian music industry in 2010 with his first tune "3k)yie," which featured Castro The Destroyer. In 2018, he released his single "Just Imagine." Despite being an underground performer for 11 years, he achieved recognition after collaborating with multiple award-winning vocalists and Lynx Entertainment prodigy, Kuami Eugene, on the chart-topping track "Biibi Besi," which was released in February 2021.

The Poppin Beatz-produced smash "Biibi Besi" helped him acquire enormous popular exposure as well as nominations for the 3Music Awards and VGMA22. A follow-up tune, "Oh Ah," which was produced by Ray Rock was released on June 16 of that year. He recently collaborated with T-Frank, a UK-based musician, on his new single "Talk To Me," which also included Rina. The song is presently gaining extensive exposure on major platforms around the United Kingdom.

Kwame Yogot has subsequently collaborated with a number of well-known Ghanaian performers, including Yaa Pono, Medikal, and Fameye, to name a few. With an impressive start and yet well-crafted vibes, the talented rapper has more to offer as he continues to make waves not only in the Ghanaian industry but the world at large.

Kwame yogut songs are included in Boomplay music playlists. Search to stream and download kwame yogut songs MP3/ single/ albums on the platform.

Follow Boomplay and keep up-to-date with the latest kwame yogut songs and information....more

Country/Region : Ghana
Listen to Kwame Yogot's new songs including "Biibi Besi ft. Kuami Eugene", "For The Boys ft. Kweku Flick", "Chilling ft. Lasmid" and many more. Enjoy Kwame Yogot's latest songs and explore the Kwame Yogot's new music albums. If you want to download Kwame Yogot songs MP3, use the Boomplay App to download the Kwame Yogot songs for free. Discover Kwame Yogot's latest songs, popular songs, trending songs all on Boomplay.
Kwame Yogot, born Kenneth Kyeremateng, is a Ghanaian emerging Hiplife artiste that has made an outstanding entry in the Ghanaian music scene, sustaining his pace and progressively rising up. Many kwame yogut songs become very popular and trendy online with a great number of streaming and downloads on Boomplay.

He is well-known for his humorous and accessible rap style. 'The Rap Comedian,' as he is frequently referred to, is signed to Sky Entertainment Records. He is from Ghana's Assin Bereku in the Central Region.

CAREER AND ACHIEVEMENTS
He made his debut in the Ghanaian music industry in 2010 with his first tune "3k)yie," which featured Castro The Destroyer. In 2018, he released his single "Just Imagine." Despite being an underground performer for 11 years, he achieved recognition after collaborating with multiple award-winning vocalists and Lynx Entertainment prodigy, Kuami Eugene, on the chart-topping track "Biibi Besi," which was released in February 2021.

The Poppin Beatz-produced smash "Biibi Besi" helped him acquire enormous popular exposure as well as nominations for the 3Music Awards and VGMA22. A follow-up tune, "Oh Ah," which was produced by Ray Rock was released on June 16 of that year. He recently collaborated with T-Frank, a UK-based musician, on his new single "Talk To Me," which also included Rina. The song is presently gaining extensive exposure on major platforms around the United Kingdom.

Kwame Yogot has subsequently collaborated with a number of well-known Ghanaian performers, including Yaa Pono, Medikal, and Fameye, to name a few. With an impressive start and yet well-crafted vibes, the talented rapper has more to offer as he continues to make waves not only in the Ghanaian industry but the world at large.

Kwame yogut songs are included in Boomplay music playlists. Search to stream and download kwame yogut songs MP3/ single/ albums on the platform.

Follow Boomplay and keep up-to-date with the latest kwame yogut songs and information.
New Comments(
35

)
FAQs about Kwame Yogot
Where is Kwame Yogot from?
He is from Ghana.
How to download songs of Kwame Yogot?
You can download songs of Kwame Yogot from Boomplay App for free.
Firstly, install Boomplay app on your mobile phone.
Secondly, navigate to the song you would like to download.
Thirdly, Tap on More > Download.