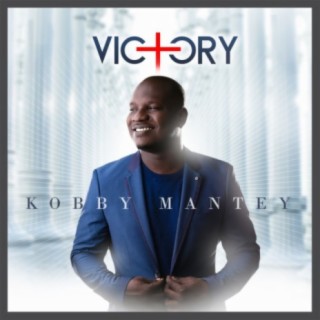 Kobby Mantey
Current #16.6k

All Time #9,003

Kobby Mantey is one of Ghana's best gospel music secrets. As singer, songwriter, composer and producer, Kobby is a little over thirty-year-old.
Born Samuel Kwabena Mantey, Kobby Mantey as he is mostly called is a Contemporary Christian and gospel artist. Many of Kobby Mantey songs become very popular and trendy online with a great number of streaming and downloads on Boomplay.

Career
He was driven to express himself through music as a youngster when he was discovered by his Sunday school teacher in his early years at church. He then went on developing the music gift the Lord has blessed him with through various means such as listening to songs and practicing on his own and with his local church's choir. He was highly focused, mentally disciplined and was consistent with his ways to mastery. Kobby has over the years contributed to the development of contemporary gospel music in Ghana. He was highly instrumental in the formation of Ghana's sensational gospel music group; E'mpraise Inc which he still plays a major role.

He is passionate about delivering excellence in production together with touching messages. Remember him for his rendition of the "BIGGER" song which he wrote his own verses to. The song went viral after he performed it at Joe Mettle's LOVE GIFT concert. His humility and respect for the things of God speak volume of him from afar. After the release of the "BIGGER" single, Kobby moved on to live and minister in South Africa for a while where he took time to nurture his gospel music career. Moving back into Ghana as directed by God, he still remains a great treasure yet to be discovered by many.

After his debut single- " BIGGER '', Kobby has to his credit two more hit tunes namely "THE CALL" and "MY HEART" respectively. Out of our heavenly commission to preach the gospel, he coined "THE CALL '', a song which has been a major evangelism tool amongst communities. Testimonies from the impact of this song have been phenomenal. Lives has been touched, souls have been won for the kingdom of God and transformed by the power of the Holy Spirit embedded in the song. "MY HEART", an afro beat gospel song which featured Nigerian gospel artist, Minister Igwe has also been on radio rotation for a very long time and still remains one of the most trending afro beat gospel songs in the country. This song contains praise lyrics expressing gratitude and joy unto the Almighty God for His kindness, love, mercy and grace over his life.

Kobby has worked with so many gospel artists in and around Ghana. Some of these artists include; Joe Mettle, No-Tribe, Eugene Zuta, Danny Nettey, Cindy Thompson, and Patheka Booi of South Africa. He has also performed on the same stage with award winning American Gospel artist Fred Hammond.

Follow Boomplay and keep up to date with the latest Kobby Mantey songs and information.

Kobby Mantey Songs
• Have Your Way
• Declaration
• Bigger
• Hallelujah
• Kronkron
• Jesus
• Conversation
• Everything
• Your Excellency
• The Call
• My Heart

Kobby Mantey songs are included in Boomplay music playlists. Search to stream and download Kobby Mantey songs MP3/ single/ albums on the platform....more

Country/Region : Ghana
Songs

(0)

Albums

(0)

Playlists

(5)
Listen to Kobby Mantey's new songs including and many more. Enjoy Kobby Mantey's latest songs and explore the Kobby Mantey's new music albums. If you want to download Kobby Mantey songs MP3, use the Boomplay App to download the Kobby Mantey songs for free. Discover Kobby Mantey's latest songs, popular songs, trending songs all on Boomplay.
Kobby Mantey is one of Ghana's best gospel music secrets. As singer, songwriter, composer and producer, Kobby is a little over thirty-year-old.
Born Samuel Kwabena Mantey, Kobby Mantey as he is mostly called is a Contemporary Christian and gospel artist. Many of Kobby Mantey songs become very popular and trendy online with a great number of streaming and downloads on Boomplay.

Career
He was driven to express himself through music as a youngster when he was discovered by his Sunday school teacher in his early years at church. He then went on developing the music gift the Lord has blessed him with through various means such as listening to songs and practicing on his own and with his local church's choir. He was highly focused, mentally disciplined and was consistent with his ways to mastery. Kobby has over the years contributed to the development of contemporary gospel music in Ghana. He was highly instrumental in the formation of Ghana's sensational gospel music group; E'mpraise Inc which he still plays a major role.

He is passionate about delivering excellence in production together with touching messages. Remember him for his rendition of the "BIGGER" song which he wrote his own verses to. The song went viral after he performed it at Joe Mettle's LOVE GIFT concert. His humility and respect for the things of God speak volume of him from afar. After the release of the "BIGGER" single, Kobby moved on to live and minister in South Africa for a while where he took time to nurture his gospel music career. Moving back into Ghana as directed by God, he still remains a great treasure yet to be discovered by many.

After his debut single- " BIGGER '', Kobby has to his credit two more hit tunes namely "THE CALL" and "MY HEART" respectively. Out of our heavenly commission to preach the gospel, he coined "THE CALL '', a song which has been a major evangelism tool amongst communities. Testimonies from the impact of this song have been phenomenal. Lives has been touched, souls have been won for the kingdom of God and transformed by the power of the Holy Spirit embedded in the song. "MY HEART", an afro beat gospel song which featured Nigerian gospel artist, Minister Igwe has also been on radio rotation for a very long time and still remains one of the most trending afro beat gospel songs in the country. This song contains praise lyrics expressing gratitude and joy unto the Almighty God for His kindness, love, mercy and grace over his life.

Kobby has worked with so many gospel artists in and around Ghana. Some of these artists include; Joe Mettle, No-Tribe, Eugene Zuta, Danny Nettey, Cindy Thompson, and Patheka Booi of South Africa. He has also performed on the same stage with award winning American Gospel artist Fred Hammond.

Follow Boomplay and keep up to date with the latest Kobby Mantey songs and information.

Kobby Mantey Songs
• Have Your Way
• Declaration
• Bigger
• Hallelujah
• Kronkron
• Jesus
• Conversation
• Everything
• Your Excellency
• The Call
• My Heart

Kobby Mantey songs are included in Boomplay music playlists. Search to stream and download Kobby Mantey songs MP3/ single/ albums on the platform.