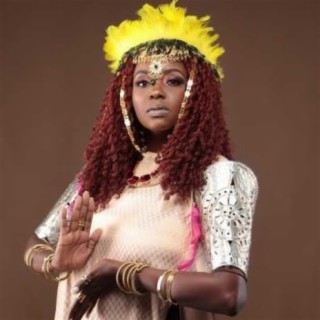 Muthoni Drummer Queen
Current #18.2k

All Time #6,680

Muthoni Ndonga professionally known as Muthoni Drummer Queen is a Kenyan rapper, songwriter, drummer and social entrepreneur. Many of Muthoni Drummer Queen's songs become very popular and trendy online with a great number of streaming and downloads on Boomplay.

She is renowned for her innovative sound described as fusion soul which blends contemporary rhythms of dance music, neo soul, afrobeat and reggae. MDQ is also an entrepreneur and has founded the festivals Africa Nouveau and Blankets & Wine which are wirdely popular in East Africa.

CAREER
MDQ started singing at the tender age of 10, serving in her church choir. She nutured her talent in choirs at school until 2004 when she ventured into event management as a side hustle with her friends, whereby she organized her first concert.

In 2008, after graduating from United States International University Africa (USIU Africa) with a diploma in international relations, she founded the festival 'Blankets & Wine' in hopes of increasing the visibility of alternative music in Kenya. The event achieved its aim to bring together upcoming artists and discover raw talent. It was hosted in Nairobi and expanded to Kampala, Kigali and Arusha featuring both local and international artists.

MDQ released her first EP titled 'Mambo Bado' in 2008 followed by her debut album titled 'The Human Condition' a year later which spawned the smash hit "Mikono Kwenye Hewa". MDQ enjoyed local and regional success in Kenya and East Africa going on to release the Welcome to the Disco EP in September 2011 and MDQ Upgraded in 2015.

MDQ gained global recognition after dropping her universally acclaimed 'SHE' album which spawned the international hit 'Suzie Noma.' 'She' was praised by critics for its fresh innovative sound and it's women empowerment theme.

In 2021, MDQ released her fourth studio album titled River, spawning back to back hits namely, Power, Love Portion featuring Sauti Sol and Give Thanks.

Follow Boomplay and keep up-to-date with the latest Muthoni Drummer Queen's songs and information.

MDQ's Albums
• MDQ's Albums and EPs include;
• Mambo Bado (2008)
• Welcome to the Disco (2011)
• MDQ Upgraded (2015)
• SHE (2018)
• RIVER (2021)

Muthoni Drummer Queen Songs
Her most popular songs include:
• Nai Ni Ya Who
• Mikono Kwenye Hewa
• Vile Inafaa featuring Octopizzo
• Suzzie Noma
• Million Voice
• Love Portion fear
• Kenyan Message
• Criminal
• Give Thanks
• Link Up

ACHIEVEMENTS
• MDQ has over 600,000 streams on Boomplay and 3,000,000 views on Youtube.
• She has also won the folloing awards;
• MTV MAMA Best New Artist East Africa - 2010
• Best Song, Urban, M4Music demo tape clinic - 2014
• On 29 February 2020 MDQ won the 'Best Artiste' at the Swizz Music Awards in Switzerland.
• In 2020, Muthoni received a OneBeat Accelerator grant for her 'Ujuaji Podcast'

Muthoni Drummer Queen's songs are included in Boomplay music playlists. Search to stream and download Muthoni Drummer Queen's songs MP3/ single/ albums on the platform...more

Country/Region : Kenya
Listen to Muthoni Drummer Queen's new songs including "Suzie Noma", "Power", "Kenyan Message" and many more. Enjoy Muthoni Drummer Queen's latest songs and explore the Muthoni Drummer Queen's new music albums. If you want to download Muthoni Drummer Queen songs MP3, use the Boomplay App to download the Muthoni Drummer Queen songs for free. Discover Muthoni Drummer Queen's latest songs, popular songs, trending songs all on Boomplay.
Muthoni Drummer Queen Biography
Muthoni Ndonga professionally known as Muthoni Drummer Queen is a Kenyan rapper, songwriter, drummer and social entrepreneur. Many of Muthoni Drummer Queen's songs become very popular and trendy online with a great number of streaming and downloads on Boomplay.

She is renowned for her innovative sound described as fusion soul which blends contemporary rhythms of dance music, neo soul, afrobeat and reggae. MDQ is also an entrepreneur and has founded the festivals Africa Nouveau and Blankets & Wine which are wirdely popular in East Africa.

CAREER
MDQ started singing at the tender age of 10, serving in her church choir. She nutured her talent in choirs at school until 2004 when she ventured into event management as a side hustle with her friends, whereby she organized her first concert.

In 2008, after graduating from United States International University Africa (USIU Africa) with a diploma in international relations, she founded the festival 'Blankets & Wine' in hopes of increasing the visibility of alternative music in Kenya. The event achieved its aim to bring together upcoming artists and discover raw talent. It was hosted in Nairobi and expanded to Kampala, Kigali and Arusha featuring both local and international artists.

MDQ released her first EP titled 'Mambo Bado' in 2008 followed by her debut album titled 'The Human Condition' a year later which spawned the smash hit "Mikono Kwenye Hewa". MDQ enjoyed local and regional success in Kenya and East Africa going on to release the Welcome to the Disco EP in September 2011 and MDQ Upgraded in 2015.

MDQ gained global recognition after dropping her universally acclaimed 'SHE' album which spawned the international hit 'Suzie Noma.' 'She' was praised by critics for its fresh innovative sound and it's women empowerment theme.

In 2021, MDQ released her fourth studio album titled River, spawning back to back hits namely, Power, Love Portion featuring Sauti Sol and Give Thanks.

Follow Boomplay and keep up-to-date with the latest Muthoni Drummer Queen's songs and information.

MDQ's Albums
• MDQ's Albums and EPs include;
• Mambo Bado (2008)
• Welcome to the Disco (2011)
• MDQ Upgraded (2015)
• SHE (2018)
• RIVER (2021)

Muthoni Drummer Queen Songs
Her most popular songs include:
• Nai Ni Ya Who
• Mikono Kwenye Hewa
• Vile Inafaa featuring Octopizzo
• Suzzie Noma
• Million Voice
• Love Portion fear
• Kenyan Message
• Criminal
• Give Thanks
• Link Up

ACHIEVEMENTS
• MDQ has over 600,000 streams on Boomplay and 3,000,000 views on Youtube.
• She has also won the folloing awards;
• MTV MAMA Best New Artist East Africa - 2010
• Best Song, Urban, M4Music demo tape clinic - 2014
• On 29 February 2020 MDQ won the 'Best Artiste' at the Swizz Music Awards in Switzerland.
• In 2020, Muthoni received a OneBeat Accelerator grant for her 'Ujuaji Podcast'

Muthoni Drummer Queen's songs are included in Boomplay music playlists. Search to stream and download Muthoni Drummer Queen's songs MP3/ single/ albums on the platform
New Comments(
20

)
FAQs about Muthoni Drummer Queen
Where is Muthoni Drummer Queen from?
She is from Kenya.
How to download songs of Muthoni Drummer Queen?
You can download songs of Muthoni Drummer Queen from Boomplay App for free.
Firstly, install Boomplay app on your mobile phone.
Secondly, navigate to the song you would like to download.
Thirdly, Tap on More > Download.