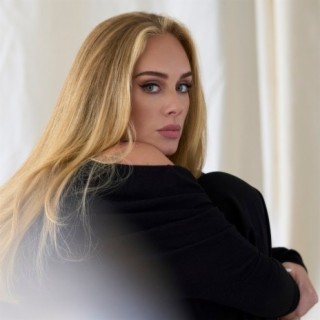 Adele
Current #526

All Time #481

Adele Laurie Blue Adkins MBE ( born 5 May 1988) is an English singer and songwriter. She is one of the world's best-selling music artists, with sales of over 120 million records.

Adele's singing has received acclaim from music critics. In a review of 19, The Observer stated, "The way she stretched the vowels, her wonderful soulful phrasing, the sheer unadulterated pleasure of her voice, stood out all the more; little doubt that she's a rare singer". BBC Music wrote, "Her melodies exude warmth, her singing is occasionally stunning and, ...she has tracks that make Lily Allen and Kate Nash sound every bit as ordinary as they are." Also in 2008, Sylvia Patterson of The Guardian wrote, "Of all the gobby new girls, only Adele's bewitching singing voice has the enigmatic quality which causes tears of involuntary emotion to splash down your face in the way Eva Cassidy's did before her."

Born in the North London district of Tottenham, Adele supports local football club Tottenham Hotspur. In 2017, Adele was ranked the richest musician under age 30 in the UK and Ireland on the Sunday Times Rich List, which valued her wealth at £125 million. She was ranked the 19th richest musician overall. On the 2019 list, she was valued at £150 million as the 22nd richest musician in the UK.

Supportive of the LGBT community, on 12 June 2016, an emotional Adele dedicated her show in Antwerp, Belgium to the victims of the mass shooting at a gay nightclub in Orlando, Florida, United States earlier that day, adding, "The LGBTQ community, they're like my soul mates since I was really young, so I'm very moved by it."

In April 2018, it was widely reported that Adele had become an ordained minister in order to officiate at close friend comedian Alan Carr's wedding to Paul Drayton, something which Adele herself subsequently confirmed. The wedding, held in January 2018, took place in the garden of her house in Los Angeles, California.

Download and Listen to Adele's songs on Boomplay....more

Country/Region : United Kingdom
Listen to Adele's new songs including "Waste Time", "Waste Time (Radio Edit)", and many more. Enjoy Adele's latest songs and explore the Adele's new music albums. If you want to download Adele songs MP3, use the Boomplay App to download the Adele songs for free. Discover Adele's latest songs, popular songs, trending songs all on Boomplay.
Adele Laurie Blue Adkins MBE ( born 5 May 1988) is an English singer and songwriter. She is one of the world's best-selling music artists, with sales of over 120 million records.

Adele's singing has received acclaim from music critics. In a review of 19, The Observer stated, "The way she stretched the vowels, her wonderful soulful phrasing, the sheer unadulterated pleasure of her voice, stood out all the more; little doubt that she's a rare singer". BBC Music wrote, "Her melodies exude warmth, her singing is occasionally stunning and, ...she has tracks that make Lily Allen and Kate Nash sound every bit as ordinary as they are." Also in 2008, Sylvia Patterson of The Guardian wrote, "Of all the gobby new girls, only Adele's bewitching singing voice has the enigmatic quality which causes tears of involuntary emotion to splash down your face in the way Eva Cassidy's did before her."

Born in the North London district of Tottenham, Adele supports local football club Tottenham Hotspur. In 2017, Adele was ranked the richest musician under age 30 in the UK and Ireland on the Sunday Times Rich List, which valued her wealth at £125 million. She was ranked the 19th richest musician overall. On the 2019 list, she was valued at £150 million as the 22nd richest musician in the UK.

Supportive of the LGBT community, on 12 June 2016, an emotional Adele dedicated her show in Antwerp, Belgium to the victims of the mass shooting at a gay nightclub in Orlando, Florida, United States earlier that day, adding, "The LGBTQ community, they're like my soul mates since I was really young, so I'm very moved by it."

In April 2018, it was widely reported that Adele had become an ordained minister in order to officiate at close friend comedian Alan Carr's wedding to Paul Drayton, something which Adele herself subsequently confirmed. The wedding, held in January 2018, took place in the garden of her house in Los Angeles, California.

Download and Listen to Adele's songs on Boomplay.
FAQs about Adele
Where is Adele from?
She is from United Kingdom.
How to download songs of Adele?
You can download songs of Adele from Boomplay App for free.
Firstly, install Boomplay app on your mobile phone.
Secondly, navigate to the song you would like to download.
Thirdly, Tap on More > Download.