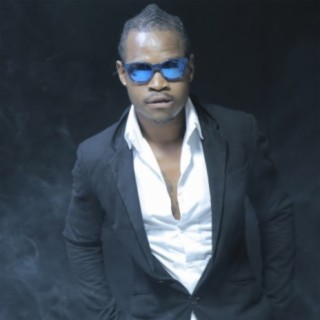 Timmy tDat
Current #6,557

All Time #6,032

Timmy Tdat (born Timothy Owuor) is a Kenyan singer, rapper and former radio host. He was born and raised in Kasabun, a slum in the Eastlands area of Nairobi City. Timmy also goes by the moniker T'Dat. Many of Tdat's Songs became very popular and trendy on social media in line with a great number of streaming and downloads on Boomplay.

Career
Timmy had a passion for music from such a young age. Earlier in his career, he performed at beauty pageants to make ends meet. What however acted as the catalyst for his full immersion into the music industry were the various challenges cause by a quite hard life. Timmy started doing music professionally in 2012 under Naiboi's wings.

At that time Naiboi was primarily a record producer going by the name Rapdamu. His breakout came in 2014 as a collaboration with Naboi on the song Welle Welle. The song performed extremely well and even got a boost from a remix version with King Kaka and DNA among others. Since then, he has been on a steady rise and even secured collaborations with renowned artists such as Khaligraph Jones, Rostam and Petra.

Achievements
In 2019, Timmy received a golden plaque from Mdundo.com for surpassing a 1 million mark on total song downloads on the platform. This was a true indication of not only how Timmy had grown exponentially in the music industry but also how he had garnered a wider appeal of fans. Timmy's music has been featured on various Boomplay playlists such as Wainame, Club Kings and Mbichi among others.

Follow Boomplay and keep up-to-date with the latest songs of Timmy Tdat and information.

Timmy Tdat's Songs.
• Hapa ft. Ssaru
• Iromo (feat. Sudi Boy)
• Magaldem
• Nje
• We'll Be OK (feat. Dela)
• Atekwe (feat. Redsan)
• Pogna Matin
• Wembe (feat. Otile Brown)
• Kasayole (feat. Khaligraph Jones)
• Kimangoto (feat. Boondocks Gang)

His latest song is Back To The Sender. Explore Boomplay and download Timmy's latest songs for free.

Tdat's Songs are included in Boomplay music playlists. Search, stream, and download Tdat's Songs, his latest singles and albums in MP3 only on the Boomplay platform for free....more

Country/Region : Kenya
Listen to Timmy tDat's new songs including "Hapa ft. Ssaru", "Kimangoto ft. Boondocks Gang", "Atekwe (With Redsan)" and many more. Enjoy Timmy tDat's latest songs and explore the Timmy tDat's new music albums. If you want to download Timmy tDat songs MP3, use the Boomplay App to download the Timmy tDat songs for free. Discover Timmy tDat's latest songs, popular songs, trending songs all on Boomplay.
Timmy Tdat (born Timothy Owuor) is a Kenyan singer, rapper and former radio host. He was born and raised in Kasabun, a slum in the Eastlands area of Nairobi City. Timmy also goes by the moniker T'Dat. Many of Tdat's Songs became very popular and trendy on social media in line with a great number of streaming and downloads on Boomplay.

Career
Timmy had a passion for music from such a young age. Earlier in his career, he performed at beauty pageants to make ends meet. What however acted as the catalyst for his full immersion into the music industry were the various challenges cause by a quite hard life. Timmy started doing music professionally in 2012 under Naiboi's wings.

At that time Naiboi was primarily a record producer going by the name Rapdamu. His breakout came in 2014 as a collaboration with Naboi on the song Welle Welle. The song performed extremely well and even got a boost from a remix version with King Kaka and DNA among others. Since then, he has been on a steady rise and even secured collaborations with renowned artists such as Khaligraph Jones, Rostam and Petra.

Achievements
In 2019, Timmy received a golden plaque from Mdundo.com for surpassing a 1 million mark on total song downloads on the platform. This was a true indication of not only how Timmy had grown exponentially in the music industry but also how he had garnered a wider appeal of fans. Timmy's music has been featured on various Boomplay playlists such as Wainame, Club Kings and Mbichi among others.

Follow Boomplay and keep up-to-date with the latest songs of Timmy Tdat and information.

Timmy Tdat's Songs.
• Hapa ft. Ssaru
• Iromo (feat. Sudi Boy)
• Magaldem
• Nje
• We'll Be OK (feat. Dela)
• Atekwe (feat. Redsan)
• Pogna Matin
• Wembe (feat. Otile Brown)
• Kasayole (feat. Khaligraph Jones)
• Kimangoto (feat. Boondocks Gang)

His latest song is Back To The Sender. Explore Boomplay and download Timmy's latest songs for free.

Tdat's Songs are included in Boomplay music playlists. Search, stream, and download Tdat's Songs, his latest singles and albums in MP3 only on the Boomplay platform for free.
New Comments(
30

)
FAQs about Timmy tDat
Where is Timmy tDat from?
He is from Kenya.
How to download songs of Timmy tDat?
You can download songs of Timmy tDat from Boomplay App for free.
Firstly, install Boomplay app on your mobile phone.
Secondly, navigate to the song you would like to download.
Thirdly, Tap on More > Download.