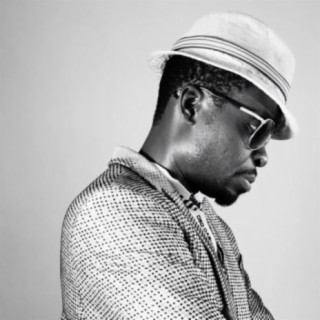 Daasebre Gyamenah
Current #5,461

All Time #2,424

Daasebre was born a Muslim and from a royal home. His full name at birth was Daasebre Gyamenah Abubakar Siddiq. Many Daasebre Gyamenah songs become very popular and trendy online with a great number of streaming and downloads on Boomplay.

His late mother was a Muslim who died when Daasebre was only three months old. He was nicknamed Ahoofe, a name his fans gave him after the release of his hit song, "Ahoofe", which literally means beautiful or the handsome one.

In January 2016, Gyamenah released what turned out to be his final album, Yenfii Ta, and in May released a song from the album and his final single, "Ntamago".

He died in the early hours of 29 July 2016 at the 37 Military Hospital in Accra

Career
Daasebre Gyamenah was a Ghanaian highlife musician who became very popular for his hit album Kokooko (1999) which featured Lord Kenya. Kokooko was the first major fusion of hiplife and highlife in Ghana.

He released an Album in the late 80s with no success. After spending time in various African states he returned to Ghana in 1992 only to make music 7 years later. Kokooko made him and Lord Kenya, who was featured on a song, gain huge success in Ghana and also among Ghanaians abroad.

Many successful albums followed thus earning him one of his many nicknames "Hitman"."Wo da enda","Ahoofe","Still I love you" are a few of his popular songs. Among youths and old, he is popular and beloved.

Daasebre's songs are mostly mid tempo and include many hip hop elements. He featured many hip life artists like none of his genre colleagues. A major element of his songs is the Akan way of storytelling by use of proverbs.

His proverbs stood out from others due to his upbringing through his grandmother. These proverbs mostly summed up the message of his songs. In an interview he claimed to have experienced some of the stories in his songs with the exception of the love songs.

Follow Boomplay and keep up-to-date with the latest Daasebre Gyamenah songs and information.

Achievement
He won two and four awards during the 2000 and 2002 editions of the Ghana Music Awards respectively

Daasebre Gyamenah Songs
• Kokooko
• Abaso Bo
• Calling
• Sherry
• Wokada kae
• Gyae me
• I still love you
• Ahuofe
• You stole my heart
• Wonti
• Twaso
• Settei
• Good for the goose good for the gander

Daasebre Gyamenah songs are included in Boomplay music playlists. Search to stream and download Daasebre Gyamenah songs MP3/ single/ albums on the platform....more

Country : Ghana
Songs

(0)

Albums

(0)

Playlists

(10)
Listen to Daasebre Gyamenah's new songs including and many more. Enjoy Daasebre Gyamenah's latest songs and explore the Daasebre Gyamenah's new music albums. If you want to download Daasebre Gyamenah songs MP3, use the Boomplay App to download the Daasebre Gyamenah songs for free. Discover Daasebre Gyamenah's latest songs, popular songs, trending songs all on Boomplay.
Daasebre was born a Muslim and from a royal home. His full name at birth was Daasebre Gyamenah Abubakar Siddiq. Many Daasebre Gyamenah songs become very popular and trendy online with a great number of streaming and downloads on Boomplay.

His late mother was a Muslim who died when Daasebre was only three months old. He was nicknamed Ahoofe, a name his fans gave him after the release of his hit song, "Ahoofe", which literally means beautiful or the handsome one.

In January 2016, Gyamenah released what turned out to be his final album, Yenfii Ta, and in May released a song from the album and his final single, "Ntamago".

He died in the early hours of 29 July 2016 at the 37 Military Hospital in Accra

Career
Daasebre Gyamenah was a Ghanaian highlife musician who became very popular for his hit album Kokooko (1999) which featured Lord Kenya. Kokooko was the first major fusion of hiplife and highlife in Ghana.

He released an Album in the late 80s with no success. After spending time in various African states he returned to Ghana in 1992 only to make music 7 years later. Kokooko made him and Lord Kenya, who was featured on a song, gain huge success in Ghana and also among Ghanaians abroad.

Many successful albums followed thus earning him one of his many nicknames "Hitman"."Wo da enda","Ahoofe","Still I love you" are a few of his popular songs. Among youths and old, he is popular and beloved.

Daasebre's songs are mostly mid tempo and include many hip hop elements. He featured many hip life artists like none of his genre colleagues. A major element of his songs is the Akan way of storytelling by use of proverbs.

His proverbs stood out from others due to his upbringing through his grandmother. These proverbs mostly summed up the message of his songs. In an interview he claimed to have experienced some of the stories in his songs with the exception of the love songs.

Follow Boomplay and keep up-to-date with the latest Daasebre Gyamenah songs and information.

Achievement
He won two and four awards during the 2000 and 2002 editions of the Ghana Music Awards respectively

Daasebre Gyamenah Songs
• Kokooko
• Abaso Bo
• Calling
• Sherry
• Wokada kae
• Gyae me
• I still love you
• Ahuofe
• You stole my heart
• Wonti
• Twaso
• Settei
• Good for the goose good for the gander

Daasebre Gyamenah songs are included in Boomplay music playlists. Search to stream and download Daasebre Gyamenah songs MP3/ single/ albums on the platform.