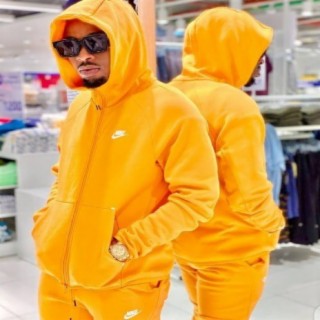 Ommy Dimpoz
Current #5,578

All Time #5,206

Omary Faraji Nyembo popularly known by his stage name Ommy Dimpoz is a Tanzanian Bongo Flava and Afrobeat artist and songwriter. He was born on 12 September 1987 to Mr and Mrs Nyembo.

Many Ommy Dimpoz's songs become very popular and trendy online with a great number of streaming and downloads on Boomplay.

Career
Ommy began his music career at the tender age of ten. While in primary school he participated in talent searches and frequently entertained guests at parties and weddings. In 2005 while in high school, he formed a group with his friends called VIP. It had four members including Ommy Dimpoz. He was also a former member of Top Band.

Achievement
His time in the music industry and releasing great hits. Ommy Dimpoz has received some recognitions for his work. Here's a list of some of the awards that he's won:
• 2012 - Best upcoming artist at the Tanzania Music Awards (Won)
• 2012 - Best collaboration song 'Nai Nai' at the Tanzania Music Awards (Won)
• 2013 - Best Afro Pop Song 'Me and You' at the Tanzania Music Awards (Won)
• 2013 - Best video 'Baadae' at the Kilimanjaro Awards (Won)
• 2019 - Best Male musician in East Africa at the African Muzik Magazine Awards (Won)

Follow Boomplay and keep up-to-date with the latest Ommy Dimpoz's songs and information.

Ommy Dimpoz Songs:
• Umeniweza
• Kata
• Nai nai
• You're the best
• Me N You
• Yanje
• Tupogo
• Ndagushima
• Wanjera
• Dede
• Me and You
• Achia body

Net worth:
Ommy Dimpoz is one of the most successful Tanzanian artists with an estimated net worth of $2 million.

Ommy Dimpoz's songs are included in Boomplay music playlists. Search to stream and download Ommy Dimpoz's songs MP3/Single/Albums on the platform....more

Country/Region : Tanzania
Songs

(12)

Albums

(9)

Playlists

(5)
1

2

3

4

5

6

7

8

9

10

11

12
Listen to Ommy Dimpoz's new songs including "Nai Nai", "Me N You", "Kata ft. Nandy" and many more. Enjoy Ommy Dimpoz's latest songs and explore the Ommy Dimpoz's new music albums. If you want to download Ommy Dimpoz songs MP3, use the Boomplay App to download the Ommy Dimpoz songs for free. Discover Ommy Dimpoz's latest songs, popular songs, trending songs all on Boomplay.
Omary Faraji Nyembo popularly known by his stage name Ommy Dimpoz is a Tanzanian Bongo Flava and Afrobeat artist and songwriter. He was born on 12 September 1987 to Mr and Mrs Nyembo.

Many Ommy Dimpoz's songs become very popular and trendy online with a great number of streaming and downloads on Boomplay.

Career
Ommy began his music career at the tender age of ten. While in primary school he participated in talent searches and frequently entertained guests at parties and weddings. In 2005 while in high school, he formed a group with his friends called VIP. It had four members including Ommy Dimpoz. He was also a former member of Top Band.

Achievement
His time in the music industry and releasing great hits. Ommy Dimpoz has received some recognitions for his work. Here's a list of some of the awards that he's won:
• 2012 - Best upcoming artist at the Tanzania Music Awards (Won)
• 2012 - Best collaboration song 'Nai Nai' at the Tanzania Music Awards (Won)
• 2013 - Best Afro Pop Song 'Me and You' at the Tanzania Music Awards (Won)
• 2013 - Best video 'Baadae' at the Kilimanjaro Awards (Won)
• 2019 - Best Male musician in East Africa at the African Muzik Magazine Awards (Won)

Follow Boomplay and keep up-to-date with the latest Ommy Dimpoz's songs and information.

Ommy Dimpoz Songs:
• Umeniweza
• Kata
• Nai nai
• You're the best
• Me N You
• Yanje
• Tupogo
• Ndagushima
• Wanjera
• Dede
• Me and You
• Achia body

Net worth:
Ommy Dimpoz is one of the most successful Tanzanian artists with an estimated net worth of $2 million.

Ommy Dimpoz's songs are included in Boomplay music playlists. Search to stream and download Ommy Dimpoz's songs MP3/Single/Albums on the platform.
New Comments(
16

)