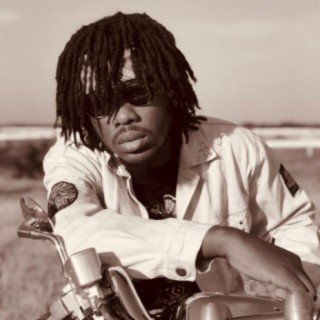 KiddBlack
Current #3,310

All Time #4,632

Dennis Dorku popularly known in rap circles as Kiddblack is a Ghanaian rapper whose lyrical dexterity has earned him a name in the Ghanaian hip-hop scene. Kiddblack is a member of hip-hop collective, GoldBrick. Many of Kiddblack songs become very popular and trendy online with a great number of streaming and downloads on Boomplay.

Dennis is from Tema where he attended Morning Glory JHS. He grew up listening to Ja Rule, Ashanti, Destiny's Child & Don Williams as those were the artists his mother and sister played on the regular.

Dennis gained admission into Mfantsipim School where he was popularly known for his dope Saturday rap performances. Apart from his high school, he also battled and murked many other rappers from neighboring schools, Adisadel College and St. Augustine's College (Cape Coast).

Musically, he pulls inspiration from jazz, blues, rock & soul, gravitating to beats that blend those elements. On a personal note, his style is influenced by west coast rappers like Dom Kennedy, having a preference for Chuck Taylor's and Vans. This laid-back style reflects his character as a super chill guy, with a love for film. Kiddblack is currently working on fresh content, & folks can expect "classics "from the young rapper.

Career
Dennis "Kiddblack" Dorcoo's love for music goes back as far as he can remember. Making music was always the plan, but it wasn't until 2009, when a meeting with fellow music enthusiast, Drilix, on a basketball court set him on the journey of music making. As it turned out, Drilix & Kidd lived in the same neighbourhood, and their organic connection & encouragement from Drilix led Kidd to pen his first rhyme. For Kidd, as a lyric-driven performer, the rhymes are what it's all about.

Kiddblack in 2014, released his first official project, Euphoria, a 5-track EP. Euphoria put Kidd's name out in his city. Euphoria earned him a lot of hype and stage performances at shows.

Ninja Gaiden is Kiddblack's second official project. It was released in September 2015. The rapper, in an interview, stated that wanting to be great and wanting to let go off things were the main inspirations behind the project. Ninja Gaiden has been described by music critics as dope and authentic with a fresh sound.

Kiddblack performed at E.L's BAR concert and hip-hop live concert in 2015.

Follow Boomplay and keep up to date with the latest Kiddblack songs and information.

Kiddblack Songs and Albums
• Euphoria EP
• Ninja Gaiden (Album)
• I'm the Man
• Super Sonic
• Million Dollar Baby
• Go Low
• Do My Dance
• Loaded Weapons
• Swerve
• Dirty Diana

Kiddblack songs are included in Boomplay music playlists. Search to stream and download Kiddblack songs MP3/ single/ albums on the platform....more

Country/Region : Ghana
Songs

(16)

Albums

(6)

Playlists

(6)
1

2

3

4

5

6

7

8

9

10

11

12

13

14

15

16
Listen to KiddBlack's new songs including "Assignment ft. Black Sherif & DJ FortuneDJ", "Dirty Diana ft. Kwesi Arthur", "Loaded Weapons" and many more. Enjoy KiddBlack's latest songs and explore the KiddBlack's new music albums. If you want to download KiddBlack songs MP3, use the Boomplay App to download the KiddBlack songs for free. Discover KiddBlack's latest songs, popular songs, trending songs all on Boomplay.
Dennis Dorku popularly known in rap circles as Kiddblack is a Ghanaian rapper whose lyrical dexterity has earned him a name in the Ghanaian hip-hop scene. Kiddblack is a member of hip-hop collective, GoldBrick. Many of Kiddblack songs become very popular and trendy online with a great number of streaming and downloads on Boomplay.

Dennis is from Tema where he attended Morning Glory JHS. He grew up listening to Ja Rule, Ashanti, Destiny's Child & Don Williams as those were the artists his mother and sister played on the regular.

Dennis gained admission into Mfantsipim School where he was popularly known for his dope Saturday rap performances. Apart from his high school, he also battled and murked many other rappers from neighboring schools, Adisadel College and St. Augustine's College (Cape Coast).

Musically, he pulls inspiration from jazz, blues, rock & soul, gravitating to beats that blend those elements. On a personal note, his style is influenced by west coast rappers like Dom Kennedy, having a preference for Chuck Taylor's and Vans. This laid-back style reflects his character as a super chill guy, with a love for film. Kiddblack is currently working on fresh content, & folks can expect "classics "from the young rapper.

Career
Dennis "Kiddblack" Dorcoo's love for music goes back as far as he can remember. Making music was always the plan, but it wasn't until 2009, when a meeting with fellow music enthusiast, Drilix, on a basketball court set him on the journey of music making. As it turned out, Drilix & Kidd lived in the same neighbourhood, and their organic connection & encouragement from Drilix led Kidd to pen his first rhyme. For Kidd, as a lyric-driven performer, the rhymes are what it's all about.

Kiddblack in 2014, released his first official project, Euphoria, a 5-track EP. Euphoria put Kidd's name out in his city. Euphoria earned him a lot of hype and stage performances at shows.

Ninja Gaiden is Kiddblack's second official project. It was released in September 2015. The rapper, in an interview, stated that wanting to be great and wanting to let go off things were the main inspirations behind the project. Ninja Gaiden has been described by music critics as dope and authentic with a fresh sound.

Kiddblack performed at E.L's BAR concert and hip-hop live concert in 2015.

Follow Boomplay and keep up to date with the latest Kiddblack songs and information.

Kiddblack Songs and Albums
• Euphoria EP
• Ninja Gaiden (Album)
• I'm the Man
• Super Sonic
• Million Dollar Baby
• Go Low
• Do My Dance
• Loaded Weapons
• Swerve
• Dirty Diana

Kiddblack songs are included in Boomplay music playlists. Search to stream and download Kiddblack songs MP3/ single/ albums on the platform.
New Comments(
0

)

What do you think of this artist?
FAQs about KiddBlack
Where is KiddBlack from?
He is from Ghana.
How to download songs of KiddBlack?
You can download songs of KiddBlack from Boomplay App for free.
Firstly, install Boomplay app on your mobile phone.
Secondly, navigate to the song you would like to download.
Thirdly, Tap on More > Download.