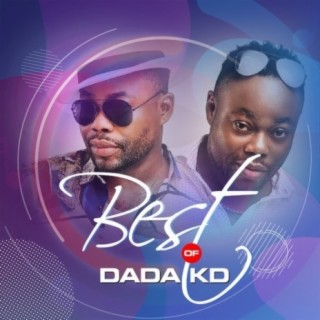 Dada KD
Current #2,711

All Time #3,989

Kaakyire Kwame Fosu famously known as Dada Kwaku Duah a.k.a. Dada K.D was born on February 14, 1981 to Mr. Samuel Kwamena and Madam Akua Addotei, K.K has been on war path with life since he could spell his name. His only passion music; was what helped him through most of the trying times. He is knowned for his love songs.

Many of Dada K.D's Songs became very popular and trendy on social media in line with a great number of streaming and downloads on Boomplay.

Career
To Dada K.D., talent forms only 15 per cent of being whatever one wants to be in life. The rest of the 75 per cent rest on one's affiliation with the elderly, being down to earth (respectful) and living by nothing but the truth. He got inclined into music when he was 7 years old.

By the time he attained 15 years, he was an instrumentalist and played in the church in which he was a mentor at Kwadaso, Kumasi, where he was born and bred. His love and interest for music made him join other colleagues of his during Christmas season to visit various homes playing their musical instruments and singing.

He was encouraged by Friends and colleagues to go into singing because he was able to do cover songs perfectly. After his secondary school education he decided to join a band, but all his effort failed, because he was considered too young. Young Dada K.D. however did not give up until he later met one Michael Osei Agyemang, whom people claimed he resembled and therefore thought they were related. Michael Osei came as a saviour and helped him to record his first album "Honey Love" at GEE MAN's studio. After releasing his second and third albums, Adi Nye Wop and Eden na megyee, Dada K.D. traveled abroad in 1998 when he realised the music industry in the country was not that rewarding.

There was no help nor incentives for those in the industry. His journey outside has help him, he has been able to record nine albums and currently has a total of eight albums to his credit. This includes his latest album titled "Somgye". Other albums to his credit, apart from the first three and the latest are "Ebeboawo," "Obiara Se Eye", "Ode twe boom / ny goes boom boom," and mewura / Odom u anigyebi."

According to Dada K.D. he listens to every Ghanaian music and learns to sing them, though his style of music is all about love. He likes playing draught, enjoys drinking, clubbing and listening to music. Fufu with smoked fish light soup is his favourite food.

Achievements
He was adjudged Best Male Vocal Artist (Ghana Music Awards) in Britain in 2004 by Ghanaians Resident in Britain. He has played with bands like RELALTIVES in Germany, with Kojo Antwi's Band, Tropical Vibes (Accra) and also with Amakye Dede's Band. He shook hands with President Kufuor during one of his performances at a very special occasions, the Kojo Antwi's 24th night show in 2004.

Follow Boomplay and keep up-to-date with the latest songs of Dada K.D and information.

Dada K.D's Songs
• Fatia Fata Nkrumah
• Odi Mu Anigyee Bi
• Ene Menye
• Yebeye Yenho Fi
• Tekyere Ma
• Honey Honey
• My Heart Goes Boom
• Somu Gye
• Me Nyame
• Honey Love
• Wosuro A Wondi
• Adu Twam
• Odo Tekyerema

Dada K.D's Songs are included in Boomplay music playlists. Search, stream, and download Dada K.D's Songs, her latest singles and albums in MP3 only on the Boomplay platform for free....more

Country/Region : Ghana
Songs

(49)

Albums

(6)

Playlists

(6)
1

2

3

4

5

6

7

8

9

10

11

12

13

14

15

16

17

18

19

20

21

22

23

24

25

26

27

28

29

30

31

32

33

34

35

36

37

38

39

40

41

42

43

44

45

46

47

48

49
Listen to Dada KD's new songs including "Fatia Fata Nkrumah", "Odo Mu Anigyee Bi", "Ene Menye" and many more. Enjoy Dada KD's latest songs and explore the Dada KD's new music albums. If you want to download Dada KD songs MP3, use the Boomplay App to download the Dada KD songs for free. Discover Dada KD's latest songs, popular songs, trending songs all on Boomplay.
Kaakyire Kwame Fosu famously known as Dada Kwaku Duah a.k.a. Dada K.D was born on February 14, 1981 to Mr. Samuel Kwamena and Madam Akua Addotei, K.K has been on war path with life since he could spell his name. His only passion music; was what helped him through most of the trying times. He is knowned for his love songs.

Many of Dada K.D's Songs became very popular and trendy on social media in line with a great number of streaming and downloads on Boomplay.

Career
To Dada K.D., talent forms only 15 per cent of being whatever one wants to be in life. The rest of the 75 per cent rest on one's affiliation with the elderly, being down to earth (respectful) and living by nothing but the truth. He got inclined into music when he was 7 years old.

By the time he attained 15 years, he was an instrumentalist and played in the church in which he was a mentor at Kwadaso, Kumasi, where he was born and bred. His love and interest for music made him join other colleagues of his during Christmas season to visit various homes playing their musical instruments and singing.

He was encouraged by Friends and colleagues to go into singing because he was able to do cover songs perfectly. After his secondary school education he decided to join a band, but all his effort failed, because he was considered too young. Young Dada K.D. however did not give up until he later met one Michael Osei Agyemang, whom people claimed he resembled and therefore thought they were related. Michael Osei came as a saviour and helped him to record his first album "Honey Love" at GEE MAN's studio. After releasing his second and third albums, Adi Nye Wop and Eden na megyee, Dada K.D. traveled abroad in 1998 when he realised the music industry in the country was not that rewarding.

There was no help nor incentives for those in the industry. His journey outside has help him, he has been able to record nine albums and currently has a total of eight albums to his credit. This includes his latest album titled "Somgye". Other albums to his credit, apart from the first three and the latest are "Ebeboawo," "Obiara Se Eye", "Ode twe boom / ny goes boom boom," and mewura / Odom u anigyebi."

According to Dada K.D. he listens to every Ghanaian music and learns to sing them, though his style of music is all about love. He likes playing draught, enjoys drinking, clubbing and listening to music. Fufu with smoked fish light soup is his favourite food.

Achievements
He was adjudged Best Male Vocal Artist (Ghana Music Awards) in Britain in 2004 by Ghanaians Resident in Britain. He has played with bands like RELALTIVES in Germany, with Kojo Antwi's Band, Tropical Vibes (Accra) and also with Amakye Dede's Band. He shook hands with President Kufuor during one of his performances at a very special occasions, the Kojo Antwi's 24th night show in 2004.

Follow Boomplay and keep up-to-date with the latest songs of Dada K.D and information.

Dada K.D's Songs
• Fatia Fata Nkrumah
• Odi Mu Anigyee Bi
• Ene Menye
• Yebeye Yenho Fi
• Tekyere Ma
• Honey Honey
• My Heart Goes Boom
• Somu Gye
• Me Nyame
• Honey Love
• Wosuro A Wondi
• Adu Twam
• Odo Tekyerema

Dada K.D's Songs are included in Boomplay music playlists. Search, stream, and download Dada K.D's Songs, her latest singles and albums in MP3 only on the Boomplay platform for free.
FAQs about Dada KD
Where is Dada KD from?
He is from Ghana.
How to download songs of Dada KD?
You can download songs of Dada KD from Boomplay App for free.
Firstly, install Boomplay app on your mobile phone.
Secondly, navigate to the song you would like to download.
Thirdly, Tap on More > Download.