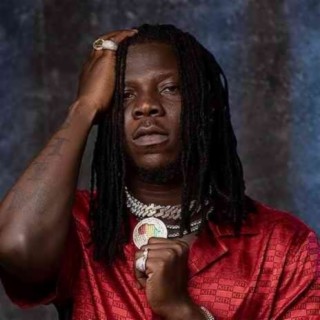 Stonebwoy
Current #444

All Time #351

Stonebwoy pronounced "stoneboy" was born in Ashaiman in the Greater Accra region of Ghana and began making music in his early school days. He realized his talents and abilities as a lyricist and scriptwriter at an early age, remembering writing and acting drama pieces as far back as the fourth year in primary school. Many Stonebwoy songs become very popular and trendy online with a great number of streaming and downloads on Boomplay.

He studied at Methodist Day Secondary School the same year with rapper Sarkodie where he obtained his High School Certificate. He continued his tertiary education at University of Professional Studies to earn a degree in Marketing in 2013. He is married to Louisa Ansong Satekla, with two children. Louisa is a dentist.

CAREER AND ACHIEVEMENTS
Under "Samini Music", Stonebwoy recorded his first hit single "Climax" featuring Samini and mad "Ghetto Love" featuring Irene Logan. Both songs earned him nominations at the Ghana Music Awards. After this exposure, he released his debut album "Grade 1 Album". The album contains seventeen tracks which featured prominent Ghanaian artists in.

Released on November 23, 2014: it is a 29 track album which featured the likes of Sarkodie. It includes tracks like Baafira, Sneaky, Gbedegbede, Candy, Pull up remix, and Cant Cool.

Released on 12 December 2017: the Epistles of Mama was dedicated to Satekla's late mother by name Mrs Catherine Lucy Aku Ametepe Satekla. The 24 track album features Sean Paul, King Promise, Burna Boy.

The album peaked at Number thirteen (13) on Billboard chart top 200 albums worldwide. In 2018 'Epistles Of Mama (EOM)' was rated the second-best album in the world according to reggaeville. The Album was honoured by YouTube for hitting over 10 million views.

On 24 April 2020, Stonebwoy released his fourth studio album which featured the likes of Keri Hilson (US), Nasty C (SA), Diamond Platnumz (Tanzania), Alicai Harley (Jamaica), Jahmiel (Jamaica), Zlatan (Nigeria), Kojo Antwi (Ghana), Chivv (Netherlands) and Spanker (Netherlands). He also worked with producers like Mix Master Garzy, Streetbeatz, M.O.G. Beatz, Spanker, Riga, Phantom, iPappi and others.

In May 2021, Alpha Blondy claimed he was working on a song with Stonebowy. Alpha Blondy made this claim on his social media platforms after Stonebowy arrived in Abidjan for his 'Anloga Junction' virtual concert.

Stonebwoy normally ragga in Jamaican Patois (Patwa or Patwah), and is considered a "multifaceted artiste" due to the various musical styles he possesses.

In 2015, he received many awards and nominations ranging from "Artist of the Year" to "Album of the Year". His sophomore album, Necessary Evil, was the recipient of 3 Ghana Music Awards from 6 nominations. Nana Appiah Mensah, CEO of gold dealership company Menzgold, sent out words of encouragement to Stonebwoy on Instagram for Stonebwoy being supportive.

On 18 April 2019, Nana Appiah Mensah posted a photo of Dance hall act Stonebwoy saying he is proud of the Bhim Nation president for defending him and that God bless him.

He was listed as part of the 2019 50 (fifty) young CEOs, by YCEO and Avance media. The list which was launched earlier in 2018, was set out to honor distinguished young individuals pursuing the course of providing solutions to some of Ghana's pertinent problems.

Stonebwoy songs are included in Boomplay music playlists. Search to stream and download Stonebwoy songs MP3/ single/ albums on the platform.

Follow Boomplay and keep up-to-date with the latest Stonebwoy songs and information....more

Country/Region : Ghana
Listen to Stonebwoy's new songs including "Ololo ft. Teni", "Take Me Away ft. Kidi & Kuami Eugene", "More" and many more. Enjoy Stonebwoy's latest songs and explore the Stonebwoy's new music albums. If you want to download Stonebwoy songs MP3, use the Boomplay App to download the Stonebwoy songs for free. Discover Stonebwoy's latest songs, popular songs, trending songs all on Boomplay.
Stonebwoy pronounced "stoneboy" was born in Ashaiman in the Greater Accra region of Ghana and began making music in his early school days. He realized his talents and abilities as a lyricist and scriptwriter at an early age, remembering writing and acting drama pieces as far back as the fourth year in primary school. Many Stonebwoy songs become very popular and trendy online with a great number of streaming and downloads on Boomplay.

He studied at Methodist Day Secondary School the same year with rapper Sarkodie where he obtained his High School Certificate. He continued his tertiary education at University of Professional Studies to earn a degree in Marketing in 2013. He is married to Louisa Ansong Satekla, with two children. Louisa is a dentist.

CAREER AND ACHIEVEMENTS
Under "Samini Music", Stonebwoy recorded his first hit single "Climax" featuring Samini and mad "Ghetto Love" featuring Irene Logan. Both songs earned him nominations at the Ghana Music Awards. After this exposure, he released his debut album "Grade 1 Album". The album contains seventeen tracks which featured prominent Ghanaian artists in.

Released on November 23, 2014: it is a 29 track album which featured the likes of Sarkodie. It includes tracks like Baafira, Sneaky, Gbedegbede, Candy, Pull up remix, and Cant Cool.

Released on 12 December 2017: the Epistles of Mama was dedicated to Satekla's late mother by name Mrs Catherine Lucy Aku Ametepe Satekla. The 24 track album features Sean Paul, King Promise, Burna Boy.

The album peaked at Number thirteen (13) on Billboard chart top 200 albums worldwide. In 2018 'Epistles Of Mama (EOM)' was rated the second-best album in the world according to reggaeville. The Album was honoured by YouTube for hitting over 10 million views.

On 24 April 2020, Stonebwoy released his fourth studio album which featured the likes of Keri Hilson (US), Nasty C (SA), Diamond Platnumz (Tanzania), Alicai Harley (Jamaica), Jahmiel (Jamaica), Zlatan (Nigeria), Kojo Antwi (Ghana), Chivv (Netherlands) and Spanker (Netherlands). He also worked with producers like Mix Master Garzy, Streetbeatz, M.O.G. Beatz, Spanker, Riga, Phantom, iPappi and others.

In May 2021, Alpha Blondy claimed he was working on a song with Stonebowy. Alpha Blondy made this claim on his social media platforms after Stonebowy arrived in Abidjan for his 'Anloga Junction' virtual concert.

Stonebwoy normally ragga in Jamaican Patois (Patwa or Patwah), and is considered a "multifaceted artiste" due to the various musical styles he possesses.

In 2015, he received many awards and nominations ranging from "Artist of the Year" to "Album of the Year". His sophomore album, Necessary Evil, was the recipient of 3 Ghana Music Awards from 6 nominations. Nana Appiah Mensah, CEO of gold dealership company Menzgold, sent out words of encouragement to Stonebwoy on Instagram for Stonebwoy being supportive.

On 18 April 2019, Nana Appiah Mensah posted a photo of Dance hall act Stonebwoy saying he is proud of the Bhim Nation president for defending him and that God bless him.

He was listed as part of the 2019 50 (fifty) young CEOs, by YCEO and Avance media. The list which was launched earlier in 2018, was set out to honor distinguished young individuals pursuing the course of providing solutions to some of Ghana's pertinent problems.

Stonebwoy songs are included in Boomplay music playlists. Search to stream and download Stonebwoy songs MP3/ single/ albums on the platform.

Follow Boomplay and keep up-to-date with the latest Stonebwoy songs and information.
FAQs about Stonebwoy
Where is Stonebwoy from?
He is from Ghana.
How to download songs of Stonebwoy?
You can download songs of Stonebwoy from Boomplay App for free.
Firstly, install Boomplay app on your mobile phone.
Secondly, navigate to the song you would like to download.
Thirdly, Tap on More > Download.