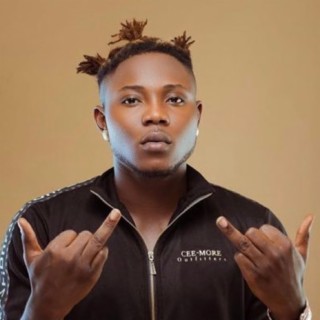 Otega
Current #948

All Time #1,243

Stephen Ifedayo Oghenetega famously known as Otega Billz, once a blogger is a 27 years old Nigerian rapper, singer, and songwriter who gained a massive breakthrough in his single "Stay Woke" which featured CDQ. Many of Otega songs become very popular and trendy online with great number of streaming and downloads on Boomplay.

The creative street musical artist Otega Billz was born on October 16, 1994, in Ijebu Ode: an area in Ogun State Nigeria but a native of Edo State. He grew up in the same city he was born.

Follow Boomplay and keep up-to-date with latest Otega songs and information.

Career:
Another song that confirmed the street rapper is a great singer and not in the industry for a joke was "Aje" which he got featured on: the song originally owned by Diamond Jimma which highlighted Otega Billz saw the talented artist showcasing his impeccable lyrics. He came to limelight for his single "Stay Woke" which enlist the talent of the Nigerian rapper, CDQ.

The street sensation also showcased his versatility on the featured single "Aje" by Diamond Jimma.

As signed to 'Advert Gang', Otega also has lots of exciting singles to his credit.

Otega Songs:
• Shayo
• Sativa
• Sisi Claro
• Unleash

Otega songs are included in Boomplay music playlists. Search to stream and download Otega songs MP3/ single/ albums on the platform....more

Country/Region : Nigeria
Songs

(122)

Albums

(19)

Playlists

(0)

Videos and More
1

2

3

4

5

6

7

8

9

10

11

12

13

14

15

16

17

18

19

20

21

22

23

24

25

26

27

28

29

30

31

32

33

34

35

36

37

38

39

40

41

42

43

44

45

46

47

48

49

50

51

52

53

54

55

56

57

58

59

60

61

62

63

64

65

66

67

68

69

70

71

72

73

74

75

76

77

78

79

80

81

82

83

84

85

86

87

88

89

90

91

92

93

94

95

96

97

98

99

100
Listen to Otega's new songs including "Everytime", "BDB ft. Mohbad", "Laye mi" and many more. Enjoy Otega's latest songs and explore the Otega's new music albums. If you want to download Otega songs MP3, use the Boomplay App to download the Otega songs for free. Discover Otega's latest songs, popular songs, trending songs all on Boomplay.
Stephen Ifedayo Oghenetega famously known as Otega Billz, once a blogger is a 27 years old Nigerian rapper, singer, and songwriter who gained a massive breakthrough in his single "Stay Woke" which featured CDQ. Many of Otega songs become very popular and trendy online with great number of streaming and downloads on Boomplay.

The creative street musical artist Otega Billz was born on October 16, 1994, in Ijebu Ode: an area in Ogun State Nigeria but a native of Edo State. He grew up in the same city he was born.

Follow Boomplay and keep up-to-date with latest Otega songs and information.

Career:
Another song that confirmed the street rapper is a great singer and not in the industry for a joke was "Aje" which he got featured on: the song originally owned by Diamond Jimma which highlighted Otega Billz saw the talented artist showcasing his impeccable lyrics. He came to limelight for his single "Stay Woke" which enlist the talent of the Nigerian rapper, CDQ.

The street sensation also showcased his versatility on the featured single "Aje" by Diamond Jimma.

As signed to 'Advert Gang', Otega also has lots of exciting singles to his credit.

Otega Songs:
• Shayo
• Sativa
• Sisi Claro
• Unleash

Otega songs are included in Boomplay music playlists. Search to stream and download Otega songs MP3/ single/ albums on the platform.
New Comments(
48

)
FAQs about Otega
Where is Otega from?
He is from Nigeria.
What are the latest songs of Otega?
The latest songs of Otega are Won Momi (Mixed), Shana (Mixed) and Pay Me (Mixed).
What are the best songs of Otega?
The best songs of Otega are Everytime, BDB ft. Mohbad and Laye mi.
What are the best albums of Otega?
The best albums of Otega are Really Bhard (All in One Body), Proclivity and As it should be.
How to download songs of Otega?
You can download songs of Otega from Boomplay App for free.
Firstly, install Boomplay app on your mobile phone.
Secondly, navigate to the song you would like to download.
Thirdly, Tap on More > Download.