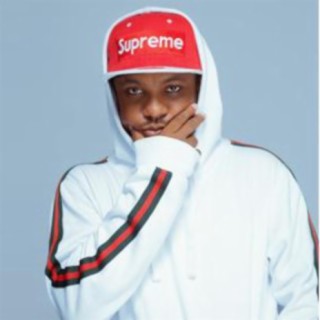 Dr Cryme
Current #21.9k

All Time #3,854

Darlington Kwasi Agyekum known widely by his stage name Dr Cryme is a Ghanaian rapper and early proponent of the Ghanaian "twipop" genre. Many of Dr Cryme's Songs became very popular and trendy on social media in line with a great number of streaming and downloads on Boomplay.

He was born in Tema. Dr Cryme has also performed as a TV presenter, a brand ambassador and is CEO of Twipop Recordz. Agyekum's stage name Dr. Cryme is an acronym which means Doctor (of the) Creative Rhymes You Most Enjoy.

Career
Agyekum began making music in his early school days. He studied at the Datus School and then attended ASUTECH in Cape Coast and Sotech in Somanya before earning a certificate in broadcast journalism from the Ghana Institute of Journalism. While in high school, Agyekum gained himself underground popularity through "Kasahare Level"; a popular rap competition on Adom FM (an Accra based radio station) which featured Sarkodie, Stay Jay and the like.

It was through these rap battles and his style of music which caught the eye of the Ejams record label to sign him in 2010. He released his first hit single "Kill me shy" the same year.

In 2011, he released his debut album called "Finally Finally". In 2012, his "Kill me shy" emerged the song "Hip life song of the year" at the Ghana Music Awards. He was also nominated for the "Song Writer of the year", "Most Popular Song of the Year", and "Hip life/Hip Hop Artiste of the Year" categories. Agyekum released his sophomore album entitled Showtime in February 2018.

The twenty tracked album includes the hit single "Koko Sakora" which features Sarkodie. Apart from being a musician, Dr. Cryme performed as a presenter for 4 syte TV in 2011. He hosted the 'Top 10 Videos' which was aired on ETV Ghana.

In the same year, Agyekum was officially unveiled as the Brand Ambassador for Samsung Ghana. He was also involved in the UN Volunteers Day Chokor project which was pegged to the Copenhagen conference.

Achievements
Dr Cryme has over the past years won himself quite a number of awards like the 2011 Golden Heart Awards for Most Influential Artist, the 2011 High School Honours for Most Influential Artist and the 2019 Ashaiman Music Awards for Best Mainstream Act.

He also bagged the 2012 Ghana Music Awards for Hiplife Song Of The Year and the 2016 4syte Music Video Awards for Best Hiplife Video.

During his career, he also got nominated to quite a number of awards like the 2012 Ghana Music Awards for Best New Artist, Hip hop/Hip Life artist of the year, Songwriter of the year and Most Popular Song Of The Year among many others.

Follow Boomplay and keep up-to-date with the latest songs of Dr Cryme and information.

Dr Cryme's Latest Songs
• Wo Soa
• Nonstop Mix
• Koko Sakora
• Komkom Na Maye
• Asabea
• Mene Woa
• Kropot
• I Wanna Turn Up
• Chicken Change
• I Swear
• Too Know
• Atanfo

Dr Cryme's Songs are included in Boomplay music playlists. Search, stream, and download Dr Cryme's Songs, her latest singles and albums in MP3 only on the Boomplay platform for free....more

Country/Region : Ghana
Songs

(88)

Albums

(35)

Playlists

(6)
1

2

3

4

5

6

7

8

9

10

11

12

13

14

15

16

17

18

19

20

21

22

23

24

25

26

27

28

29

30

31

32

33

34

35

36

37

38

39

40

41

42

43

44

45

46

47

48

49

50

51

52

53

54

55

56

57

58

59

60

61

62

63

64

65

66

67

68

69

70

71

72

73

74

75

76

77

78

79

80

81

82

83

84

85

86

87

88
Listen to Dr Cryme's new songs including "Wo Soa ft. Ypee & Amerado", "Atanfo ft. Flema T", "Atanfo ft. Flema T 🅴" and many more. Enjoy Dr Cryme's latest songs and explore the Dr Cryme's new music albums. If you want to download Dr Cryme songs MP3, use the Boomplay App to download the Dr Cryme songs for free. Discover Dr Cryme's latest songs, popular songs, trending songs all on Boomplay.
Darlington Kwasi Agyekum known widely by his stage name Dr Cryme is a Ghanaian rapper and early proponent of the Ghanaian "twipop" genre. Many of Dr Cryme's Songs became very popular and trendy on social media in line with a great number of streaming and downloads on Boomplay.

He was born in Tema. Dr Cryme has also performed as a TV presenter, a brand ambassador and is CEO of Twipop Recordz. Agyekum's stage name Dr. Cryme is an acronym which means Doctor (of the) Creative Rhymes You Most Enjoy.

Career
Agyekum began making music in his early school days. He studied at the Datus School and then attended ASUTECH in Cape Coast and Sotech in Somanya before earning a certificate in broadcast journalism from the Ghana Institute of Journalism. While in high school, Agyekum gained himself underground popularity through "Kasahare Level"; a popular rap competition on Adom FM (an Accra based radio station) which featured Sarkodie, Stay Jay and the like.

It was through these rap battles and his style of music which caught the eye of the Ejams record label to sign him in 2010. He released his first hit single "Kill me shy" the same year.

In 2011, he released his debut album called "Finally Finally". In 2012, his "Kill me shy" emerged the song "Hip life song of the year" at the Ghana Music Awards. He was also nominated for the "Song Writer of the year", "Most Popular Song of the Year", and "Hip life/Hip Hop Artiste of the Year" categories. Agyekum released his sophomore album entitled Showtime in February 2018.

The twenty tracked album includes the hit single "Koko Sakora" which features Sarkodie. Apart from being a musician, Dr. Cryme performed as a presenter for 4 syte TV in 2011. He hosted the 'Top 10 Videos' which was aired on ETV Ghana.

In the same year, Agyekum was officially unveiled as the Brand Ambassador for Samsung Ghana. He was also involved in the UN Volunteers Day Chokor project which was pegged to the Copenhagen conference.

Achievements
Dr Cryme has over the past years won himself quite a number of awards like the 2011 Golden Heart Awards for Most Influential Artist, the 2011 High School Honours for Most Influential Artist and the 2019 Ashaiman Music Awards for Best Mainstream Act.

He also bagged the 2012 Ghana Music Awards for Hiplife Song Of The Year and the 2016 4syte Music Video Awards for Best Hiplife Video.

During his career, he also got nominated to quite a number of awards like the 2012 Ghana Music Awards for Best New Artist, Hip hop/Hip Life artist of the year, Songwriter of the year and Most Popular Song Of The Year among many others.

Follow Boomplay and keep up-to-date with the latest songs of Dr Cryme and information.

Dr Cryme's Latest Songs
• Wo Soa
• Nonstop Mix
• Koko Sakora
• Komkom Na Maye
• Asabea
• Mene Woa
• Kropot
• I Wanna Turn Up
• Chicken Change
• I Swear
• Too Know
• Atanfo

Dr Cryme's Songs are included in Boomplay music playlists. Search, stream, and download Dr Cryme's Songs, her latest singles and albums in MP3 only on the Boomplay platform for free.
New Comments(
5

)