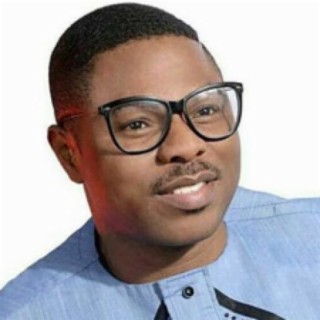 Yinka Ayefele
Current #1,006

All Time #723

Yinka Ayefele is a Nigerian music producer, gospel singer, CDS, VCDS, radio presenter and founder of Fresh FM Radio Station, Ibadan. Many of Yinka Ayefele songs become very popular and trendy online with a great number of streaming and downloads on Boomplay.

Ayefele was born in Ipoti-Ekiti, a city in Ekiti State in southwestern Nigeria. He attended Our Saviours Anglican Primary School in Ipoti-Ekiti for his primary and secondary education before he later proceeded to Ondo State College of Arts and Science in Ikare Akoko, Ondo State, Nigeria.

Career
Ayefele worked briefly as journalist and broadcaster at the Federal Radio Corporation of Nigeria, Ibadan, where he also produced jingles and musical works on radio. He began his music career in 1997 after he was involved in an automobile accident which damaged his spinal cord and confined him to a wheelchair.

While in the hospital after spending there about 9 months, his friend, Kola Olootu visited and advised him to put some songs together. This suggestion resulted in the release of his debut album titled, Bitter Experience in 1998 which brought him into limelight. The release of Bitter experience was followed by the release of Sweet Experience.

Other albums released by the gospel musician are Something Else, Divine Intervention and Life after death, released in honor of Gbenga Adeboye, a Nigerian radio presenter, musician and comedian.The title Bitter Experience reflected his ordeal and Sweet Experience was the sweetness after a "Bitter Experience".

Achievements
• He was Awarded Member of the Order of the Niger by Goodluck Ebele Jonathan, the former president of the Federal Republic of Nigeria in 2011
• He was Awarded Ekiti cultural ambassador

Follow Boomplay and keep up-to-date with the latest Yinka Ayefele songs and information.

Yinka Ayefele Songs
• Ekundayo
• Bitter Experience
• Sweet Experience
• Something Else
• Divine Intervention
• Fun Fair
• Life after Death
• Aspiration
• Fulfilment
• New Dawn

Yinka Ayefele songs are included in Boomplay music playlists. Search to stream and download Yinka Ayefele songs MP3/ single/ albums on the platform....more

Country/Region : Nigeria
Listen to Yinka Ayefele's new songs including "Ekundayo", "Ekundayo", "I Am Lifted" and many more. Enjoy Yinka Ayefele's latest songs and explore the Yinka Ayefele's new music albums. If you want to download Yinka Ayefele songs MP3, use the Boomplay App to download the Yinka Ayefele songs for free. Discover Yinka Ayefele's latest songs, popular songs, trending songs all on Boomplay.
Yinka Ayefele is a Nigerian music producer, gospel singer, CDS, VCDS, radio presenter and founder of Fresh FM Radio Station, Ibadan. Many of Yinka Ayefele songs become very popular and trendy online with a great number of streaming and downloads on Boomplay.

Ayefele was born in Ipoti-Ekiti, a city in Ekiti State in southwestern Nigeria. He attended Our Saviours Anglican Primary School in Ipoti-Ekiti for his primary and secondary education before he later proceeded to Ondo State College of Arts and Science in Ikare Akoko, Ondo State, Nigeria.

Career
Ayefele worked briefly as journalist and broadcaster at the Federal Radio Corporation of Nigeria, Ibadan, where he also produced jingles and musical works on radio. He began his music career in 1997 after he was involved in an automobile accident which damaged his spinal cord and confined him to a wheelchair.

While in the hospital after spending there about 9 months, his friend, Kola Olootu visited and advised him to put some songs together. This suggestion resulted in the release of his debut album titled, Bitter Experience in 1998 which brought him into limelight. The release of Bitter experience was followed by the release of Sweet Experience.

Other albums released by the gospel musician are Something Else, Divine Intervention and Life after death, released in honor of Gbenga Adeboye, a Nigerian radio presenter, musician and comedian.The title Bitter Experience reflected his ordeal and Sweet Experience was the sweetness after a "Bitter Experience".

Achievements
• He was Awarded Member of the Order of the Niger by Goodluck Ebele Jonathan, the former president of the Federal Republic of Nigeria in 2011
• He was Awarded Ekiti cultural ambassador

Follow Boomplay and keep up-to-date with the latest Yinka Ayefele songs and information.

Yinka Ayefele Songs
• Ekundayo
• Bitter Experience
• Sweet Experience
• Something Else
• Divine Intervention
• Fun Fair
• Life after Death
• Aspiration
• Fulfilment
• New Dawn

Yinka Ayefele songs are included in Boomplay music playlists. Search to stream and download Yinka Ayefele songs MP3/ single/ albums on the platform.
New Comments(
119

)