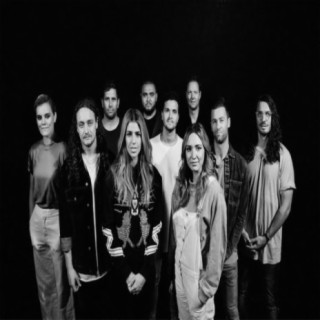 Hillsong Worship
Current #183

All Time #237

Also known as: Hillsong, Hillsong Live. Hillsong Worship (formerly Hillsong Live) is an Australian praise and worship group from Sydney, Australia, where they started making music in 1983 at Hillsong Church. The band has some notable members, including Darlene Zschech, Marty Sampson, Brooke Fraser, Reuben Morgan, and Joel Houston.

Hillsong Worship began operating under the Hillsong Worship moniker with the release of 2014's No Other Name and have maintained a consistent presence on the Billboard Christian Albums charts with lauded efforts like The Peace Project (2017), Awake (2019), and Take Heart (Again) (2020).

While the Hillsong Worship series has become an annual staple releasing music recorded at the yearly Hillsong Conferences, the church's other primary series, Hillsong United, began as the church's youth ministry band. Originally dubbed United Live, the group was first led by singers/songwriters Reuben Morgan and Marty Sampson.

Hillsong Worship's 1999 debut, Everyday, established their creative template: each album was recorded live at the annual October youth conference Encounterfest -- enabling contributions from a variety of church members, friends, and supporters, including the popular Christian folk chanteuse Brooke Fraser -- and released on CD and DVD early the following year.

When Morgan left United Live in 2002 to mount a solo career, the Houstons' son Joel took his place, prompting the name change to Hillsong United. In the years to follow their popularity snowballed on both sides of the equator, with 2006's United We Stand emerging as the year's best-selling Christian LP at Canadian retail. All of the Above found similar success in 2007, as did 2009's a_CROSS//the_EARTH: Tear Down the Walls and the accompanying live album Faith + Hope + Love....more

Country/Region : Australia
Songs

(0)

Albums

(0)

Playlists

(19)

Similar Artists

(10)
Listen to Hillsong Worship's new songs including and many more. Enjoy Hillsong Worship's latest songs and explore the Hillsong Worship's new music albums. If you want to download Hillsong Worship songs MP3, use the Boomplay App to download the Hillsong Worship songs for free. Discover Hillsong Worship's latest songs, popular songs, trending songs all on Boomplay.
Also known as: Hillsong, Hillsong Live. Hillsong Worship (formerly Hillsong Live) is an Australian praise and worship group from Sydney, Australia, where they started making music in 1983 at Hillsong Church. The band has some notable members, including Darlene Zschech, Marty Sampson, Brooke Fraser, Reuben Morgan, and Joel Houston.

Hillsong Worship began operating under the Hillsong Worship moniker with the release of 2014's No Other Name and have maintained a consistent presence on the Billboard Christian Albums charts with lauded efforts like The Peace Project (2017), Awake (2019), and Take Heart (Again) (2020).

While the Hillsong Worship series has become an annual staple releasing music recorded at the yearly Hillsong Conferences, the church's other primary series, Hillsong United, began as the church's youth ministry band. Originally dubbed United Live, the group was first led by singers/songwriters Reuben Morgan and Marty Sampson.

Hillsong Worship's 1999 debut, Everyday, established their creative template: each album was recorded live at the annual October youth conference Encounterfest -- enabling contributions from a variety of church members, friends, and supporters, including the popular Christian folk chanteuse Brooke Fraser -- and released on CD and DVD early the following year.

When Morgan left United Live in 2002 to mount a solo career, the Houstons' son Joel took his place, prompting the name change to Hillsong United. In the years to follow their popularity snowballed on both sides of the equator, with 2006's United We Stand emerging as the year's best-selling Christian LP at Canadian retail. All of the Above found similar success in 2007, as did 2009's a_CROSS//the_EARTH: Tear Down the Walls and the accompanying live album Faith + Hope + Love.