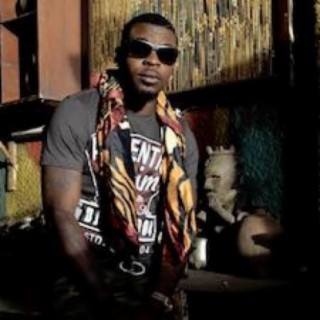 Shank
Current #11.5k

All Time #4,127

Chinedu Naze popularly known by his stage name Shank, is a Nigerian reggae/dancehall artist born on 1983 in London but grew up in Lagos, Nigeria where he attended his primary school and university education. He counts Fela as influence and is a graduate of the University of Lagos. Many of Shank's Songs became very popular and trendy on social media in line with a great number of streaming and downloads on Boomplay.

Career
Shank was born in London and was named Chinedu Naze. He returned to Nigeria as a child and grew up in Lagos. He spent his early life growing up in the sprawling metropolis of Eko. This influenced Shank into becoming the socially conscious performer that he is now. From an early age, Shank knew that his calling was to music. He attributes his understanding of music to Fela, one of the greatest African musicians to emerge from Nigeria.

Fela spotted Shank's innate talent at an early stage, taking the young man under his wing and mentoring him through the industry. Shank's artistic streak emulates from his father who toured with the artist himself, Fela, playing on tour as part of his band.

Encouraged to pursue a more traditional route, Shank studied Creative Arts at the University of Lagos, further refining his artistic talents. However, the call to perform never went away. Shank was spotted by Starville in London mesmerizing the audience in an MC battle. The management of Starville knew that they had to bring Shank back to Nigeria, offering him a contract there and then on the back of a flyer.

Two weeks later, Shank was in the recording studio producing "Julie" in 2008. This single got massive hits and plays all over Nigeria being aired on Tvs and Radios and made Shank to get signed to Starville Entertainment where he released the album 'King Kong'. A sophomore has been expected but delayed. In 2015 after a prolonged hiatus following the release of Ghetto remix (2013), it was announced that Shank had signed a deal with Ill Tune Records.

Follow Boomplay and keep up to date with the latest songs of Shank and information.

Shank's Songs
• Feeling Me
• Shawty
• Julie
• Magnificent Girl
• Bruk It
• Starville
• Ghetto
• Salute

Shank's Songs are included in Boomplay music playlists. Search, stream, and download Shank's Songs, her latest singles and albums in MP3 only on the Boomplay platform for free....more

Country/Region : Nigeria
Listen to Shank's new songs including "Feeling Me ft. Vidi & NPZ", "Shawty ft. Akon", "Julie" and many more. Enjoy Shank's latest songs and explore the Shank's new music albums. If you want to download Shank songs MP3, use the Boomplay App to download the Shank songs for free. Discover Shank's latest songs, popular songs, trending songs all on Boomplay.
Chinedu Naze popularly known by his stage name Shank, is a Nigerian reggae/dancehall artist born on 1983 in London but grew up in Lagos, Nigeria where he attended his primary school and university education. He counts Fela as influence and is a graduate of the University of Lagos. Many of Shank's Songs became very popular and trendy on social media in line with a great number of streaming and downloads on Boomplay.

Career
Shank was born in London and was named Chinedu Naze. He returned to Nigeria as a child and grew up in Lagos. He spent his early life growing up in the sprawling metropolis of Eko. This influenced Shank into becoming the socially conscious performer that he is now. From an early age, Shank knew that his calling was to music. He attributes his understanding of music to Fela, one of the greatest African musicians to emerge from Nigeria.

Fela spotted Shank's innate talent at an early stage, taking the young man under his wing and mentoring him through the industry. Shank's artistic streak emulates from his father who toured with the artist himself, Fela, playing on tour as part of his band.

Encouraged to pursue a more traditional route, Shank studied Creative Arts at the University of Lagos, further refining his artistic talents. However, the call to perform never went away. Shank was spotted by Starville in London mesmerizing the audience in an MC battle. The management of Starville knew that they had to bring Shank back to Nigeria, offering him a contract there and then on the back of a flyer.

Two weeks later, Shank was in the recording studio producing "Julie" in 2008. This single got massive hits and plays all over Nigeria being aired on Tvs and Radios and made Shank to get signed to Starville Entertainment where he released the album 'King Kong'. A sophomore has been expected but delayed. In 2015 after a prolonged hiatus following the release of Ghetto remix (2013), it was announced that Shank had signed a deal with Ill Tune Records.

Follow Boomplay and keep up to date with the latest songs of Shank and information.

Shank's Songs
• Feeling Me
• Shawty
• Julie
• Magnificent Girl
• Bruk It
• Starville
• Ghetto
• Salute

Shank's Songs are included in Boomplay music playlists. Search, stream, and download Shank's Songs, her latest singles and albums in MP3 only on the Boomplay platform for free.
FAQs about Shank
Where is Shank from?
He is from Nigeria.
What are the latest songs of Shank?
The latest songs of Shank are Poetry, Miss Wana and Julie.
What are the best songs of Shank?
The best songs of Shank are Feeling Me ft. Vidi & NPZ, Fine Girl Problems ft. King Kanja and Shawty ft. Akon.
What are the best albums of Shank?
The best albums of Shank are King Kong, The Hits and Feeling Me ft. Vidi & NPZ.
How to download songs of Shank?
You can download songs of Shank from Boomplay App for free.
Firstly, install Boomplay app on your mobile phone.
Secondly, navigate to the song you would like to download.
Thirdly, Tap on More > Download.