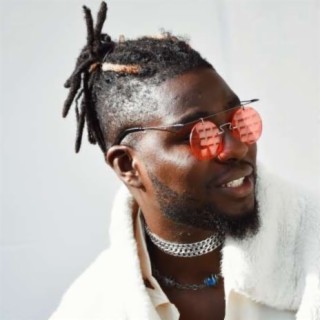 Nviiri The Storyteller
Current #16k

All Time #5,126

Nviiri Sande, popularly known by the stage name Nviiri the Storyteller, is a talented and multifaceted singer-songwriter, guitarist and performing artiste from Kenya. Nviiri was born and raised in the Eastlands, Nairobi. He holds a bachelor's degree in Mechanical Engineering but chose to take a route in music.

Many of Nviiri's Songs became very popular and trendy on social media in line with a great number of streaming and downloads on Boomplay.
Career

Prior to being introduced to the masses as a recording artist, Nviiri had been working behind the scenes as a songwriter for a couple of musicians including Sauti Sol.

His breakout in songwriting, however, came in 2018 when he was credited as a co-songwriter on Sauti Sol's highly successful single - Melanin featuring Patoranking.

The single currently has more than 17 million views on YouTube. Nviiri the Storyteller was introduced to the public as a performing artist on Extravaganza - a song by the acclaimed boy band Sauti Sol - alongside fellow Sol Generation signees like Bensoul, Crystal Asige and Kaskazini.

Achievements
Nviiri released his debut single: Pombe Sigara in 2019 to overwhelmingly great praise from music fans. The record was well received and became a straight club banger. His debut EP - Kitenge - came in 2021 with high-profile features from Sanaipei Tande, Sauti Sol, Bensoul, Bien and Khaligraph Jones. The EP spawned two hits: Niko Sawa (feat. Bien) and Baridi (feat. Sanaipei). The EP has over 1 million streams on Boomplay.

Follow Boomplay and keep up-to-date with the latest songs of Nviiri and information.

Nviiri Songs
• He went on to release other hit singles such as:
• Niko Sawa ft. Bien
• FORE
• Bar (feat. Femi One)
• Overdose
• Nikita
• Lesotho (feat. Ray Gee)
• Kesi Baadae
• Falling
• Birthday Song (feat. Sauti Sol, Bensoul & Khaligraph Jones)

His latest song is Sorry, which was released in February 2022. Nviiri is featured on various Boomplay play lists such as My Love, Afro Party and African Sauce. Explore Boomplay and download Nviiri the Storyteller's latest songs. Nviiri's Songs are included in Boomplay music playlists. Search, stream, and download Nviiri's Songs, his latest singles and albums in MP3 only on the Boomplay platform for free....more

Country/Region : Kenya
Listen to Nviiri The Storyteller's new songs including and many more. Enjoy Nviiri The Storyteller's latest songs and explore the Nviiri The Storyteller's new music albums. If you want to download Nviiri The Storyteller songs MP3, use the Boomplay App to download the Nviiri The Storyteller songs for free. Discover Nviiri The Storyteller's latest songs, popular songs, trending songs all on Boomplay.
Nviiri The Storyteller Biography
Nviiri Sande, popularly known by the stage name Nviiri the Storyteller, is a talented and multifaceted singer-songwriter, guitarist and performing artiste from Kenya. Nviiri was born and raised in the Eastlands, Nairobi. He holds a bachelor's degree in Mechanical Engineering but chose to take a route in music.

Many of Nviiri's Songs became very popular and trendy on social media in line with a great number of streaming and downloads on Boomplay.
Career

Prior to being introduced to the masses as a recording artist, Nviiri had been working behind the scenes as a songwriter for a couple of musicians including Sauti Sol.

His breakout in songwriting, however, came in 2018 when he was credited as a co-songwriter on Sauti Sol's highly successful single - Melanin featuring Patoranking.

The single currently has more than 17 million views on YouTube. Nviiri the Storyteller was introduced to the public as a performing artist on Extravaganza - a song by the acclaimed boy band Sauti Sol - alongside fellow Sol Generation signees like Bensoul, Crystal Asige and Kaskazini.

Achievements
Nviiri released his debut single: Pombe Sigara in 2019 to overwhelmingly great praise from music fans. The record was well received and became a straight club banger. His debut EP - Kitenge - came in 2021 with high-profile features from Sanaipei Tande, Sauti Sol, Bensoul, Bien and Khaligraph Jones. The EP spawned two hits: Niko Sawa (feat. Bien) and Baridi (feat. Sanaipei). The EP has over 1 million streams on Boomplay.

Follow Boomplay and keep up-to-date with the latest songs of Nviiri and information.

Nviiri Songs
• He went on to release other hit singles such as:
• Niko Sawa ft. Bien
• FORE
• Bar (feat. Femi One)
• Overdose
• Nikita
• Lesotho (feat. Ray Gee)
• Kesi Baadae
• Falling
• Birthday Song (feat. Sauti Sol, Bensoul & Khaligraph Jones)

His latest song is Sorry, which was released in February 2022. Nviiri is featured on various Boomplay play lists such as My Love, Afro Party and African Sauce. Explore Boomplay and download Nviiri the Storyteller's latest songs. Nviiri's Songs are included in Boomplay music playlists. Search, stream, and download Nviiri's Songs, his latest singles and albums in MP3 only on the Boomplay platform for free.
New Comments(
47

)
FAQs about Nviiri The Storyteller
Where is Nviiri The Storyteller from?
He is from Kenya.